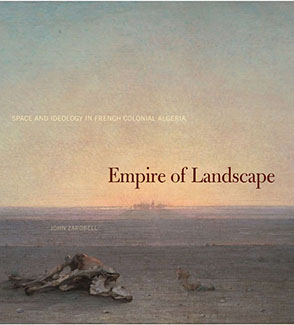 Empire of Landscape
Space and Ideology in French Colonial Algeria
John Zarobell
BUY
Empire of Landscape
Space and Ideology in French Colonial Algeria
John Zarobell
"This is an original book, at times brilliant, that makes an important contribution to the field."
Description

Reviews

Bio

Table of Contents

Sample Chapters

Subjects
Emerging in the realm of popular entertainment, Jean-Charles Langlois's
Panorama of Algiers
(1833) drew an audience in much the same way that the arcades drew consumers. Just as the consumption of material goods never fully satiates the consumer, the landscape of Algiers, as represented in Langlois's panorama, kept the French coming back for more. This monumental painting—the result of Colonel Langlois's involvement in the 1830 siege of Algiers—offered a French audience a spectacle of the furthest reaches of the French empire. To witness Langlois's paintings and other representations of colonial landscapes that followed was to perceive the endless diversity of the ever-expanding French colonies.
Marrying an investigation of the imperial context with close analysis of French images of nineteenth-century Algiers, Empire of Landscape offers a new position on visual culture and the social history of art. John Zarobell not only considers the way paintings, photographs, prints, maps, and panoramas of the unpopulated Algerian landscape were tied to the social and political developments of their time, but also argues that the images themselves produced historical transformations of place, space, and perception that continue to affect us today. Empire of Landscape offers a unique basis for understanding the intersections among colonialism and the colonized, geography, place, politics, and the resonating propagandistic impact that images of landscape had in the nineteenth-century French colonial world and beyond.
"This is an original book, at times brilliant, that makes an important contribution to the field."
"

John Zarobell's enterprising book shows how paintings and photographs of the landscapes of newly conquered Algeria formed a visual and social conception that defended and defined this first of France's colonies in Africa. He shows how the visual 'facts' of the North African cityscape and landscape, exemplified by little-known and often stunning works, supported the ideology of colonialism by forming the French conception of this new territory. He combines close analysis of paintings, drawings, and photographs (by both military and independent artists) with a subtle social history of French hegemony, colonial consumerism, and imperial tourism. Zarobell's book introduces a whole new way of looking into the dialogue of a European power with its African colony.

"
John Zarobell is Assistant Curator at the San Francisco Museum of Modern Art. He is a co-author of Edvard Munch's "Mermaid" (Penn State, 2005).
Contents
List of Illustrations
Acknowledgments
Introduction
1. The Eternal Feminine: Self-Sacrifice, Modesty, and Discretion
2. Fin de Siglo: Modernity and the Culture of Decadence
3. Pupilas and Mestizas
4. Santa, La India Bonita, and Mexican Maternity
5. Desnudas, Amazonas, and Tehuanas
6. Double Portraits: "Sons (and Daughters) of La Malinche"
Epilogue
Notes
Bibliography
Index
Mailing List
Subscribe to our mailing list and be notified about new titles, journals and catalogs.