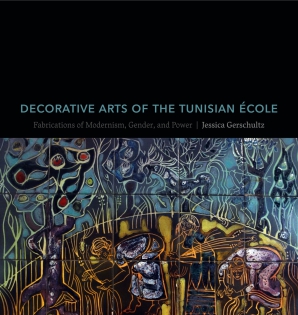 Decorative Arts of the Tunisian École
Fabrications of Modernism, Gender, and Power
Jessica Gerschultz
BUY
Decorative Arts of the Tunisian École
Fabrications of Modernism, Gender, and Power
Jessica Gerschultz
"Gerschultz provides an in-depth study of the École de Tunis and Safia Farhat that probes into issues of gender, class, nationalism, and cultural notions of the arts at an important moment of change in Tunis. Her book contributes to a much-needed critical and nuanced context that constructs a sociopolitical discourse in which fresh understandings of the region and modernism writ large can be explored. A significant addition to the scholarship on North African and Middle Eastern art."
Description

Reviews

Bio

Subjects
The arts drove a seismic cultural shift in mid-twentieth-century Tunis, as women entered ateliers and workshops previously dominated by men and as collaborations across art schools destabilized the boundary between art and craft. This volume uses the "Tunisian École"—a configuration of artists, art students, professors, and artisans from the Tunis School, the School of Fine Arts, and the National Office of Handicraft engaged in the unity of "fine" and "decorative" art—to explore the ways in which these forces reworked colonial concepts to reimagine artistic categories and integrate feminized art forms in a program of social uplift.
Focusing on the gendering of tapestry and "decorative" arts, Jessica Gerschultz investigates how art and feminism were entwined with socialist modernizing projects, from the relationship between Tunisian nationalist discourses and the figure of the woman artist to the role of art education and industry in transforming and institutionalizing hierarchies among women. In doing so, she positions women's weaving in the context of state feminism and Tunisian socialism, arguing that a shared aesthetic and political philosophy oriented toward female creativity not only underpinned multiple forms of art and textile production but also stood as a potent metaphor for statecraft.
Important and wholly original, this study of the artist-as-craftsperson, told from the standpoint of artists in an Arab African country, recuperates a feminized, marginalized category within aesthetic modernism and furthers our understanding of the relationships among labor, gender, and artistic and creative practices in modern Tunisia.
"Gerschultz provides an in-depth study of the École de Tunis and Safia Farhat that probes into issues of gender, class, nationalism, and cultural notions of the arts at an important moment of change in Tunis. Her book contributes to a much-needed critical and nuanced context that constructs a sociopolitical discourse in which fresh understandings of the region and modernism writ large can be explored. A significant addition to the scholarship on North African and Middle Eastern art."
"Decorative Arts of the Tunisian École maps the contours of the decorative art/artisanal scene in Tunisia in the late colonial and early postcolonial period, focusing on the entanglements between art, modernity, and state feminism as they came to be dramatized in the work of Safia Farhat, a professor of decorative arts and director of the influential École des Beaux-Arts. This is a valuable study, the first of its kind in the English language. Gerschultz's masterful command of material at the crossroads of history, art, class, gender, and politics is admirable."
"This wide-ranging, ambitious study of aesthetics in Tunisia makes a timely contribution to the growing literature on local stories of midcentury modernism in sites outside of Europe. Working extensively through primary sources, Gerschultz provides her reader with a critical view into the constellation of social, political, and aesthetic forces that confronted and responded to well-worn distinctions between fine art and artisanal work. In Tunisia, innovative arts pedagogy and patronage supported a flourishing of indigenous decorative arts traditions—design, fashion, architectural ornamentation—and heralded pivotal roles for women to play in the modernizing of a new nation."
"Dazzling in its archival scope, Jessica Gerschultz's book offers not only a first historical account of artists and artisans in colonial and ex-colonial Tunisia but also a critical reading of analytical asymmetries within our art historical discipline. By subjecting longstanding conceptual oppositions to new analysis—art versus craft, imported versus indigenous practice, and the gendered distinctions of female versus male labor, among others—Gerschultz challenges scholars to rethink the stakes of the decorative arts for modernism at-large."
Jessica Gerschultz is Associate Professor of African and African-American Studies at the University of Kansas.
Mailing List
Subscribe to our mailing list and be notified about new titles, journals and catalogs.