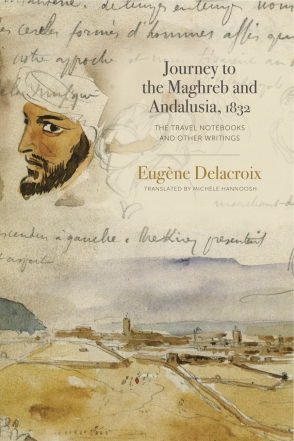 Journey to the Maghreb and Andalusia, 1832
The Travel Notebooks and Other Writings
Eugène Delacroix, Translated by Michèle Hannoosh
Buy
Journey to the Maghreb and Andalusia, 1832
The Travel Notebooks and Other Writings
Eugène Delacroix, Translated by Michèle Hannoosh
"The notebooks make for a fascinating read and will be of interest not only to specialists of Delacroix and Orientalism, but also to scholars of French colonialism in North Africa and travel writing more in general. Delacroix brought a keen eye and wrote avidly about what he saw in Tangiers and elsewhere in Morocco."
Description

Reviews

Bio

Table of Contents

Subjects
In 1832, Eugène Delacroix accompanied a French diplomatic mission to Morocco, the first leg of a journey through the Maghreb and Andalusia that left an indelible impression on the painter. This comprehensive, annotated English-language translation of his notes and essays about this formative trip makes available a classic example of travel writing about the "Orient" from the era and provides a unique picture of the region against the backdrop of the French conquest of Algeria.
Delacroix's travels in Morocco, Algeria, and southern Spain led him to discover a culture about which he had held only imperfect and stereotypical ideas and provided a rich store of images that fed his imagination forever after. He wrote extensively about these experiences in several stunningly beautiful notebooks, noting the places he visited, routes he followed, scenes he observed, and people he encountered. Later, Delacroix wrote two articles about the trip, "A Jewish Wedding in Morocco" and the recently discovered "Memories of a Visit to Morocco," in which he shared these extraordinary experiences, revealing how deeply influential the trip was to his art and career.
Never before translated into English, Journey to the Maghreb and Andalusia, 1832 includes Delacroix's two articles, four previously known travel notebooks, fragments of two additional, recently discovered notebooks, and numerous notes and drafts. Michèle Hannoosh supplements these with an insightful introduction, full critical notes, appendices, and biographies, creating an essential volume for scholars and readers interested in Delacroix, French art history, Northern Africa, and nineteenth-century travel and culture.
"The notebooks make for a fascinating read and will be of interest not only to specialists of Delacroix and Orientalism, but also to scholars of French colonialism in North Africa and travel writing more in general. Delacroix brought a keen eye and wrote avidly about what he saw in Tangiers and elsewhere in Morocco."
"Eugène Delacroix's journey to Morocco in 1832 was one of the defining artistic moments of the nineteenth century, and it is brought to glorious life by Michèle Hannoosh's compilation and translation. This work chronicles the artist's journey and provides exceptional insights into his fascination with the 'Orient' and his motivations as a painter."
"Michèle Hannoosh's 2009 edition of Delacroix's journal contained a wealth of new information about an artist known for his brilliant insights as well as his magnificent works. Here she reveals to us Delacroix's direct experience, lasting memories, and recognition of his new way of seeing. Hannoosh's work is an inestimable contribution to our understanding of this great artist and of the nineteenth century."
"Delacroix scholars know Michèle Hannoosh through her stunning discoveries of unpublished Delacroix texts, her impeccable editions of his writings, and her compelling interpretations of his work. This volume reveals her to be a superb translator as well. It will be an invaluable resource for students, teachers, or simply admirers of Delacroix's work. The introduction and commentary provide crucial new insights for experts, and Hannoosh's translations are eminently readable, marvelously capturing the varying tone of Delacroix's prose, which ranged from direct observations to stylish commentary and from bitter sarcasm to genuine enthusiasm."
"In this welcome and timely book, Hannoosh presents the first comprehensive, annotated English translation of Delacroix's important and often cited multifarious observations of his voyages to the Maghreb and Andalusia. The translation is clear, crisp, and elegant as well as faithful to the artist's original. The voice and thought of Delacroix are made vividly manifest in this splendid translation."
"Hannoosh's unfailingly elegant translation and annotation are greatly enriched by her deep research into the wider social and aesthetic universe through which Delacroix moved, traveled, experienced the world, and thus refined his artistic sensibilities. This book is a visual and textual delight, and it contributes immeasurably to long-standing debates in art history and the historical sciences about 'Orientalist' representations of peoples and cultures on the Mediterranean's southern shores."
Michèle Hannoosh is Professor of French at the University of Michigan. She is the editor of the French edition of Eugène Delacroix's Journal and the author of Painting and the Journal of Eugène Delacroix and Baudelaire and Caricature: From the Comic to an Art of Modernity, the latter also published by Penn State University Press.
Contents
Introduction
Memories of a Visit to Morocco
A Jewish Wedding in Morocco
Notebooks
Marginalia to "Memories of a Visit to Morocco"
Notes and Drafts for "Memories of a Visit to Morocco"
Appendix A: Supplementary
Material from the Notebooks
Appendix B: History of the Manuscripts
Biographies
Glossary of Moroccan Terms
Bibliography
Index
Mailing List
Subscribe to our mailing list and be notified about new titles, journals and catalogs.