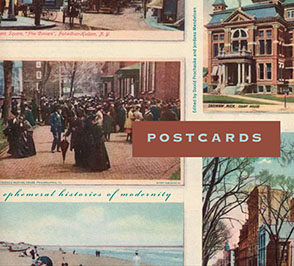 Postcards
Ephemeral Histories of Modernity
Edited by David Prochaska and Jordana Mendelson
Buy
Postcards
Ephemeral Histories of Modernity
Edited by David Prochaska and Jordana Mendelson
"This fascinating collection of essays, well introduced and framed by the editors, marks the arrival of the study of postcards as an important component of the growing field of visual studies. Although the discipline of learning about societies from looking at their postcards has a history that goes back to distinguished earlier practitioners such as the Surrealist poet Paul Éluard and the great American photographer of everyday life, Walker Evans, this book will serve as both a benchmark and an incitement to further study of this valuable archive of cultural traces."
Description

Reviews

Bio

Table of Contents

Sample Chapters

Subjects
Products of modernity, postcards continue to provoke comment today as in the nineteenth century. With their unique status as interdisciplinary image-objects that cross lines of geography, economy, and gender, postcards epitomize the complex history of visual culture. These often sweet, nostalgic, inexpensive mementos of commercial culture have also been carriers, even instigators, of colonialist exoticism and political propaganda. They straddle the by now largely obliterated line between "high" and "low" art, between an earlier modernist art history and more recent work in visual culture. This fully illustrated volume is the first of its kind to bring together the latest interdisciplinary research on postcards as a significant area of scholarly inquiry.
In addition to the editors, the contributors are Rebecca J. DeRoo, Ellen Handy, Elizabeth B. Heuer, Timothy Van Laar, Annelies Moors, Cary Nelson, John O'Brian, Naomi Schor, Kimberly A. Smith, Rachel Snow, Nancy Stieber, and Andrés Mario Zervigón.
"This fascinating collection of essays, well introduced and framed by the editors, marks the arrival of the study of postcards as an important component of the growing field of visual studies. Although the discipline of learning about societies from looking at their postcards has a history that goes back to distinguished earlier practitioners such as the Surrealist poet Paul Éluard and the great American photographer of everyday life, Walker Evans, this book will serve as both a benchmark and an incitement to further study of this valuable archive of cultural traces."
"So ubiquitous that they have been invisible to serious scholarship, postcards have here at last been given the detailed, critical attention they need and deserve. This beautifully designed volume, which covers an admirably diverse range of practices and issues, addresses both the production and reception of the humble postcard, showing this image form to be an especially rich depository of cultural knowledge."
"This is a stimulating and often brilliant contribution to art history and visual culture studies. The editors have assembled an array of essays that both testify to and analyze in detail the crucial importance of a visual/verbal medium that has long been hidden in plain sight. Postcards: Ephemeral Histories of Modernity is exemplary for both its subjects and methods—and, not least, a revelation for anyone who thinks that there is no new ground to be broken in histories of the visual."
"Meticulously edited and beautifully illustrated, Postcards: Ephemeral Histories of Modernity undoubtedly will become the first stop for anyone interested in the cultural history and aesthetics of the postcard. Instead of transforming the postcard into an emblem of a particular understanding of language, these essays explore material histories of the production and reception of postcards across multiple sites in order to grasp their place in histories of modern art and communications technologies, as well as their consequential roles in the increasingly turbulent discursive battles of the early twentieth century over issues such as race, gender, and national identity."
"The book is well illustrated: its many examples of postcards range from generic views by anonymous individuals to photographs by Robert Frank, William Wegman, and others."
"I am happy to opine that Postcards: Ephemeral Histories of Modernity is an excellent and topical anthology. Indeed, it is fair to say that we have needed this book for some time. To extend our understanding of postcards, this anthology offers an intelligent, varied, and rambunctious mix of essays that will be a valuable resource for teaching and new scholarship. To top it off, many of the essays are a pleasure to read."
David Prochaska is Associate Professor of History at the University of Illinois, Urbana-Champaign. He is the author of Making Algeria French: Colonialism in Bône, 1870–1920 (1990, 2004).
Jordana Mendelson is Associate Professor in the Department of Spanish and Portuguese at New York University. Among her previous books is Documenting Spain: Artists, Exhibition Culture, and the Modern Nation, 1929–1939 (Penn State, 2005).
Contents
List of Illustrations
Introduction
Jordana Mendelson and David Prochaska
1. Cartes Postales: Representing Paris 1900
Naomi Schor
2. Postcards and the Invention of Old Amsterdam Around 1900
Nancy Stieber
3. Correspondence Here: Real Photo Postcards and the Snapshot Aesthetic
Rachel Snow
4. Postcards to the Front: John Heartfield, George Grosz, and the Birth of Avant-Garde Photomontage
Andres Mario Zervigon
5. Ambivalent Utopia: Franz Marc and Else Lasker-Schüler's Primitivist Postcards
Kimberly A. Smith
6. Colonial Collecting: French Women and Algerian Cartes Postales
Rebecca J. DeRoo
7. Presenting People: The Politics of Picture Postcards of Palestine/Israel
Annelies Moors
8. Exhibiting the Museum
David Prochaska
9. Outward and Visible Signs: Postcards and the Art-Historical Canon
Ellen Handy
10. Les plus belles cartes postales
Paul Éluard
With an introduction by Elizabeth B. Heuer
11. Main Street Looking North from Courthouse Square
Walker Evans
With an introduction by Elizabeth B. Heuer
12. Love Your Panzer Corps: Rediscovering the Wartime Poem Postcard
Cary Nelson
13. Postcard to Moscow
John O'Brian
14. Views of the Ordinary and Other Scenic Disappointments
Timothy Van Laar
List of Contributors
Index
Introduction
Jordana Mendelson and David Prochaska
Postcards have taken on a leading role within the larger move toward a consideration of visual culture in interdisciplinary research. As images that are carriers of text, and textual correspondence that brings images across boundaries of class, gender, nationality, and race, postcards are artifacts that provoke questions of discipline and subjectivity, especially as these relate to concrete practices of production, consumption, collection, and appropriation. Postcards provoke scholars to examine complex relations among subjects, producers, senders, and receivers, and to bring into question notions of authority, originality, class, gender, and power. By investigating these ephemeral pieces of visual culture, we confront deep-seated prejudices about forms of representation, the way they function, and our manner of reconstructing their history. Ultimately, the studies in this book raise questions about canon formation and the academy in order to closely examine material histories that compose, even as they challenge, bodies of knowledge.
Postcards form a constitutive part of the way in which the business of art, commerce, history, and identity is negotiated on a daily basis. In this volume we present significant work being done on these objects and take stock of some of the scholars and artists who have made postcard studies an integral part of their historical and theoretical investigations. Despite the range of scholarship and the rigor with which the contributors interpret the visual and textual content of postcards, it was not so long ago that researchers in the humanities, arts, and social sciences left the study of postcards, deltiology, pretty much to deltiologists. Professional dealers bought and sold postcards, sometimes in shops, often at flea markets. Amateur collectors bought and traded postcards. The leading journals in the field were primarily price guides; many of the important book publications included prices and tips on collecting. Postcards and postcard collecting were decidedly antiquarian pursuits. While photography underwent a shift in the early twentieth century, wherein selected photographs were reclassified as art and hung on museum walls for public delectation, the academy and fine art museums held firm against the postcard. For the most part, postcards found their home in private collections, local historical museums, and libraries.
About twenty-five years ago, things began to change. On the one hand, book compilations of early postcards increasingly began to appear. Historical nostalgia combined with inexpensive collectibles to make original postcards and reproductions of them widely available. Soon prices for old postcards soared, pricing low-end buyers out of the market and replicating a market-driven process that brings otherwise forgotten mass cultural forms to the attention of elite collectors and institutions. On the other hand, visual culture broadened the study of visual artifacts, including postcards, from images per se to the more densely woven context of their production and reception. Previously, a more traditional art history had regarded postcards as degraded images, as so many pieces of cultural detritus, literally ephemeral. This notion is rooted in the technological conditions and division of labor characteristic of postcard production; it sees the work of the reporter-photographer and artist-photographer as inferior to and as compromised by the work of the retoucher in manipulating the image (airbrushing) and otherwise "faking" it. Now the study of visual culture takes a broader, more inclusive approach that embraces such visual genres as postcards. With the opening of visual culture to disciplines and practices within and outside the academy, the shift toward a more inclusive frame for the study of images has impacted the acceptance of postcards as valuable objects for collecting and display by art museums. As evidence of this shift, note, for example, the increased number of recent exhibitions dedicated to postcards at leading institutions like the Museum of Fine Arts in Boston, the National Portrait Gallery in London, and the Metropolitan Museum of Art in New York.
No longer dismissed out of hand, postcards, and what could be termed "postcard studies," are on the brink of broader recognition and engendering serious inquiry, as this volume attests. The literature on postcards can be characterized in terms of absences and presences—what is present or covered, and what is not. Thus, the scholarly literature on postcards still concentrates more on images and their interpretation than on production or reception, the cultural work postcards perform. Photographic or picture postcards receive a disproportionate amount of attention in contrast to other kinds of postcards. As a subset of photographs clearly made rather than "taken," as commodities meant to be sold, postcards are especially amenable to analysis as visual culture. Nevertheless, and even with lessons learned from visual culture, postcards still tend to be placed in a hierarchy defined implicitly according to aesthetic categories. Postcard analysis often focuses on the style or "look" of specific postcard publishers. And considerably more work has been done on European and North American postcards than on colonial and non-Western cards from the "South." The interconnected essays in this book take a different approach and investigate specific case studies of different varieties of postcards, their designers and artists, and their audience; in the process the essays provide a range of methodological and interdisciplinary perspectives.
One of the main postcard genres, view cards feature primarily cities and urban environments. In this regard they are successors to earlier visual and photographic genres, from especially eighteenth- and nineteenth-century prints, drawings, maps, paintings, and topographical atlases to mid-nineteenth-century topographical cartes de visite and stereocards. With the lower costs postcard technology made possible, cities now were "postcarded," an international phenomenon as true for Naomi Schor's Paris (see below) as it was for Peoria or Dakar or Amsterdam. Regarding Amsterdam, the "cityscape underwent a rapid, continuous, and far-reaching renewal of its infrastructure, growing for the first time beyond its seventeenth-century boundaries" between the 1880s and 1920s, as Nancy Steiber delineates in her essay. She examines the obsessive visual documentation of the city that accompanied its most dynamic period of change, and investigates the contribution postcards made to the invention of a city that existed only in visual representations, the "Old Amsterdam" that was canonized during the last third of the nineteenth century. The tradition of collecting visual images of Amsterdam was an elite activity resulting in magnificent topographical atlases of prints, drawings, and painting, a practice that reached its heyday in the early nineteenth century. The postcard democratized that activity and made it possible for women and children, working and middle classes, to participate in a celebration of what was being lost and what was being added to the cityscape. The postcard emerges as a mediator of modernity, a means to identify and possess the totality of the city at a time when it was in fact fragmenting physically and socially. The preference for depicting the medieval core of the city, the selective inclusion of spectacular new buildings and relative exclusion of the new working-class districts, the desire for panoramic views, and the enshrinement of the canals as bearers of aesthetic value all evidence the postcard construction of Amsterdam, the visual story Amsterdam created about itself for itself.
A new postcard genre was invented at the turn of the twentieth century when a market developed for a new kind of postcard made directly from photographic negatives. These postcards, now known as real photo postcards, were made by professional photographers, itinerant photographers, and individuals. Rachel Snow describes the popularization of real photo postcards among amateur "snap shooters" in America from 1900 to 1930 and their attempts to individualize the postcard format as they determined not only what to picture (the content or subject matter of the image), but also how to picture it (the unique way in which the subject would be photographed). As society became increasingly defined by mass production and the standardization of consumer goods, changes in lifestyle and thinking created an environment that was conducive to the popularity of real photo postcards. Photography constitutes one of many mass-produced and mass-marketed commodities made newly available to a class of upwardly mobile consumers that both encouraged and limited individual expression. Snow argues that middle-class consumers struggled to carve out individual identities and document their personal histories while negotiating (consciously or not) the influence of familiar photographic tropes and conventions in their own picture-making practices. Thus, a comparison of real photo postcards taken by amateurs and professionals demonstrates the degree to which personalized cards both adhered to and broke away from photographic conventions of the day.
Also early in the twentieth century, and another example of the ways in which amateur, artistic, and commercial postcard practices intersected, the Dadaist artists George Grosz and John Heartfield joined postcards and photomontage in a new way. It began when they made antiwar postcards during the First World War that they mailed to the front. On these postcards "photograph clippings had been assembled such that they said in pictures what would have been censored had it been said in words." How these mailed missives escaped the censor's gaze has to do with both the visual technique the artists utilized and the larger wartime context in which postcards were mailed. In juxtaposing photographs, magazine clippings, and other images in order to score a political point, the artists often escaped the censor because they simply reversed the intent of a long line of similarly photomontaged prowar propaganda postcards. Each day during the war Germans mailed an estimated five million postcards to the front and received over three million; many of these featured photomontaged images, a popular novelty.
Although some scholars have argued reductively that such postcards as those made by Grosz and Heartfield lead, ipso facto, to the photomontage characteristic of avant-garde modernism, notably postwar Berlin Dada, Andres Zervigon shows that what actually happened is both more complex and more fascinating, although postcards still played a pivotal role. Zervigon sketches the larger cultural context, which included, in addition to postcards, the principle of photomontage, a technique nearly as old as photography itself; the principle of collage, the assemblage of multiple realities, especially in the form of photo fragments; the use of both montage and collage in prewar advertising and journalism, as well as Cubism and Futurism. Yet it was wartime postcards that arguably served as the catalyst for the invention of avant-garde photomontage, insofar as artists such as Grosz and Heartfield saw that images could be appropriated and juxtaposed on postcards to communicate an antiwar message visually that could not be expressed verbally. What was significant, therefore, was that Grosz and Heartfield harnessed these visual possibilities to their antiwar politics using the medium of postcards at a historically specific moment. In their own absurdist and fragmented cards sent to friends at the front, these men not only satirized the heroic images they appropriated, but they also demonstrated how one photograph can change the meaning of another even when simply set incongruously side by side. One result was the birth of an avant-garde approach to montage that would soon dominate Berlin's Dada movement and high modernism as a whole.
contemporary of Grosz and Heartfield, Franz Marc died in battle in the First World War. For most artists most of the time, postcards are a sideline, an incidental aspect of their oeuvre, and treated as such in the art-historical literature (which is to say little or not at all). Marc's postcards, Kimberly Smith argues, are different. Between 1913 and 1914, Marc made at least seven postcards for the expressionist poet Else Lasker-Schüler, mostly of animals—horses, donkeys, panthers, an ox, an elephant. Smith discusses the painterly qualities of the small-scale watercolor postcards in detail, but considers Marc's animals and so-called primitivism both in his postcards and in his large-scale oil paintings, for which he is best known, by looking at and through his postcards. Where previous commentators argue that the animal-filled paradisal postcard scenes refer to Marc's rural retreat where he lived with his wife in Germany, Smith contends that they refer in fact to Thebes, a fantasy world invented by Lasker-Schüler in which she took on the poetic identity of Prince Jussuf, the Old Testament's Joseph, in ancient Egpyt.
While Marc repudiated the capitalist materialism of prewar Germany and turned to a more spiritualized animal kingdom, Lasker-Schüler created an alternative Jewish identity different from contemporary Zionism in the figure of Jussuf/Joseph, a move that also entailed gender transgression. In the postcards and correspondence between Marc and Lasker-Schüler, all of this is located in the exoticized setting of Thebes. Up to here this postcard exchange can be considered as challenging contemporary German society and culture by evoking a radical utopia that is made visible in a series of postcards. Smith takes the argument further, however, by teasing out the Orientalist and colonialist bases of this shared vision. Smith considers the postcards intertextual objects that mediate and are mediated by contemporary beliefs about Egypt and animals, which connect in turn to Orientalism and colonialism.
With Rebecca DeRoo's essay we move from Europe to the colonies to engage both Orientalism and gender in an analysis of colonial Algerian postcards published in Paris and collected especially by women in France. Drawing on a publisher's 1905 catalogue that lists more than fifteen hundred Algerian cards divided into the two main visual categories dominant at the time, "views" of major cities and "types and costumes" of Algerians, DeRoo demonstrates that the postcards reproduce the colonial segregation of European and Algerian urban space, as well as French racial categories, based on physiognomies, that were applied to Algerians. Women constituted the primary audience for postcards. DeRoo argues that French women collecting postcards of Algerian harem scenes was a rare socially sanctioned occasion for some bourgeois women to view and to display images of non-Western women in exhibitionist and sexually provocative poses. French women's exchange and collection of colonial Algerian postcards demonstrates, she contends, that they accepted colonial depictions, including racial hierarchies, degraded labor, and eroticized feminine stereotypes. Yet by reordering, recategorizing, and displaying the cards in collections, French women used them to displace and expand definitions of Western bourgeois femininity.
In her study of postcards in Palestine/Israel, Annelies Moors also examines gender and Orientalism in non-Western postcards. Moors breaks down picture postcard production into four stages: early twentieth-century commercial postcards, Zionist postcards from the 1920s and 1930s, Israeli commercial postcards from the 1970s and 1980s, and Maha Saca's Palestinian postcards from the 1990s. In early twentieth-century postcards, both Arabs and Jews were framed through an Orientalist discourse that produced otherness and distanciation. The development of the Zionist movement in Palestine brought about a radical break with earlier postcard imagery. From the 1920s and 1930s on, Zionist postcards repudiated the Diaspora culture of East European Jewry, and the image of the pioneer became dominant. Where images of Palestinian Arabs on Israeli postcards continued to be quite similar to early twentieth-century Orientalist postcards, images of Jewish Israelis on Zionist postcards broke with earlier Orientalist and anti-Semitic depictions of Jews. The third stage occurred with the founding of Israel in 1948. Israeli depictions of Arabs remained Orientalist, but after the 1967 war, Israeli representations of the "tough Jew" displaced the earlier socialist-influenced Zionist "pioneer." Only in a fourth and more recent stage did Palestinian postcard producers emerge, such as Maha Saca, who developed an alternative Palestinian imagery.
Orientalism as an othering discourse is adumbrated in the essays by Smith, DeRoo, and Moors. Orientalism is a variant of the more general phenomenon of exoticism. David Prochaska moves the discussion from Orientalism to exoticism in the case of Hawai'i in his essay, which concerns the exoticist production of Hawai'i in postcards viewed from the perspective of colonial visual culture. The essay unsettles the popular image of Hawai'i because Hawai'i is not generally considered a settler colony in popular American discourse, and Hawaiian postcards, produced primarily for tourist consumption, are not generally viewed as exoticist imagery produced in a colonial situation.
Moreover, the essay is cast in the form of a mock museum exhibition proposal. This exhibition proposes to display exoticist postcard images of Hawai'i, to demonstrate the formal photographic practices used in constructing Hawai'i as exoticist, and to show implicitly how they are analogous to colonial and postcolonial practices elsewhere. The exhibition proposal stages these issues through formal museological and visual practices. Within each gallery area the visitor's gaze is directed to a number of focal points—for example, "postcarding the world of Hawai'i," "individuals and generic types," "postcard albums," "postcards and tourism." Thus, the exhibition moves away from a focus on images per se to demonstrate visually the ways exoticist postcard imagery is actually constructed in practice.
The focus on the intersection between postcards and the museum as an institution of culture continues in Ellen Handy's essay. Museum reproduction postcards are concrete embodiments of the abstraction of the canon; museums evaluate their holdings through choices about which works are to be reproduced. Handy interrogates these postcards. How do we connect postcards of museum works to art history? What relationship does a postcard image have to the thing itself? How do these images empower people through the development of personal relationships to artworks, art history and the canon? She addresses these questions in relation to Walter Benjamin's skepticism about the destruction of the "auras" of artworks, and his enthusiasm for printed books as multiples; André Malraux's vision of a "museum without walls"; the codification of the artist's point of view in Joseph Cornell's museum "boxes," which appropriate art reproductions; and John Dewey's definition of "art as experience," which offers a transactionalist perspective on the role of the empowered viewer.
Throughout the early twentieth century, especially in the 1930s and 1940s, artists and poets reflected on the "golden age" of postcards before World War I. Their musings about popular culture spanned the elite art press and popular illustrated magazines. In this book we reproduce just two of the many essays that were published during this period as an indicator of the still largely unexplored archive of criticism on postcards that awaits historical review: Paul Éluard's "Les plus belles cartes postales" in Minotaure in 1933 and Walker Evans's "Main Street Looking North from Courthouse Square" in Fortune in 1948.
French Surrealist Paul Éluard (1895–1952), although known primarily for his poetry, was also actively involved with postcards at a time when few others considered them in depth or took them seriously. From 1929 until at least 1933, he collected cards, organized them in albums, and published an article based on his collection in an avant-garde journal. We reproduce the article here in facsimile with an introduction by Elizabeth Heuer. In the early 1930s he formed a collection of some five thousand postcards gathered from kiosks, secondhand dealers, and the flea markets of Paris. He bought cards on vacation trips to Marseilles and Nice. He bought old photo albums and cannibalized them for postcards. He was aided in his collecting endeavors by Surrealist friends André Breton, René Char, Salvador Dalí, Roland Penrose, and Georges Sadoul. He traded individual and groups of cards with these and other friends. Breton jumpstarted Éluard's collection with a sizable gift from his own collection. Éluard traded a painting by Dali for two hundred prime cards. Along with other surrealists, Éluard shared an affinity for so-called found objects, trouvailles, pieces of urban detritus; these oddities included postcards. The surrealists' interest in found objects echoed that of other modernist artists, from Picasso and Braque pasting scraps of paper onto their cubist paintings to Kurt Schwitters and Joseph Cornell utilizing these and similar objects.
To invest such pieces of popular culture with value required a new optique, or way of looking: postcards had to be seen, that is, noticed, before they could be sought out and appropriated. Heuer describes how Éluard arranged numerous cards he collected in at least seven albums. Éluard was largely uninterested in picture postcards or view cards; he concentrated primarily on nonphotographic and fantasy cards. The themes and subjects range widely, from flowers and ships to trains and holiday cards, but the largest number picture women. As he expresses it in his article, "Child-women, flower-women, star-women, flame-women, sea waves, great waves of love and dreams, flesh of poets, solar statues, nocturnal masks, white rose bushes in the snow, serving maids, dominatrixes, chimeras, illuminated virgins, perfect courtesans, legendary princesses, passersby." Éluard did not order his cards according to subject matter, themes, or chronology; instead he strived to create a nonlinear "poetic syntax."
Given that surrealism as an aesthetic "values fragments, curious collections, unexpected juxtapositions—that works to provoke the manifestation of extraordinary realities drawn from the domains of the erotic, the exotic, and the unconscious," Éluard's article on postcards fit right into Minotaure (1933–39), the glossy modern art journal bankrolled by publisher Albert Skira that followed earlier Surrealist efforts. Éluard contributed regularly to Minotaure. The issue in which his piece on postcards appeared also featured articles and portfolios by Man Ray, Nadar, Brassai, André Derain, Breton, Dali, and Tristan Tzara, not to mention Jacques Lacan. In his own poetic way, Éluard sums up both the value and limitations of postcards: "Ordered up by the exploiters to distract the exploited, postcards do not constitute a popular art. At most they are the small change left over from art and poetry. But this small change sometimes suggests the idea of gold."
Around the same time that Éluard was collecting postcards and publishing selections in Minotaure, Walker Evans was also collecting cards, publishing selections from his collection, producing his own cards, and otherwise incorporating them as part of his work in and reflections on photography. Where his interest in postcards is usually considered secondary to his other photographic work—in keeping with the generally low valuation assigned to postcards—for Evans postcards were not peripheral but integral to his work as a photographer. First, he collected cards, especially in the 1920s and 1930s, just as he also collected other objects spawned by mass culture. His postcard collection grew to over nine thousand cards, which he filed into his own nearly thirty subject categories that mirrored commercial viewcard categories common at the time. Second, he rephotographed scenes depicted on cards from his collection during his travels as a photographer. Third, he published certain of his own photographs as postcards. In an on-again, off-again project with the Museum of Modern Art in the late 1930s, he eventually submitted more than twenty of his southern photographs and published seven. Straightforward black-and-white views of local vernacular architecture, such as churches, Evans's postcards differed from commercial ones chiefly in the way he emphasized a building's details, especially architectural ones, rather than the entire building. Fourth, in a photo essay he did for a travel book on Florida published in 1941, Evans photographed a postcard display rack and used it as the last photo in the book; it included postcards of Florida sights that figured in other of Evans's photos for the guide. Fifth, as a photo editor for Fortune from 1945 and later as a freelance writer for Architectural Forum, Evans produced three postcard essays illustrated with cards from his own collection, one of which we reproduce here with an introduction by Elizabeth Heuer. In "Main Street Looking North from the Courthouse Square" (1948), Evans penned a brief paean to early twentieth-century postcards and reprinted eighteen cards in a four-page spread. "Main Streets" ranged from Salt Lake City and Tampa Bay to Belfast, Maine, and included brief but evocative postcard messages. A second Fortune spread, "When Downtown Was a Beautiful Mess," appeared in 1962 and featured one of his cards reproduced in a full two-page spread. In the same year Evans produced "Come on Down" for Architectural Forum, on grand turn-of-the-century resorts. Sixth, Evans developed a slide show using his postcards, which he started showing to friends in the 1950s in his New York apartment. In 1964 he was invited to present the slide show to the Yale Art Department, and in 1973 he presented a similar show at the Museum of Modern Art. None of the other figures discussed here engaged and put to use postcards in as many different ways as Walker Evans.
While Éluard and Evans wrote of the postcard's aesthetic pleasures and the poetry of its everydayness, Cary Nelson shows us in his essay that postcards also brought together poetry and violence. His essay is the first account of wartime poem cards, postcards that feature printed poems, sometimes along with graphic illustrations or images. Like real photo cards and museum reproduction postcards, they have not received sustained attention from scholars. A small percentage of wartime poem cards featured poems by well-known authors ranging from Dante, Shakespeare, Goethe, Heine, and Kipling to Tennyson, Wordsworth, Tolstoy, Emerson, and Mayakovsky. The overwhelming majority, however, are by authors who are unknown or little known. Nelson traces the material history of poetry on postcards and related ephemera. Poetry, such as that which circulated on wartime poem cards, must be understood through the ways in which it was produced, circulated, and used. By introducing readers to a series of cards and the personalities who created, purchased, sent, and received them, Nelson presents a history of postcards that challenges canonical perceptions of poetry's social function. He argues that instead of being disseminated as a rarefied selection of academically sanctioned poets and topics, poetry, in all of its forms and functions, permeated the public's consciousness through the mass production and purchase of postcards. Cards were issued by governments and individuals, they were sent within and between nations, and reproduced both classic and newly scripted poems. Although these cards may be new to scholars of literature, they were fully appreciated at the time of their publication by political leaders as well as by individual citizens.
This volume shifts from hot war to cold war in John O'Brian's essay on atomic bomb imagery on postcards. A 1952 postcard pictures an above-ground bomb test at Yucca Flats in Nevada. At the apex of the mushroom cloud, rising vertically at a slight angle above the desert floor, a text in red is superimposed on the blast image: "Greetings from Los Alamos New Mexico." Among other things, such images are "postcards to Moscow," O'Brien argues, for the atomic arms race between the United States and the Soviet Union that underwrote the Cold War meant that the era was haunted by the specter of a mushroom cloud.
What is most compelling about many of these cards is the way they attract even as they repel the viewer. "Greetings from Los Alamos" is a representation of the technological sublime, O'Brian contends, an image that precariously balances terror with pleasure. It is a peculiarly American hybrid, a combination of technological progression and pastoral idealism. Key here was the decision to publish images in color rather than black and white. By deploying color, the postcard maintained the spectacle (the "awe"), at the same time as it softened the anxiety (the "shock"). O'Brian points out that until at least the mid-1960s monochrome photography connoted to Americans ethical gravity, the "real" of documentary, while color photography connoted the "unreal" of consumerist pleasures and tourism, the toothpaste smiles of Madison Avenue. Americans not only feared the atomic bomb and its technology in the decades after Hiroshima and Nagasaki, they were also attracted to the bomb's protective power. Both the fear and the attraction are registered in the color postcards O'Brian discusses.
On the racks of postcard vendors and in the pages of albums, there is a short distance from the terrifying kitsch of some postcards to the banal frankness of others. Timothy Van Laar considers both the use of peculiarly banal postcards in his art works and the way they address some general problems in the use of postcards to make art. The typical postcard, with its aspirations to the beautiful, sublime, and heroic, usually delivers a heavy dose of nostalgia, sentimentality, and kitsch. How does an artist appropriate postcards in the making of new images and avoid or minimize the overwhelming ironies intrinsic to the use of these powerful clichés? One way is through the use of a particular kind of postcard, the postcard that fails to operate within the conventions. These postcards picture the mundane, commonplace, and unheroic; they arrive at this ordinariness by means of various, perhaps unintended, visual strategies. Van Laar moves from an informal taxonomy of the modern postcard to a consideration of this particular, seemingly inept, kind of postcard image. It is a kind of image, however, that has its own difficulties; for example, its naïve or amateur qualities can suggest the same sorts of "authenticity" attributed to the "primitive" or to outsider art. Van Laar also shows that cards that fail to meet conventional postcard expectations can themselves create ironies that have their own difficulty.
As a compendium, the essays in this volume, can be viewed as a series of individual cards arranged in a postcard album: each one is different but together they form a state-of-the-field album of postcard studies today. Yet the album has a prehistory, from which the essays by Éluard and Evans have been selected. Although we have included them above as part of our overview of the volume's contents, it is important to understand that they also would form part of any historical bibliography on postcards. If we look at the historiography, the history of the history of postcards, there are a number of moments that stand out as significant markers in tracing the postcard's intersection with the avant-garde, Orientalism, and urban studies; each of these moments in its own way has lead the editors to bring together the authors in this book.
Marcel Duchamp's L.H.O.O.Q. (1919) is arguably the first well-known art work based on a postcard. Duchamp (1887–1968) took a postcard reproduction, which he claimed he had purchased in a postcard shop on the Rue de Rivoli in Paris, of Leonardo Da Vinci's Mona Lisa (1503–5), perhaps the single most famous painting in the Louvre, and penciled on it a mustache, goatee, and title. Inspired by Dada, it became one of Duchamp's most famous so-called readymades. These were everyday objects—a urinal, a postcard—slightly altered and presented to suggest a new and different point of view. The letters "L.H.O.O.Q." were a scatological joke since when pronounced in French they sound like "Elle a chaud au cul" (She has a hot ass). By altering a postcard reproduction of a painting and declaring it a legitimate artwork, Duchamp was, first, collapsing the then still regnant distinction between high and low art. That Duchamp produced a number of versions of this work over the years only added further insult to injury by producing multiple original alterations of the oft-reproduced postcard. Primarily, L.H.O.O.Q. operates as a think-piece, a precursor to both conceptual and postmodern art. Duchamp took an art reproduction—and a lowly postcard at that—appropriated it by altering it, and then claimed that his altered postcard of a painting was itself an artwork. So now we have not only postcards of L.H.O.O.Q. that reproduce an altered postcard reproduction of the Mona Lisa, but also other works that rework Duchamp's postcard—for example, by Francis Picabia and Carol Selken—and reproductions in turn of these latter works. What better way to collapse high and low, deaestheticize the art object, than to appropriate a postcard, elevating its status from cheap, reproducible ephemera—a copy of an original—to a signed, original work of art that itself is open to reproduction and sale? In challenging the common view of postcards as degraded, less worthy art objects (in part because they are reproducible and sold in quantity), Duchamp's L.H.O.O.Q. at the same time fueled heated art-historical discussions concerning appropriation, reproduction, artistic genius, and high versus low culture.
Throughout the twentieth century, artists have returned to Duchamp's gesture and incorporated postcards into their work. Artists' files are full of postcards, used as correspondence, document, critical tool, and inspiration. For some, postcards have become source material in their studios, but for many more—including Joan Miró, Roland Penrose, Ellsworth Kelley, Gerhard Richter, Buzz Spector, Martin Paar, and others—postcards have become protagonists in works that challenge strongly held notions of originality and authenticity to instead put into play an interrogation of art, commerce, and popular culture. As much as anyone else, artists have benefitted from the wide availability of postcards. When Éluard and his fellow Surrealists were collecting postcards, they were finding them in stalls and attics across Paris; some were inherited from family members as welcome artifacts from a prewar period seen to embody innocence and experimentation. Today, postcards are still readily available and, except for the most sought after by collectors, relatively cheap to purchase. Artists continue to appropriate old cards and publish new ones, each time provoking a different set of questions. As digital culture replaces analog, paper cards may become a sign of the past, but today's Twitters and tweets may be merely an extension of the already telegraphed messages that adorned the backs of picture postcards at the turn of the century.
Postcards, especially vintage cards from the early twentieth-century "golden age" between the wars, have long been collectibles sold in venues such as flea markets and used bookstores. Books reprinting old cards have appeared increasingly over the last two or three decades, especially in France. The overwhelming majority of these compilations are nostalgic in tone and intent. They reflect anxiety about the accelerating rate of social and cultural change during the twentieth century, especially in turn-of-the-century scenes that document the changes to urban streetscapes and seek to preserve a record of rural folkways. In addition, many exude imperialist nostalgia for now-independent former colonies to which European colonials cannot realistically return.
When Malek Alloula's The Colonial Harem was published in French in 1981 and English in 1986, it was the first critical study of postcards, in both senses of "critical," to attract widespread notice. Critical in that it took postcards as cultural and colonialist objects worth serious scrutiny, it was also highly critical of the Orientalist, exoticist, and sexist imagery of French colonial postcards of Algerian women. Many reviewers applauded Alloula's critical stance; the book jacket included such encomia as "Imprisoned by the photographers' eye [these women] reclaim their historicity through the pages of this powerful book" (Village Voice); "By displaying and dissecting colonial pornography as an insider he [Alloula] brings into stark relief the violation of the patriarchal gaze at its harshest" (Women's Review of Books). Yet others argued that while ostensibly critical, Alloula ended up reproducing female stereotypes and the prevailing gender system under colonialism. Many images were reproduced significantly larger than postcard size, with the result that these derogatory images were again put into widespread circulation. While Alloula's book was clearly not imperialist nostalgia, strictly speaking, some feminists contended that it constituted a nostalgic or sexist view of male-female relations in Algeria: "If Algerian women were vulnerable and disgraced by their original display on colonial postcards, they are once again exposed by their display in this book." His work more a literary than a historical or an art-historical analysis (he dedicated the text to the memory of Roland Barthes), Alloula chooses to discuss postcard representations of Algerian women as a whole and in general. He deliberately excludes information on postcard publishers, photographers, and processes of production, on iconography and postcard messages, on how many were printed and who collected them, as well as the geographical, ethnic, and historical context of these colonial Algerian images. A male Algerian, Alloula determined to speak for the female Algerian subjects of these early twentieth-century cards, intending to "return this immense postcard to its [French] sender." Yet he provided no information on actual senders or sendees. Instead, Alloula arranges the cards purposefully to produce a postcard compilation with a message. Arguing throughout that these postcard images of Algerian women are degrading, he makes his case by ordering them in an ascending order of offensiveness. His chapter headings clearly state his argument, from "Women from the Outside" (chapter 2) and "Women's Quarters" (chapter 4) to "Oriental Sapphism" (chapter 9), culminating in the last chapter with an "anthology of breasts."
In 1990 literature specialist Naomi Schor published a long, detailed, comprehensive essay on postcards in one of the most prestigious scholarly journals in her field, Critical Inquiry. As a sign of Schor's standing in academia as well as an indication that postcards had arrived as a subject of highbrow intellectual interest, Critical Inquiry—not otherwise known for its illustrations—accompanied Schor's essay with twenty-seven mostly full-page postcard reproductions. Schor focuses on turn-of-the-century Parisian viewcards produced by the Maison Lévy (Lucien and Ernest Lévy) under their trademark LL, but in fact her article is far more wide-ranging. She raises the issue of photographic realism; discusses postcard production; sketches a history of postcards; invokes critical theorists such as Walter Benjamin and Roland Barthes; suggests that the appeal of postcards is largely nostalgic; broaches the issue of postcard messages; and underscores the gendered nature of, especially postcard collecting, as female. While we know much more now about the topics Schor addresses, we reprint her essay here as our first chapter because of her skillful framing of key issues.
While not the first book about postcards to be published by an academic press—academic and commercial presses have long contributed to making reproductions of postcards available to a wide array of readers, especially those seeking information about local contexts or specific categories of historical images—this is the first anthology to bring together scholars, artists, and critics from the humanities and social sciences to focus exclusively on postcards as significant objects of study worthy of sustained, critical analysis. The authors come from different disciplines and have applied a range of methodologies in their explorations; we have sought to respect these differences by presenting side-by-side texts that complement, contrast, and sometimes contradict each other. Each essay offers a window in to an even more expansive field of study. By incorporating reprints of select essays, both from the more distant and recent past, we have sought to provide readers with an indication that "postcard studies" is not an invention of this anthology, but rather a crucial part of a longer, more complex history of modernity wherein writers, philosophers, artists, anthropologists, historians and everyday collectors were all fascinated, troubled, and provoked by the startling ubiquity of the picture postcard.
Also of Interest
Mailing List
Subscribe to our mailing list and be notified about new titles, journals and catalogs.