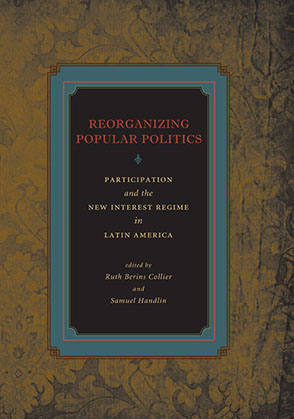 Reorganizing Popular Politics
Participation and the New Interest Regime in Latin America
Edited by Ruth Berins Collier, and Samuel Handlin
BUY
Reorganizing Popular Politics
Participation and the New Interest Regime in Latin America
Edited by Ruth Berins Collier, and Samuel Handlin
"This volume provides a penetrating analysis of Latin America's urban social and political landscape in the aftermath of market reform. Collier and Handlin and their collaborators draw upon a wealth of cross-national survey data to identify the new patterns of grassroots participation and civic association that have emerged in major urban centers, often in the void left by the decline of historic labor-based party and union organizations. Their empirically rich account helps explain how new associational networks have emerged to articulate popular demands and provide public services, and how these new social actors relate to governmental authorities and political parties. Anyone who wants to understand how the social bases of political representation have been transformed in Latin America's neoliberal era should start with this book."
Description

Reviews

Bio

Table of Contents

Sample Chapters

Subjects
A historic shift has occurred in the organizational structures through which the lower classes in Latin America express voice and find political representation. With the political and economic reforms of the 1980s and 1990s, networks of community-based associations and nongovernmental organizations replaced party-affiliated labor unions as the predominant organizations to which the lower classes turned. This volume examines the new "interest regime" in Argentina, Chile, Peru, and Venezuela through two extensive surveys—one of individuals and one of associations—undertaken in those nations' capital cities.
Contrary to common perceptions, the new interest regime is neither a vibrant, autonomous civil society nor a set of weak, atomized organizations. Participation in associations is generally high, compared to "direct action" as a strategy for pursuing collective interests, and associations more frequently coordinate and engage the state than has sometimes been assumed. However, various forms of interaction with the state pose a classic trade-off between representation and state control, and the new interest regime is marked by representational distortion, in that the lower classes are less likely to use the new structures than the middle classes. Within these general patterns, distinct national models are emerging.
This volume represents the most ambitious and systematic effort to date to examine individual participation and associational life in Latin America and to carry out a cross-national analysis of new forms of political representation.
"This volume provides a penetrating analysis of Latin America's urban social and political landscape in the aftermath of market reform. Collier and Handlin and their collaborators draw upon a wealth of cross-national survey data to identify the new patterns of grassroots participation and civic association that have emerged in major urban centers, often in the void left by the decline of historic labor-based party and union organizations. Their empirically rich account helps explain how new associational networks have emerged to articulate popular demands and provide public services, and how these new social actors relate to governmental authorities and political parties. Anyone who wants to understand how the social bases of political representation have been transformed in Latin America's neoliberal era should start with this book."
"Using a comparative perspective that is often lacking in the literature, this important book provides original insights on many aspects of associational participation and patterns of interaction between associational networks and political action. The book should be of strong interest to scholars interested in contemporary trends in the interaction between civil society and the state in South America."
"Collier, Handlin, et al. are to be congratulated on this volume. Its scope of inquiry and the care with which the whole effort was carried through are both remarkable, and it absolutely represents a distinct step forward in our understanding of how and why mass politics in Latin America not only operates but also has changed over time."
Ruth Berins Collier is Heller Professor of Political Science at the University of California, Berkeley.
Samuel Handlin is a PhD candidate in the Department of Political Science at the University of California, Berkeley.
Contents
Acknowledgments
Part I: Introduction: Interest Politics and the Popular Sectors
1. Introduction: Popular Representation in the Interest Arena
Ruth Berins Collier and Samuel Handlin
2. Situating the Analysis: Analytic Approach, Cases, and Historical Context
Ruth Berins Collier and Samuel Handlin
3. Logics of Collective Action and State Linkages: Comparing the UP-Hub and the A Net
Ruth Berins Collier and Samuel Handlin
Part II: Individual Participation in the Interest Arena
4. Direct Action and Associational Participation: The Problem-Solving Repertoires of Individuals
Thad Dunning
5. Political Participation and Representational Distortion: The Nexus Between Associationalism and Partisan Politics
Jason Seawright
Part III: The Popular-Sector Interest Regime
6. Targeting State and Society: The Strategic Repertoires of Associations
Diana Kapiszewski
7. Three Forms of Scaling: Embeddedness, Nodal NGOs, and Flexible Fronts
Samuel Handlin and Diana Kapiszewski
8. Associational Linkages to Labor Unions and Political Parties
Candelaria Garay
Part IV: Conclusion
9. Conclusion: General Patterns and Emergent Differences
Samuel Handlin and Ruth Berins Collier
Appendix A: Selection of Focus Districts
Appendix B: Survey of Associations
Appendix C: Survey of Individuals
List of Contributors
References
Index
Mailing List
Subscribe to our mailing list and be notified about new titles, journals and catalogs.