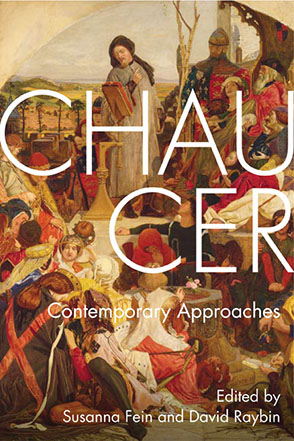 Chaucer
Contemporary Approaches
Edited by Susanna Fein and David Raybin
Buy
Chaucer
Contemporary Approaches
Edited by Susanna Fein and David Raybin
"The book is neither intended nor suitable for beginners, and all but the most sophisticated undergraduates are likely to become lost amid many references to scholars and scholarship. But specialists with even limited familiarity with Chaucer will find this collection ideal."
Description

Reviews

Bio

Table of Contents

Sample Chapters

Subjects
Chaucer was an extraordinary writer who expressed the tenor of his times with ingenious verbal facility and a profound sympathy for the human condition. Like his original work, the ongoing study of his life, writings, and culture reflects the questions, conversations, and scholarly approaches of contemporary society. A renaissance of sorts in Chaucer studies has been flourishing in recent years, led by the scholars represented in this volume. They continue to chart a course for the next generation of work on Chaucer and medieval English literary studies.
Susanna Fein and David Raybin, editors of The Chaucer Review, have organized this volume to showcase those strands of inquiry and perspectives that are yielding exhilarating new slants on the poetic records of the Middle Ages. By combining twenty-first-century theoretical orientations and material perspectives, each of the twelve essays here adds contemporary relevance to our reading of Chaucer while remaining strongly grounded in his critical legacy. Using these methods to explore Chaucer's relationship to place, his contemporary sociolinguistic environment, and issues of humor, gender, and literary and political forces in his works, Chaucer: Contemporary Approaches not only presents experienced and budding scholars alike with an overview of modern approaches, but also provides a blueprint for Chaucer studies into the future.
"The book is neither intended nor suitable for beginners, and all but the most sophisticated undergraduates are likely to become lost amid many references to scholars and scholarship. But specialists with even limited familiarity with Chaucer will find this collection ideal."
"What is engaging about the essays in this collection is their analytical, speculative, sometimes contestive turns, their proposed new directions for Chaucer studies. . . . This entire collection, as a collection that points forward, is entirely welcome."
"This volume admirably achieves its goal to sketch out the scholarly successes in Chaucer studies. . . . [T]he chapters in this volume succeed in articulating the impressive contributions made by the current generations of Chaucer scholars and in offering a clear sense of the promising future that lies ahead."
"Initiating collaborative projects, minding gaps in the scholarship of our field, fostering community: [Fein and Raybin's] contribution extends well beyond co-editing Chaucer Review, the journal whose fiftieth anniversary this handsome book celebrates. Chaucer: Visual Approaches offers a wealth of images, fresh ways to think about them, and fruitful exploration of their many implications for reading Chaucer."
Susanna Fein is Professor of English at Kent State University and co-editor of The Chaucer Review.
David Raybin is Professor of English at Eastern Illinois University and co-editor of The Chaucer Review.
Contents
List of Illustrations
Preface
Acknowledgments
Susanna Fein and David Raybin
I. Chaucer's Places
1. Italy
Robert R. Edwards
2. France
Ardis Butterfield
3. England
Kathy Lavezzo
II. Chaucer's Audiences
4. Manuscripts and Scribes
Simon Horobin
5. Receptions: Medieval, Tudor, Modern
Seth Lerer
III. Chaucer and Language
6. Language in Use
Karla Taylor
7. Colonialism, Latinity, and Resistance
John M. Bowers
IV. Reenvisioning Chaucer
8. Humor in Perspective
Laura Kendrick
9. Dream Poems
A. C. Spearing
10. Gender and Sexuality
Glenn Burger
11. Literary History
Steven Justice
Bibliography
Editors and Contributors
Index
Preface
This book is intended for those who want to explore how the works of Geoffrey Chaucer are now being approached and where the frontiers of such studies lie. It is offered in the spirit of welcoming general readers and new scholars into the global community of Chaucer research. It also extends a welcome to active scholars, who wish to find up-to-date summaries of the avenues of recent inquiry that have become necessary knowledge in the field. Opportunities await those readers who seek to further the collective work of creating a balanced, thoughtful portrait of the poet, his works, and his culture. The essays in this collection spell out some pressing areas for future research. Exciting work is happening. We are defining the geopolitical and sociolinguistic boundaries that map Chaucer's world. We are developing new technological tools to address the study of manuscripts and the Chaucerian lexicon. We are reconstructing Chaucer's audiences to learn how he was read in the context of shifting literary and political currents. We are refining our narratives about how Chaucer absorbed Latin learning, manipulated genre, embraced humor, and addressed issues of gender. And we are reconsidering literary history itself, the endeavor that grounds all careful study of Chaucer's writings.
More than forty years ago, the Chaucer group of the Modern Language Association helped to found a new journal, The Chaucer Review: A Journal of Medieval Studies and Literary Criticism. The first issue was published in the summer of 1966, under the co-editorship of Robert W. Frank Jr. and Edmund Reiss, by The Pennsylvania State University Press. This issue was dedicated to the memory of Fred Norris Robinson, who had died on July 21, 1966, at the age of ninety-five, and whose edition of Chaucer was cited in every article. The passing of Robinson had denoted in a sense the end of a pioneering era in modern medieval scholarship. According to eulogist B. J. Whiting, Robinson himself had "started the formal introduction in the Celtic languages and literatures in the United States." The inauguration of The Chaucer Review opened, in turn, a new era of eclectic, wide-ranging literary criticism, soon marked by the establishment of The New Chaucer Society in 1978 and its annual, Studies in the Age of Chaucer. In justifying The Chaucer Review's creation, Frank and Reiss cited a "new vitality" in the field, which "renders meaningless the sort of stifling question that used to be frequently asked of Ph.D. candidates who wanted to write a dissertation on, say, the Troilus and Criseyde: 'Do you really think anything new can be said about that?'" There was debate and excitement in the air: "New things, often disquieting and disconcerting, are now being said constantly about Chaucer's writings. One may not like all (or any) of them, but one must still recognize and consider them."
This wave of Chaucerian scholarship, from the 1960s until at least 1999, has been marked by a lively, diverse range of critical opinion and historical scholarship of the sort practiced and taught especially in English departments in Great Britain and the United States (and still, of course, practiced and taught, though now the field is tempered by recent trends in theory and textual studies). When in 1986 Piero Boitani and Jill Mann produced the important Cambridge Chaucer Companion "for students approaching Chaucer for the first time," they stated their focus to be in large part an "appreciation of Chaucer's aims and artistry." The new essays in that volume set about identifying "themes and styles, moods and tones" as well as "literary or historical background" for Chaucer's major texts. This book represented a highlight of the new endeavor begun in 1966, when Chaucer's undisputed spot in the English literary canon encouraged a flood of historical scholarship and ingenious literary criticism. The authors contributing to the collection (many of whom sit or once sat on the editorial board of The Chaucer Review) included many who helped to define Chaucer studies in the 1980s—and several who continue to define it today: C. David Benson, Morton Bloomfield, Derek Brewer, John Burrow, Joerg Fichte, Robert Frank Jr., Mark Lambert, Dieter Mehl, Derek Pearsall, A. C. Spearing, Paul Strohm, David Wallace, and Barry Windeatt. One of these authors, Tony Spearing, speaks also in this volume.
The landscape of modern Chaucer studies has changed significantly from that time of origin of a learned journal (marked as a response to an exhilarating intellectual environment) and, later, of that essay collection seeking appreciation for Chaucer's artistry. In a sense our book serves to commemorate the earlier era, as this project initially germinated as a salute to more than forty years of The Chaucer Review. But more than that, this book has become what scholarship in the twenty-first century demands that it be: a blueprint for Chaucer studies into the future. Our authors have collectively showcased numerous strands and perspectives that promise to yield new slants on past poetic records. By reframing our questions and retooling our calibrations, we discover fresh ways to grasp a writer who expressed the tenor of his times with extraordinary verbal facility and a profound sympathy for the human condition. This book joins a renaissance of new collections on the poet Geoffrey Chaucer, many of them published since 2000, and all attesting to an esprit in the scholarly corps. But this book is different from the others. Rather than addressing itself to readers already conversant in the scholarship, this book invites thoughtful readers—experienced and budding scholars alike—to engage with present Chaucerian discussion points of most contention, innovation, and promise. The readers of this book will be taken to the edge of where some of the best scholarship flourishes today. As editors, it is our desire that perceptive students, teachers, and readers of Chaucer will be inspired to join these effervescent conversations. We call on medievalists new and old to reposition Chaucer studies for the present century by forging new paths in one or more of these critical areas.
In recent years, the ground has shifted in ways major in impact and implication. There have been readjustments of previously narrow, often anachronistic perceptions; applications of new instruments for more detailed research; recoveries and fresh interpretations of six hundred years' worth of reception and commentary on Chaucer. What we present here is a sampling of the most intriguing angles that seasoned Chaucerians are now grappling with. There are of course new developments in myriad directions, with further possibilities in areas that we did not have space to treat here, such as performance studies, feminism, and aesthetics. Nonetheless, the range we provide is broad in application and current in approach. The authors of these essays survey the potentialities within each of their subfields, and they bring to their subjects informed theoretical and material perspectives that add contemporary relevance. Each essayist paves future paths, closing with a Further Readings. Taken together, the authors chart a course for the next generation of work on Chaucer and medieval English literary studies.
Part I, Chaucer's Places, examines "Italy," "France," and "England" as constructs for a fourteenth-century writer who was born and bred in cosmopolitan London, traveled frequently both in England and on the Continent, and interacted in numerous social circles: aristocratic, commercial, literary. Treating matters geographical, linguistic, and cultural, these essays focus attention on where a modern concept of nation might come into play, if at all. The notion of Chaucer's career as a poet as tripartite—French, Italian, English—is now subject to challenge and substantial revision. By the old model, we understood Chaucer to have imbibed French court poetry as a young man; discovered Dante, Petrarch, and Boccaccio in his thirties; and adopted a colloquial, idiomatic English in his late poetry. Robert R. Edwards shows that Chaucer's contact with Italian language, commerce, and culture took root in his boyhood in the London vintner district and continued throughout his life. Edwards asks for a mapping of "a historical imaginary of Italy" that is twofold: first, what Chaucer's encounters with and evocations of Italy became in his own works, and, second, what they shaped by their influence upon later English writers.
Ardis Butterfield's essay on "France" scrutinizes the older tradition that Chaucer went through an "effete" French phase that collapsed in the face of subsequent exposure to Italy and its writers of the Trecento. Querying what it means to be an English speaker and writer in a multilingual culture, Butterfield argues that Chaucer never in fact neglected his French influences. Although all his surviving writing is composed in the English vernacular, he was a writer of international breadth who remained a multilingual speaker. His vocabulary and diction frequently span the indistinct border between English and French. Kathy Lavezzo's essay on "England" similarly insists on a hybrid Englishness encompassing multiple and overlapping linguistic communities. While Chaucer's continental contemporaries mockingly categorized the denizens of fourteenth-century England as linguistic and geographic others, Chaucer obliquely and comically played against their critique by constituting the supposed disorder and diversity of an isolated backwater as a marker of English identity. By this perspective, Chaucer's outward mocking of insular style in Sir Thopas reflects both an English literary heritage and the poet's awareness of his own Englishness.
Part II, Chaucer's Audiences, juxtaposes two distinct conceptualizations of its topic. In "Manuscripts and Scribes," Simon Horobin considers the groundbreaking implications of recent discoveries regarding the manuscripts of Chaucer's texts and the scribes who copied the poet and his literary contemporaries. He details the fascinating kinds of material data still awaiting analysis in the context of new refinements in scribal classification, electronic editions, and online resources. This kind of work brings us within physical proximity to Chaucer's earliest traceable readers. Seth Lerer's "Receptions: Medieval, Tudor, Modern" depicts Chaucer's later readers, showing how they absorbed the poet's writings among other sayings and exempla for living. Lerer finds in the Paston Letters of the mid-fifteenth century, Tottel's Miscellany of the mid-sixteenth century, and Shakespeare's The Two Noble Kinsmen of the early seventeenth century examples of how these readers constructed a "Chaucer" of their own, one in each instance suited to particular needs. Each writer modernizes Chaucer, so that his words are successively recontextualized, relocated, and even regendered.
The two essays in Part III, Chaucer's Words, consider the social aspects of language. Karla Taylor's "Language in Use" demonstrates how the introduction of better dictionaries of Middle English and Anglo-Norman as well as a linguistic atlas of medieval England have redefined the study of Middle English and given us a better grasp of language in use—most significantly, of vocabulary, of register, and of French and English in living, dynamic interplay. John Bowers's "Latinity, Colonialism, and Resistance" employs some of the same tools to reconsider the position of the Latin language as a hegemonic, historical force of the Roman Empire and Catholic Church, which Chaucer's use of the vernacular might work to resist, even throw off, in new English contexts. Chaucer was asserting an English politics and spirituality distinct from classical Latin antecedents and contemporary Roman authorities.
The essays in Part IV, Reenvisioning Chaucer, provide freshly conceived outlooks on four of Chaucer's principal modes. Laura Kendrick's "Humor in Perspective" considers ways in which humor and laughter are matters of visualization, and she uses new juxtapositions of Chaucer's poetry beside medieval art and the verse of his French contemporaries to show how Chaucer's ways of seeing are made funny by tricks of perspective. The method seems to be akin to the skewed angles, exaggerations in scale, and incongruities sometimes seen in the droll marginalia of illuminated medieval manuscripts. Such humor disarms readers and draws from them a tolerant response to human foible. In "Dream Poems," A. C. Spearing offers a bracing corrective on how to understand the narrating voice, the "I," of Chaucer's dream poems without resort to potentially anachronistic notions of persona or formal unity, notions too easily imposed by the modern critic. Spearing sees Chaucer's learning as much more dependent on French translations of Latin sources than is generally acknowledged, and he builds on this insight to show how truly dreamlike Chaucer's dream poems are: they are random as opposed to orderly, unpredictable as opposed to structured, inventive as opposed to source-dependent.
Glenn Burger explains why "Gender and Sexuality" as a Chaucerian subject should be reevaluated by the terms of premodern thinking, for which modern engagements with gender and sexuality—incorporating strategies derived from the frameworks of feminist, queer, and transgender theory—offer many channels of access. Burger illustrates the point with an innovative analysis of the Clerk's Tale as enacting "a double undoing of gender." Each reader is asked to find meaning in a husband and wife's disturbing performance of conventional marital roles. In "Literary History," Steven Justice both uses and challenges the accomplishments of New Historicism as he proposes that literary history be embraced as a term that concerns both history and literature, coequally and reciprocally. His essay closes the book with a manifesto of sorts, a call and a spur to acknowledge the necessarily partial ways we study the past through texts literary and nonliterary, and to reflect on the stories we construct, the poses we assume, the profession we build, and the stimulating variances in the evidence itself.
A renewed vitality has taken hold of Chaucer studies. It has become a field ripe for important, paradigm-shifting work. Students sometimes face institutional discouragement, still hearing the question, "Do you really think anything new can be said about that?" For the poet Chaucer and his age, the answer, resoundingly, is yes. The plethora of writing on Chaucer does not denote an exhausted subject; it reflects, rather, the poet's extraordinary, ongoing intellectual and aesthetic appeal, which speaks to future decades of criticism, historicism, and theory. Readers today are finding the Chaucer who speaks to the twenty-first century, who may indeed sometimes speak as a truer trace of the actual fourteenth-century poet because the scholarship of the nineteenth and twentieth centuries lacked the means and methods by which we read the documentary record today. Our purpose in this volume has been to present readers of Chaucer with some of the critical strands that have most generated this energy.
Mailing List
Subscribe to our mailing list and be notified about new titles, journals and catalogs.