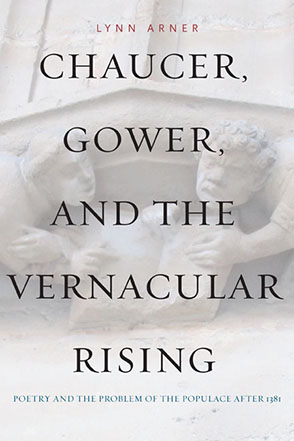 Chaucer, Gower, and the Vernacular Rising
Poetry and the Problem of the Populace After 1381
Lynn Arner
BUY
Chaucer, Gower, and the Vernacular Rising
Poetry and the Problem of the Populace After 1381
Lynn Arner
"Chaucer, Gower, and the Vernacular Rising is an original and provocative study that reorients our sense of the fourteenth-century audience for vernacular English literature. Lynn Arner shows how the writings of Chaucer and Gower shaped complex new hierarchies of cultural expertise and authority. Through a series of wonderful readings, drawing fruitfully on Pierre Bourdieu, among others, this book makes an important contribution to the social and cultural study of medieval literature, vernacular literacy, and access to cultural capital in the later medieval period."
Description

Reviews

Bio

Table of Contents

Sample Chapters

Subjects
Chaucer, Gower, and the Vernacular Rising examines the transmission of Greco-Roman and European literature into English during the late fourteenth and early fifteenth centuries, while literacy was burgeoning among men and women from the nonruling classes. This dissemination offered a radically democratizing potential for accessing, interpreting, and deploying learned texts. Focusing primarily on an overlooked sector of Chaucer's and Gower's early readership, namely, the upper strata of nonruling urban classes, Lynn Arner argues that Chaucer's and Gower's writings engaged in elaborate processes of constructing cultural expertise. These writings helped define gradations of cultural authority, determining who could contribute to the production of legitimate knowledge and granting certain socioeconomic groups political leverage in the wake of the English Rising of 1381. Chaucer, Gower, and the Vernacular Rising simultaneously examines Chaucer's and Gower's negotiations—often articulated at the site of gender—over poetics and over the roles that vernacular poetry should play in the late medieval English social formation. This study investigates how Chaucer's and Gower's texts positioned poetry to become a powerful participant in processes of social control.
"Chaucer, Gower, and the Vernacular Rising is an original and provocative study that reorients our sense of the fourteenth-century audience for vernacular English literature. Lynn Arner shows how the writings of Chaucer and Gower shaped complex new hierarchies of cultural expertise and authority. Through a series of wonderful readings, drawing fruitfully on Pierre Bourdieu, among others, this book makes an important contribution to the social and cultural study of medieval literature, vernacular literacy, and access to cultural capital in the later medieval period."
"Chaucer, Gower, and the Vernacular Rising is an enthralling and thought-provoking reappraisal of the interplay between literacy, poetry, and social relations in England during the years immediately following the Peasants' Revolt of 1381. Taking as her starting point a startling reappraisal of the extent of literacy at the time of the rising, Lynn Arner explores how the poetry of Gower and Chaucer intersected with the aspirations and anxieties of emergent social classes. Arner not only provides an engrossing account of the interplay of text, culture, and authority at a critical moment in English history, but also shows how the cultural choices made at that time resonate in many modern assumptions about the role and nature of culture. This book is required reading for anyone interested in how the social and cultural tensions of the late fourteenth century shaped English-speaking culture."
"One of the most compelling subjects in scholarship on the Middle Ages is the Rising of 1381—what we used to call the Peasants' Revolt. What Lynn Arner contributes to this research is an overlooked and necessary perspective, an account of literature from the ground up, as it were, or at least how literature looked from the ground up. Arner demonstrates how pervasive are the tensions and themes that surround the rebellion and how they work within and on a wide variety of works, authors, and audiences in the late Middle Ages. Arner is able to read Gower and other writers not as defensive social conservatives but as voices for a newly emerging polity. She insists on rooting readings of medieval literature (or any literature) in lived, material experience, and she also insists on the importance of considering the aesthetic and the political as part of an interpretative matrix."
"Chaucer, Gower, and the Vernacular Rising excavates the moderating effects that early canonical literature in English would have on nonruling classes who were likely to have been sympathetic with or to have participated in the Peasants' Revolt, and for that reason alone it offers an enormous contribution to scholarship in fourteenth-century English literature."
"[Chaucer, Gower, and the Vernacular Rising] will be an important work for scholars working on late medieval literacy, power relationships, and the nexus between behavioral practices and social control."
"Ambitious and original."
"This study is welcome and valuable in returning literature, which has been studied as an isolated phenomenon, to the rich social fabric of which it is a part. Literature, and culture generally, have an autonomy in which man's most penetrating self-interrogations take place. This is therefore not the last word, but it is an important word."
"This study represents a welcome consideration of two major poets' responses to a moment of substantial social upheaval, suggesting provocatively that the Rising had important ramifications for English literary culture not only in its own time, but also for the present day. Arner's book will be of interest to the many scholars invested in the legacies of 1381, as well as those interested more broadly in the interplay of poetry, politics, and literacy in later medieval England. This book also invites further work on classical reception among the growing ranks of nonelite readers during this period, an exciting endeavor that Arner's study proves can produce stimulating results."
Lynn Arner is Associate Professor of English and of Women's and Gender Studies at Brock University in Canada.
Acknowledgments
Introduction
1 Chaucer's and Gower's Early Readership Expanded
2 Against the Greyness of the Multitude: Poetry, Prestige, and the Confessio Amantis
3 Time After Time: Historiography and Nebuchadnezzar's Dream
4 In Defense of Cupid: Poetics, Gender, and the Legend of Good Women
5 Chaucer on the Effects of Poetry
Conclusion
Notes
Bibliography
Index
Mailing List
Subscribe to our mailing list and be notified about new titles, journals and catalogs.