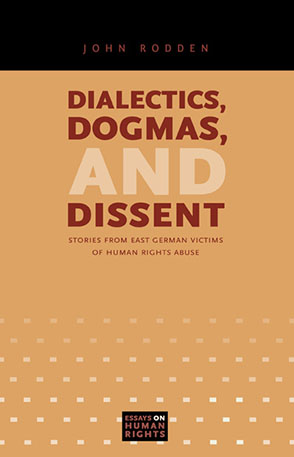 Dialectics, Dogmas, and Dissent
Stories from East German Victims of Human Rights Abuse
John Rodden
BUY
Dialectics, Dogmas, and Dissent
Stories from East German Victims of Human Rights Abuse
John Rodden
"John Rodden is turning into the Studs Terkel of the GDR, a patient interlocutor who gets people talking and asks the probing question when it is needed. As time goes on, and both lives and memories fade, this kind of oral history record becomes increasingly valuable."
Description

Reviews

Bio

Table of Contents

Sample Chapters

Subjects
Germany underwent two periods of dictatorial repression in the twentieth century, first under Hitler and the Nazis in the late 1930s and early 1940s and then under the communist German Democratic Republic from 1945 until the Berlin Wall fell in 1989. The abuses of human rights under the Nazis are well known and now abundantly documented. The abuses that occurred during the period of the GDR, however, are not so well known and are poorly documented.
Through his interviews with survivors of GDR repression, John Rodden seeks to add to the history of this dark period. He reveals the many different ways in which ordinary people suffered at the hands of a brutal regime and its secret police enforcers, the Stasi. Some presented here are heroes; some are survivors, including those who played along to get along. As one teacher who conformed to stay safe admitted to Rodden, "It was a nation that, by cutting us off from the truth, made cowards of us all."
"John Rodden is turning into the Studs Terkel of the GDR, a patient interlocutor who gets people talking and asks the probing question when it is needed. As time goes on, and both lives and memories fade, this kind of oral history record becomes increasingly valuable."
John Rodden has taught at the University of Virginia and at the University of Texas at Austin. His books include Repainting the Little Red Schoolhouse: A History of Eastern German Education, 1945–1995 (2002) and Textbook Reds: Schoolbooks, Ideology, and Eastern German Identity (Penn State, 2005).
Contents
List of Illustrations
Abbreviations
Prologue
Introduction
Part 1 Orwellian Dialectics, or the Stasi's Psychoterror
1. Of Pigs and Poison Shelves
2. "Big Brother Was Watching Me"
Part 2 Rosy Dogmas, or Barbarism with a Human Face
3. Innocents Abroad
4. Dictatorship of the Professoriat?
Part 3 Courageous Dissent, or the Grit and Grace of Public Heroics
5. Revolutionary in Love with the Past
6. The Galileo of the GDR
Epilogue
Acknowledgments
Notes
Index