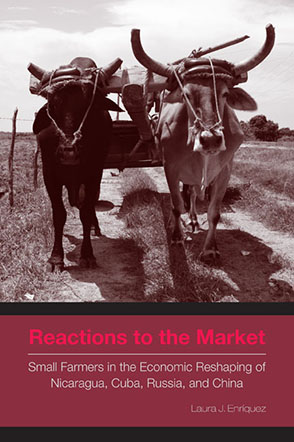 Reactions to the Market
Small Farmers in the Economic Reshaping of Nicaragua, Cuba, Russia, and China
Laura J. Enríquez
BUY
Reactions to the Market
Small Farmers in the Economic Reshaping of Nicaragua, Cuba, Russia, and China
Laura J. Enríquez
"Boldly adapting Karl Polanyi's classic framework to contemporary cases, Enríquez develops a matrix of market reform strategies with starkly different implications for small rural producers. Combining theoretical rigor with careful fieldwork, this study draws on original survey research and fine-grained analysis of Cuba and Nicaragua, examined in comparison to Russia's 'shock therapy' and China's gradual transition. This excellent work offers valuable insights for students and practitioners of rural development and agrarian social relations."
Description

Reviews

Bio

Table of Contents

Sample Chapters

Subjects
It is manifest in developing countries around the world that the "shock" therapy administered to their economies by the neoliberal model of structural adjustment has failed, leaving much social and economic destruction in its wake. In Latin America this failure has led to a resurgence of interest in alternative models, some of them deploying various versions of socialism, as in Bolivia, Chile, and Venezuela, which has given rise to talk about the new "pink tide" enveloping the region. In this comparative study of four economies that have been making a transition to the market from their orthodox socialist pasts, Laura Enríquez focuses our attention on the plight of the small farmer in particular and on the importance of this sector for the overall socioeconomic success of the transition.
Through this comparison, we see the similarities between Nicaragua and Russia in their rapid retreat from socialism and their adoption of reforms that have placed small agriculture, especially that focused on food crops, at a distinct disadvantage relative to export-oriented production. By contrast, Cuba has been more like China in adopting aspects of market reform while emphasizing small-scale cooperative and private farming in an effort to achieve food self-sufficiency.
Drawing insights from Karl Polanyi's study of the social and economic effects of the expansion of market relations in the nineteenth century, Enríquez highlights the role of the state in each of these countries in driving change in a certain direction: toward de-emphasis of small-scale farming and the eventual assumed demise of the peasantry in Nicaragua and Russia, which has led to countermovements of peasants struggling to survive, and toward the reconfirmation of the value of small farming in contributing to balanced economic development in Cuba and China.
"Boldly adapting Karl Polanyi's classic framework to contemporary cases, Enríquez develops a matrix of market reform strategies with starkly different implications for small rural producers. Combining theoretical rigor with careful fieldwork, this study draws on original survey research and fine-grained analysis of Cuba and Nicaragua, examined in comparison to Russia's 'shock therapy' and China's gradual transition. This excellent work offers valuable insights for students and practitioners of rural development and agrarian social relations."
"This remarkable and unique comparative study draws on Polanyi's theory of the great transformation. The author discusses the fate of the peasantry in four countries that have experienced different paths of transition from a planned economic system to a more market-oriented system. The state plays a key role in this transition, generating different countermovements. The various ways in which small farmers shape state policy—and hence their future trajectory—are explored within this comparative framework, providing fresh insights into the processes of agrarian transformation. This extraordinary book will appeal to all those who are interested in rural issues and are concerned with the challenges facing small farmers in the era of neoliberal globalization."
"This is an excellent study that I recommend highly highly to all interested in rural development issues in particular."
Laura J. Enríquez is Professor of Sociology at the University of California, Berkeley.
Contents
List of Figures, Tables, and Maps
Acknowledgments
List of Abbreviations and Key Terms
Introduction
Part 1: Transitions from Socialism and Their Social Consequences
1. The Theoretical Backdrop
2.: Small Farmers in a Contrasting Light
Part 2: Nicaragua's Rapid Retreat from Socialism
3. The Economic Strategy of the Post-1990 State
4. The Economic Strategy's Varying Impact on Nicaragua's Small Farmers
Part 3: The Reconfiguration of Cuban Socialism
5. Cuba's Post-1990 Economic Strategy
6. The Reconfiguration's Varying Impact on Cuba's Small Farmers
Conclusion: Transitions Toward the Market and Their Theoretical Implications
Postscript
Appendixes
Bibliography
Index