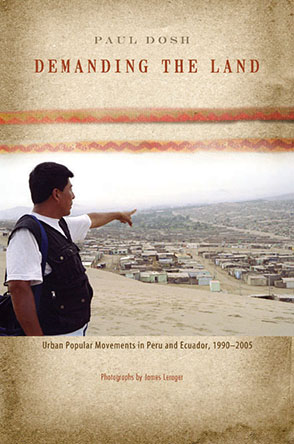 Demanding the Land
Urban Popular Movements in Peru and Ecuador, 1990–2005
Paul Dosh, and Photographs by James Lerager
BUY
Demanding the Land
Urban Popular Movements in Peru and Ecuador, 1990–2005
Paul Dosh, and Photographs by James Lerager
"Dosh is the latest in a long line of scholars who have taken an in-depth look at Lima's squatter settlements and their internal organizations. What makes Dosh's book exceptional is his comparative perspective (Quito as well as Lima) and the extraordinary detail that he has captured in his observations and interviews. Add to this his consistent efforts to tie his empirical inquiries to a variety of concerns in political science, and you have a truly significant piece of work."
Media

Description

Reviews

Bio

Table of Contents

Sample Chapters

Subjects
"Dosh is the latest in a long line of scholars who have taken an in-depth look at Lima's squatter settlements and their internal organizations. What makes Dosh's book exceptional is his comparative perspective (Quito as well as Lima) and the extraordinary detail that he has captured in his observations and interviews. Add to this his consistent efforts to tie his empirical inquiries to a variety of concerns in political science, and you have a truly significant piece of work."
"Paul Dosh's study is timely. Its results may imply that significant developments, with regard to both urban-based social movements themselves and the context in which they operate, are presently under way. The author has assembled an impressive array of empirical sources, and the fact that his study is comparative—focusing on Peru as well as Ecuador—will increase its relevance for Latin America as a whole."
In the latter half of the twentieth century, millions of impoverished people all over Latin America participated in illegal seizures of urban land. As many cities became saturated with squatter settlements by the 1980s, it was expected that such invasions would wane. But the increased economic vulnerability and expansion of informal labor activity brought about by neoliberal government policies spurred yet more invasions. Their goals remained the same: reliable electricity, potable water, sewer drainage, and legal title to illegally acquired land. But changes in the economic and political context required different means for achieving these goals. Social safety nets were weakened, organized labor lost power, and some urban service monopolies were privatized—and the introduction of democratic municipal elections offered new avenues to secure these much-needed services. In this careful study of ten neighborhoods in Quito, Ecuador, and Lima, Peru, Paul Dosh examines these new patterns to cast light on the reasons why some neighborhood groups succeed and survive while others do not.
"Dosh is the latest in a long line of scholars who have taken an in-depth look at Lima's squatter settlements and their internal organizations. What makes Dosh's book exceptional is his comparative perspective (Quito as well as Lima) and the extraordinary detail that he has captured in his observations and interviews. Add to this his consistent efforts to tie his empirical inquiries to a variety of concerns in political science, and you have a truly significant piece of work."
"Paul Dosh's study is timely. Its results may imply that significant developments, with regard to both urban-based social movements themselves and the context in which they operate, are presently under way. The author has assembled an impressive array of empirical sources, and the fact that his study is comparative—focusing on Peru as well as Ecuador—will increase its relevance for Latin America as a whole."
"Demanding the Land is a motivating and important book."
Paul Dosh is Associate Professor of Political Science at Macalester College and Director of Building Dignity, a nonprofit organization focused on grassroots development in Peru.
James Lerager holds a master's degree in public policy from the University of California–Berkeley and is Director of the Documentary Photography and Research Project.
Contents
List of Figures
List of Tables
List of Photographs
List of Abbreviations
Acknowledgments
Introduction
1. The Strategy, Success, and Survival of Urban Popular Movements
2. Metropolitan Trends in Land Invasions: Policy, Democratization, Geography
3. The Old Guard: Pragmatism and Strategic Rigidity
4. The Next Generation: Strategic Flexibility and a Sense of Entitlement
5. The Innovators: Strategic Creativity and a Sense of Mission
6. Analyzing Organizational Strategy, Success, and Survival
7. Conclusions: Contention, Political Process, and Mixed Motives
Epilogue: From Scholarship to Activism
Appendix: Sources of Data and List of Interviews
References
Index
Mailing List
Subscribe to our mailing list and be notified about new titles, journals and catalogs.