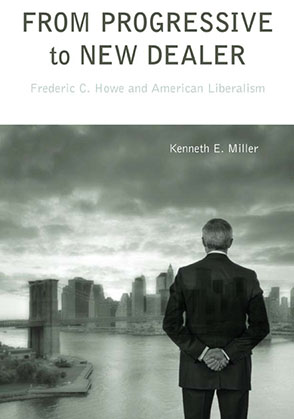 From Progressive to New Dealer
Frederic C. Howe and American Liberalism
Kenneth E. Miller
BUY
From Progressive to New Dealer
Frederic C. Howe and American Liberalism
Kenneth E. Miller
"Simply by virtue of Frederic C. Howe's ubiquity, his life story is a remarkable and valuable lens through which to view the making and unmaking of Progressive thought and activism. Kenneth Miller takes the reader inside the nuts and bolts of reform activism and delivers one of the best accounts we have of exactly how reformers such as Howe went about their business."
Description

Reviews

Bio

Sample Chapters

Subjects
A native Pennsylvanian, born in Meadville in 1867 and a graduate of Allegheny College, Frederic Howe dedicated his life early on to the cause of improving society and played a major role in many movements for progressive change from the early 1890s to the Second World War—the period that Richard Hofstadter famously dubbed the "age of reform." Howe was a fighter against corruption and political bosses in Cleveland; a leader in Progressive politics in New York City; a spokesman for reform through numerous books and articles and as director of the Cooper Union's People's Institute; an ardent campaigner for "Fighting Bob" La Follette, Woodrow Wilson, Al Smith, and Franklin D. Roosevelt; a defender of immigrants and civil liberties as commissioner of immigration for the Port of New York during the First World War; and an advocate for consumers as the first consumers counsel in the New Deal. Kenneth Miller's biography takes the reader behind the scenes and shows how "the great game of politics" was played in the age of reform.
"Simply by virtue of Frederic C. Howe's ubiquity, his life story is a remarkable and valuable lens through which to view the making and unmaking of Progressive thought and activism. Kenneth Miller takes the reader inside the nuts and bolts of reform activism and delivers one of the best accounts we have of exactly how reformers such as Howe went about their business."
"Kenneth E. Miller's From Progressive to New Dealer is an indispensable analysis of a significant progressive intellectual reformer whose first book, The City: The Hope of Democracy, was published more than a century ago in 1905. . . . Readers interested in the varieties of progressive reform thought from 1900 to Howe's death in 1940 will find this a compelling biography."
Kenneth E. Miller is Professor Emeritus of Political Science at Rutgers University.
Mailing List
Subscribe to our mailing list and be notified about new titles, journals and catalogs.