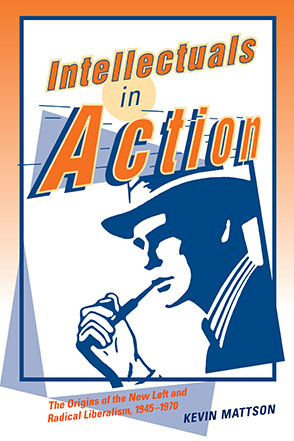 Intellectuals in Action
The Origins of the New Left and Radical Liberalism, 1945–1970
Kevin Mattson
Buy
Intellectuals in Action
The Origins of the New Left and Radical Liberalism, 1945–1970
Kevin Mattson
"A remarkably fine portrait of a coterie of intellectuals who' for all their differences' shared an interest in forging a 'radical liberalism' that would conjoin participatory democracy and social justice' local deliberative polities' and a strong welfare state. As remarkable for its clear-eyed view of the failures of these writers and of the New Left generally as for its appreciative account of their possibilities' Kevin Mattson's book will be welcomed by historians for the complications it introduces into our understanding of an important period of dissent and reform and by those who continue to struggle for a more democratic America for its unsentimental account of their inheritance."
Description

Reviews

Bio

Subjects
Born in 1966' a generation removed from the counterculture' Kevin Mattson came of political age in the conservative Reagan era. In an effort to understand contemporary political ambivalence and the plight of radicalism today' Mattson looks back to the ideas that informed the protest' social movements' and activism of the 1960s.
To accomplish its historical reconstruction' the book combines traditional intellectual biography—including thorough archival research—with social history to examine a group of intellectuals whose thinking was crucial in the formulation of New Left political theory. These include C. Wright Mills' the popular radical sociologist; Paul Goodman' a practicing Gestalt therapist and anarcho-pacifist; William Appleman Williams' the historian and famed critic of "American empire"; Arnold Kaufman' a "radical liberal" who deeply influenced the thinking of the SDS. The book discusses not only their ideas' but also their practices' from writing pamphlets and arranging television debates to forming left-leaning think tanks and organizing teach-ins protesting the Vietnam War. Mattson argues that it is this political engagement balanced with a commitment to truth-telling that is lacking in our own age of postmodern acquiescence.
Challenging the standard interpretation of the New Left as inherently in conflict with liberalis' Mattson depicts their relationship as more complicated' pointing to possibilities for a radical liberalism today. Intellectual and social historians' as well as general readers either fascinated by the 1960s protest movements or actively seeking an alternative to our contemporary political malais' will embrace Mattson's book and its promise to shed new light on a time period known for both its intriguing conflicts and its enduring consequences.
"A remarkably fine portrait of a coterie of intellectuals who' for all their differences' shared an interest in forging a 'radical liberalism' that would conjoin participatory democracy and social justice' local deliberative polities' and a strong welfare state. As remarkable for its clear-eyed view of the failures of these writers and of the New Left generally as for its appreciative account of their possibilities' Kevin Mattson's book will be welcomed by historians for the complications it introduces into our understanding of an important period of dissent and reform and by those who continue to struggle for a more democratic America for its unsentimental account of their inheritance."
"Kevin Mattson has done an invaluable service in recovering a vital thread of the intellectual history of the New Left. With sympathy and tough-mindedness' he examines the political thought of several key intellectuals: C. Wright Mills' Paul Goodman' W. A. Williams' and Arnold Kaufman. The intellectual foundations of the New Left' he reminds us in this deeply researched and clearly written book' are more diverse' more strategic' more material' and more political than so much common memory' which focuses on personal liberation and new cultural styles and values. He also shows how deeply this work of creating a radical liberalism was rooted without any sense of embarrassment in a sense of American history and traditions. By recovering the political ideas and commitments of this important group of left intellectuals working as intellectuals' he invites contemporary intellectuals into a workshop of political change. At a moment when liberalism again seems exhausted' it is a timely and important book."
"As a self-confessed 'Gen X-er'' historian Kevin Mattson approaches the debates and conflicts of the 1960s Left without direct memory or emotional investment. Instead' he brings to the subject an ability to distinguish essence from ephemera that serves him well. This is particularly apparent in his willingness to discard the timeworn dichotomies that supposedly defined the era: liberalism versus radicalism' youth versus the 'over thirty' generation' activism versus intellectual engagement' and so on. Mattson's argument that the New Left at its best represented a creative synthesis of radicalism and liberalism will surely provoke debate among historians and others interested in the history of the 1960s. But I expect consensus to reign on one point: Intellectuals in Action represents an impressive achievement by a talented young historian."
"Historian Mattson (Creating a Democratic Public) breaks new ground with this informative and revealing study of the American New Left's intellectual roots. . . . In the last two chapters, Mattson outlines the decline and demise of the New Left as a political movement, but he expresses a hope that the New Left's main ideas will once again take root in 'a viable democratic left.'"
"Mattson deserves much credit for unearthing and exploring an eclipsed strand of New Left thinking and declaring that today, too, there is a 'need for a chastened sort of radical liberalism.' Other historians, including this writer, have deplored the later New Left's self-destructive lust to undermine the liberalism that was the ground upon which it stood. Mattson goes further. He insists that the New Left harbored a self-subversive streak, a subterranean intellectual tendency that deserves resurrection and cultivation. Radical liberalism fights with the more expressive, grander spirit of going it alone, a line whose contemporary incarnation is Green-Nader recklessness. Affirming conscience and demanding results, it fights, too, with the backward-glancing, republican romanticism that flickers in the often luminous work of Mills and Goodman. Appreciative yet without illusions, Mattson goes beyond criticism or empty yearning. In a dark time, he lights an affirming flame."
"A novel and revealing view of the early New Left as democratic intellectuals in search of a public."
"Kevin Mattson's new book is a superb and inspiring account of the sixties as a moment of public intellectual engagement. Mattson interprets New Left debates as continuous with earlier debates about the meaning of American democracy and the possibilities of a radical liberalism. His book is more than a history. For it seeks to remind us of the strengths and limits of New Left discourse so as to inform our own democratic engagements in the present."
Kevin Mattson is Associate Professor of American History at Ohio University. His previous book, Creating a Democratic Public: The Struggle for Urban Participatory Democracy During the Progressive Era (1998), is also available from Penn State Press.
Mailing List
Subscribe to our mailing list and be notified about new titles, journals and catalogs.