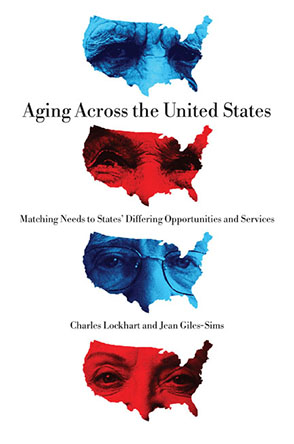 Aging Across the United States
Matching Needs to States' Differing Opportunities and Services
Charles Lockhart, and Jean Giles-Sims
Buy
Aging Across the United States
Matching Needs to States' Differing Opportunities and Services
Charles Lockhart, and Jean Giles-Sims
"Aging Across the United States is a significant contribution to scholarly understanding of the differences among states in the opportunities and services that they provide for older residents. Never before in the gerontological literature has such a wide array of comparative quantitative indicators been integrated into a single volume. Through engaging case studies of older people, the book also shows how those who are geographically mobile can make a series of moves late in life to take advantage of what various states have to offer. The case studies will stimulate thinking among people approaching retirement about whether they should plan to relocate to another state, and if so, where. Public officials in states will find the indicators useful in refining their policies to attract and retain productive and affluent older people. State officials will also be sensitized to the dilemma that strong, publicly subsidized supportive services for dependent older people encourage in-migration of older people who are attracted to the services. At another level, the book invites questions about why the federal government does not do more to assist states in making it attractive for their older residents to remain a part of the communities in which they have lived most of their adult lives."
Description

Reviews

Bio

Table of Contents

Sample Chapters

Subjects
Older Americans experience stages of aging with distinct priorities. For younger retirees, climate can be most important; for older retirees, quality of health care. Various states support these and other priorities to sharply different degrees. While many Americans know which states offer mild climates for outdoor recreation, they rarely know which states offer the best medical care to Medicare patients. This book tells them and suggests sequential moves to take advantage of states' varying strengths.
"Aging Across the United States is a significant contribution to scholarly understanding of the differences among states in the opportunities and services that they provide for older residents. Never before in the gerontological literature has such a wide array of comparative quantitative indicators been integrated into a single volume. Through engaging case studies of older people, the book also shows how those who are geographically mobile can make a series of moves late in life to take advantage of what various states have to offer. The case studies will stimulate thinking among people approaching retirement about whether they should plan to relocate to another state, and if so, where. Public officials in states will find the indicators useful in refining their policies to attract and retain productive and affluent older people. State officials will also be sensitized to the dilemma that strong, publicly subsidized supportive services for dependent older people encourage in-migration of older people who are attracted to the services. At another level, the book invites questions about why the federal government does not do more to assist states in making it attractive for their older residents to remain a part of the communities in which they have lived most of their adult lives."
"Aging Across the United States combines practical advice with scholarly research to score each state on a scale of State Senior Friendliness. Coverage of all fifty states makes this book more useful than most where-to-retire guides, and so does the inclusion of opportunities for civic involvement and community service along with the usual health care, long-term care, affordability, safety, and social and recreation components found in other guides. Scholars of public policy, federalism, and the politics of aging will find the analyses in this book of interest as well."
"Lockhart and Giles-Sims provide a sophisticated road map for the changing terrain of retirement and aging. Their book combines scholarship with very useful information for a general audience and deserves wide notice."
Charles Lockhart is Professor of Political Science at Texas Christian University.
Jean Giles-Sims is Professor of Sociology at Texas Christian University.
Contents
List of Figures/Maps
List of Tables
Preface
Introduction
1. Finding Active Fun and Companionship in a Warm Climate
2. Making Meaningful Contributions and Finding Supportive Communities
3. Finding Affordability and Safety
4. Sustaining Health and Obtaining High-Quality Medical Care
5. Finding Accessible and High-Quality Long-Term Care
6. Putting It All Together: Explaining State Variation in Senior Friendliness
Epilogue
Appendix: State Rankings
Notes
Selected Readings
Index
Introduction
Garrison Keillor's amusing stories about the residents of an imaginary small northern Minnesota town who fantasize in February, not about sex, but about living in Florida remind us of one way in which where we live influences our well-being as we grow older. Indeed, once they retire, many Minnesotans spend their winters in Florida or other states with milder winter climates and a range of outdoor recreational opportunities. Some Minnesotans move entirely to these other states, at least during their early retirement years. But later in retirement they develop different needs, and among persons eighty-five or older, Minnesota actually has net in-migration. That is, more persons in this age group, many of them long-term Minnesotans who departed early in retirement, move into the state than move out.
Why would young retirees leave and then return to Minnesota as they grow old? The short answer is that at older ages many retirees need high-quality medical care, encouraging and financially accessible long-term care, and help from younger family members or friends more than mild climates and various recreational facilities. Some states offer enticing climates and recreational possibilities to young retirees, but other states provide better-quality medical care services to older retirees.
This study focuses on the surprising range of benefits people seek and can find in moving from one state to another as they grow older. We examine how some states help retirees maximize their "young-old" years—facilitating their enjoyment of leisure or finding meaning in life or conserving resources—while other states offer older or sicker Americans better chances for superior medical care or more desirable forms of long-term care. Fortunately, more than in the past, many retired persons can now choose where they live. A large proportion of seniors can, and a great many do, move from state to state to meet their changing needs. On the basis of research conducted over a number of years, we offer a synthesis of empirical facts or data and a theoretical explanation of variation in states' support for diverse basic issues that confront retired Americans whose priorities change as they age.
Incidentally, researchers writing about older Americans disagree about what terms to use. Following AARP, we use older adults, older Americans, older residents, seniors, and frequently, given the focus of our topic, retirees to refer to persons in their late fifties and up. We also occasionally use young-old and old-old to distinguish persons from the midfifties through the sixties from those in their eighties or older. Each of these terms has drawbacks in particular contexts. For instance, some seniors still work rather than being retired. And some young, healthy retirees—perhaps in their mid- to late fifties—likely resent the label senior. Overall, we think that these terms represent the most appropriate options. We try to select particular terms to fit the context at various junctures, and if we occasionally offend some readers, we regret doing so.
In the following chapters we assess each state's strengths and weaknesses in areas of major concern to older Americans. These areas include gaining support for a recreational lifestyle, fostering supportive communities and opportunities for finding meaning in life through volunteer work for various civic organizations, locating inexpensive yet comfortable and safe places to live, acquiring support for healthy habits and enjoying high-quality medical care, and obtaining access to affordable, high-quality long-term care. We address these issues from two vantage points by combining the macroperspective or "big picture" of states' social, economic, and political realities with the microperspective of the lived experience of individuals in families that have their own unique characteristics. Some readers may choose to begin by reading this introduction, the initial vignette and conclusions sections of chapters 1 through 5, and the Epilogue as well as by examining the maps that are scattered across chapters 1 through 6.
<1> How We Came to Conduct This Study
Every family tells a particular story of parents, grandparents, uncles, aunts, or family friends encountering the pitfalls of the years from retirement to old age. Many painful stories illustrate that few contemporary older Americans foresee the challenges they will face as they grow still older, so these stories also testify to the importance of better preparation. Our own parents' struggles ignited the passion and need to know that fueled this research.
Jean's parents ran a small tourist business on the south shore of Cape Cod for twenty years before her father's arthritis, his bout with a nasty liver virus that nearly killed him, and her mother's diabetes led them to put that chapter of their lives in the rearview mirror and—in their early sixties—head to Florida to avoid the long, cold, gray New England winters. Her father loved the warmth, the beaches, the airy and affordable houses, and the grapefruit. In Florida, her parents joked about heavy coats and snow shovels. Over the years her father bought ever bigger and shinier motor homes, and her parents made their long-awaited trip around the United States as well as taking many shorter jaunts. Her mother found new friends and got herself spiffed up in new duds and—for a brief time (thankfully)—in slightly blue hair. Her parents loved to dance, and each Saturday evening they dressed up, danced, and laughed like kids. During her visits, Jean even remembers hearing sexual innuendoes that brought red to her cheeks. For her parents, life was good after nearly fifty years of hard work, community dedication, and raising a family of five children.
Then the inevitable decline set in. Her mother's first stroke occurred in Maine as her parents were packing up the house they had bought for the six months they spent in New England each year. Her mother was saying a stressful good-bye to family heirlooms and moving away from the kids and grandchildren who lived across New England. She had been neglecting her diabetes and high blood pressure, and one day Jean's father came up from his workshop in the basement and found her mother was not "right." Moving to Florida scared Jean's mother, who feared losing contact with her children and grandchildren and the feeling of home that came with her New England roots. But her father loved Florida and was also in decline with arthritis, which led to double knee replacements and a lot of back pain. To compensate her mother, Jean's father oversaw the construction of "the house of her dreams" in Florida as her parents reached eighty.
But the timing of this move and the home construction created too much stress. Her parents spent the following autumn living with children in New England so that her father could have heart valve replacement and bypass surgery in Boston. His long recovery and return to Florida were accompanied by another major stroke for her mother. Jean's parents began a life of almost daily physicians' appointments with a series of different specialists. Their medications multiplied across these appointments, and no one coordinated their care. Then her father fell asleep at the wheel and drove through the yard and into the garage of a neighbor whose children were playing nearby. Her father's subsequent minor strokes and then a bigger one signaled the end of their independent lives shortly thereafter.
As each crisis occurred, Jean packed up her work and flew from Texas or Maine to help—six times over three years. Finally, time and distance made her parents' care unmanageable. Jean and her brothers in New England searched for a place to move their mother and father. Jean's husband packed up her parents' house and put it on the market. In a harrowing trip from the hospital in an ambulance to wheelchairs and dementia on American Airlines, they all flew to Boston, where one of Jean's brothers met their parents and settled their mother in a retirement center and her father in a nearby rehabilitation facility, both near the family and support her parents now needed.
As Jean and her family tried to help her parents, they visited an elder law attorney and investment counselors, contacted the Area Agency on Aging, and talked with a number of physicians. They often felt frustrated by the difficulty of getting information about various financial, housing, and medical options, and as Jean's parents moved from retirement housing to assisted living to a nursing home, new issues arose. But they did settle on a single geriatrician who coordinated her parents' care and culled their medications, improving some of their medical problems in the process. Jean's parents never expected to run out of money, but their expensive care and long lives eventually exhausted their savings. Near the end, Medicaid became their primary source of support.
Jean's parents' overall physical decline continued with her mother's heart attacks, myelodysplasia, and cancer and her father's dementia, disruptive behavior, eventual nursing facility residency, and final stroke. Her father died while Jean flew from Texas to New England, and her mother entered the hospital the same evening with a recurrence of cancer obstructing her intestines. A couple of days of testing and talking, aided by the trusted geriatrician, led to a decision not to treat the cancer and to discontinue insulin. Jean's mother died peacefully exactly one week after her father had, with six family members at her side. Overall, Jean's parents did pretty well, but earlier planning could have avoided some of the stress and improved the quality of life they experienced during their final years.
Other families we have talked with tell broadly similar stories about the challenges of how and where to grow old. One family's parents moved to Arizona to play golf, and then the father developed Alzheimer's. Another's parents moved to Las Vegas to play the slots but lost both money and health. Still other parents moved to a retirement village in South Carolina, but gradually all their friends died and they suffered alone in old age. These stories suggest that we need to look at the needs of older people in stages, stages defined by changes in persons' most pressing needs. The American states differ in the degrees to which they support these various needs, and we think that the trick is to match retirees' shifting priorities to states' varying strengths and capacities.
Our own questions about what we want as we grow old sometimes keep us awake at night. We are hardly alone, just ahead of the leading edge of the baby boom generation, whose 78 million members (born from 1946 to 1964) will, over roughly the coming five decades, age from sixty to nearly ninety. Virtually every family will be coping with the issues of lifestyle, expenses, and care. Each state and the federal government will be struggling with how to provide, regulate, and finance the services needed for this and following generations. For individuals, the information in this study illustrates the needs and the availability of opportunities and services as well as provides guidance for choosing where to live at various stages of aging. For relevant professionals and policy makers, the study shows the relative strengths of some states that may offer models for emulation. For all Americans, the study provides a straight-talk introduction to what are likely to become some of the major personal, political, and economic concerns of the twenty-first century.
<1> Americans Growing Older
Consider some basic demographics of our aging society. In 2005, 12.4 percent of the American population was sixty-five or older and another 17 percent was between fifty and sixty-four. Projections for 2020 place 16.3 and 18.9 percent of the population in these two categories, respectively. As a percentage of the total population, then, these two cohorts are expected to grow nearly 20 percent in fifteen years. The total population is projected to grow by 13 percent during the same time period, so the rate at which these cohorts of older Americans are increasing outpaces the rate of the overall population's growth by a considerable margin.
Among the population sixty-five or older, minority groups contribute just a bit less than one-fifth (18.5 percent) of the total. After age forty, women outnumber men in the American population, but their numerical predominance grows sharply until, after eighty-five, they become slightly more than twice as numerous as males. For both genders, rates of living with a marital partner decline with age, but whereas the rate for men declines from about 74 to 67 percent as they age from sixty-five to seventy-four to seventy-five and older; the rate for women drops from 54 to 29 percent across the same age range. So while just over 30 percent of Americans sixty-five or older live alone, somewhat over two-thirds of these persons are women.
Chronic illnesses (e.g., in declining frequency, high blood pressure, arthritis, heart disease, and diabetes) afflict large proportions of Americans sixty-five or older, and these proportions grow as age increases. These conditions contribute to disability among seniors, so that, among those over sixty-five, nearly 60 percent of men and just over 70 percent of women have activity limitations with respect to ordinary daily actions. These limitations become more severe with age, so that while the proportions of men and women needing assistance with everyday activities in the sixty-five-to-sixty-nine age cohort are about 42 and 43 percent, respectively, these proportions rise to 68 and 77 percent for the eighty-and-over cohort. Almost inevitably, then, significant numbers of men and women spend the last portion of their lives in various forms of long-term care such as nursing facilities, and the percentages increase with age. For men, the percentage rises from about 3 percent in the seventy-five-to-eighty-four age cohort to around 12 percent for those eighty-five and older. For women, the increase is from around 5 to about 20 percent. Overall, about 1.5 million older persons reside in nursing facilities.
The median household income for persons sixty-five or older was slightly less than $24,000 in 2003. This was a bit over half (55 percent) the median income for all American households (about $43,500) that year. In spite of this discrepancy in median income, Americans sixty-five or over had a poverty rate (10.2 percent) slightly lower than that for the American population as a whole (12.5 percent) in 2003. For better or worse—surely the latter—it is Americans under eighteen who bear the brunt of poverty in the United States, with a rate of 17.6 percent. However, most Americans sixty-five or older live on limited incomes. In the vast majority of instances these are incomes less, frequently far less, than they were accustomed to during their working years.
In terms of wealth (net worth), the holdings of Americans' sixty-five and older compare reasonably well with those of the fifty-five-to-sixty-four age cohort, the group generally in the prime of their economic lives. Median wealth among sixty-five-or-older households stood at just under $109,000 in 2000, whereas the median figure for the fifty-five-to-sixty-four cohort barely topped $112,000. But considering the length of retirements that many persons in the baby boom generation can expect, neither of these figures bodes well for the economic security of future retirees. Further, when the equity in persons' residences is excluded, these figures drop to $23,369 and $32,304, respectively. So most Americans will likely experience sharply reduced income levels in retirement as well as quite limited amounts of accumulated financial resources to cover various emergencies.
America's elders are distributed unevenly among the states. Nationally, 12.2 percent of the population was sixty-five or older in 2000. But some states had particularly large proportions: in declining percentages, Florida (17.6), Pennsylvania (15.6), West Virginia (15.3), Iowa (14.9), North Dakota (14.7), Rhode Island (14.5), Maine (14.4), South Dakota (14.3), and Louisiana (14.0). Other states had unusually low percentages: in increasing percentages, Alaska (5.7), Utah (8.5), Georgia (9.6), Colorado (9.7), Texas (9.9), and California (10.6). While there are exceptions (e.g., Florida), the states with particularly high percentages tend to be located in the Upper Midwest and Northeast; while the states with the lowest percentages (again with exceptions, e.g., Alaska) tend to be southern, particularly southwestern.
As we introduced above, most older Americans live in the community, rather than in institutions, but the proportions of those who are institutionalized vary across the states. In fourteen of the fifty states, 5 percent or more of the sixty-five-or-older population reside in nursing facilities (in descending order: Iowa (6.5 percent), North Dakota, South Dakota, Connecticut, Kansas, Nebraska, Louisiana, Rhode Island, Massachusetts, Minnesota, Ohio, Indiana, Illinois, and Missouri [5.0 percent]). Ten of these fourteen states form a contiguous group in the Midwest, and Louisiana is the only clearly southern state among the fourteen. Most of these states include relatively high proportions of elderly persons among their total population.
Nationally, older persons numbering about three times (4.5 million) the nursing facility population participate in their states' Medicaid Home and Community-Based Services aged/disabled waiver programs, while living at home; spending days in adult day care; or living in congregate residential care facilities, including assisted living. People living in these three venues generally receive, through this program, care that is less extensive than that available in a nursing facility. Family and friends also provide an uncertain but likely large number (around 8 million) of older Americans with similar assistance informally. As these statistics suggest, the aging population presents a broad range of needs, and social and political institutions as well as individuals would do well to plan for these eventualities.
<1> Why Is Planning for Retirement Becoming More Important and Difficult?
We hope that this study raises consciousness among both the general public and relevant professionals and public officials and stimulates critically important advance thinking and planning about retirement. The grandparents of current mature working-age persons probably did not need to do much retirement planning. They did not live as long or have many options for moving. The generation that came of age in World War II did not engage in much retirement planning either, but now aging baby boomers frequently find themselves with distressing problems that arise from their parents' inadequate retirement planning. Several changes in American society explain why retirement planning is so important today for individuals as well as social and political institutions.
First, Americans live much longer than in the past. For instance, when the Social Security Administration initially issued checks in the early 1940s, social planners did not expect many people to reach the age (sixty-five) at which persons became eligible for these pensions. Average life expectancy for men and women now stretches more than a decade longer, into the mid- and upper seventies, respectively, and persons who reach sixty-five can expect to live, on average, into the late eighties. So for the baby boomers, now perched on the verge of retiring, increasing life expectancy expands the retirement stage of life from a few years at most to around a couple of decades.
Second, many people now retire before they reach sixty-five. Whereas the vast majority of American men and women between the ages of twenty-five and fifty-four now work (84.6 and 73.4 percent, respectively), in the sixty-to-sixty-four age group labor force participation drops to 54.2 percent for men and 39.8 percent for women. So for many people retirement lengthens at both ends. Increasing lifespan, addressed in the preceding paragraph, adds to the back, and the early retirement trend described in this paragraph adds to the front.
As a consequence of Americans' living longer and leaving work earlier, retirements can span close to three decades, and the purposes and needs of retirees change considerably across this period. For instance, a healthy and affluent couple in their late fifties may focus on recreation, but their priorities will likely transform into protecting assets and acquiring encouraging medical and possibly long-term care as they confront their early eighties.
Third, the American states have long varied in how well they support the different needs and hopes of older Americans. Yet recent decades of social and economic conservative influence at the national level have stalled a trend of reducing cross-state differences in policies of particular interest to older Americans that had generally held sway from Roosevelt's New Deal through Johnson's Great Society. Conservative initiatives have shifted public social program responsibilities (and the financial burdens that go with them) to the states. States, in turn, react to these new responsibilities in varying ways, so differences in the ease with which older Americans in the states obtain access to essential services are substantial and—in some instances—growing.
Fourth, the members of the baby boom generation who will retire over the coming decades surely rank among the healthiest and most affluent retirees in American history. They have also traveled more and moved their households from one state to another more frequently. So both their condition and their experiences prepare them well for taking advantage of the distinctive strengths of different American states that meet retirees' shifting priorities as they age.
Because of these four trends—living longer, retiring earlier, differences in state policies affecting seniors, and more capable retirees—making the most of one's retirement entails planning on a scale rarely necessary among previous generations. The length of many current retirements argues for careful deliberation about a range of household financial matters as well as thoughtful reflection on how to spend one's time. When retirement lasted only a year or two, careful financial planning was less necessary, and lying on a couch watching television (or more likely, listening to the radio) seemed a reasonable reprieve after a lifetime of hard physical labor. Now that retirement can frequently last a quarter century, people need to plan both what to do with their time as well as how to finance it, but few understand how state variations help or hinder them when it comes to reaching their goals.
Currently a number of fine guides offer help with the two retirement concerns noted above, figuring out what to do in retirement and how to finance it. We address these issues in this study only when opportunities vary across states. We provide information about how well or poorly the various states support different objectives; further, we point out a few basic implications that may help in effective retirement planning. We focus our analyses on the amazing degree of cross-state variation in our society. Generally speaking, retirement guides do not address these differences. We hope to inform readers about state environments that provide the most help in realizing encouraging outcomes with regard to the shifting needs and priorities that seniors face in successive stages of retirement.
Five Basic Issues Seniors Confront
Seniors' priorities generally include dealing successfully with one or more of five basic issues. Save for the poor fellow of legend who retires on his sixty-fifth birthday and dies of a heart attack before the following dawn, most seniors confront at least some of these issues, particularly after retirement. Seniors' well-being hinges largely on finding and acting constructively on answers to these questions. A broad range of people will find these questions relevant, but these issues frequently hold greater pertinence for seniors. Different issues likely represent higher priorities in the lives of individual seniors at different stages of aging. Characteristically, younger retirees find one of the first three questions most relevant. Across time, the importance of the fourth and then eventually the fifth questions usually increase.
(1)Where can retirees best find a life of companionship and active recreation? Most academics find the following point painful to confront and contemplate: many people are not fond of school. A substantial majority tolerate it long enough to graduate from high school. A growing minority achieve a bachelor's degree. And community colleges offer assorted forms of largely occupational training to a growing number of people who fall between these two educational levels. But as any instructor knows, a large proportion of students do not master the material, and many students feel—at least initially—immensely relieved to graduate and move on to what looks like freedom. Even those students who carry fond memories of their school years generally, though not always, base them on good times with their classmates.
But the world of work often turns out to be discouraging in its own right. Many Americans confront a daily grind of inflexible hours and work activity they find personally meaningless—as Marx labeled it, "a degrading scramble after money." Many engage in a scramble to enjoy life off the job. Researchers disagree about whether Americans spend more time on the job than they once did or more than comparable workers in other societies. But they generally agree that work is organized and focused so that large proportions of employees have to enjoy life in the gaps between work periods, though some of these may be found at work (joking around the water cooler) rather than off the job.
The strictures of school and work foster in many people who are looking to retire a longing, most of all, for a life of leisure. They want to go somewhere pleasant and spend their time engaging in some form of active recreation that they enjoy. We can surely understand this as one—not the only—reasonable reaction to having spent, say, seventeen of one's sixty-five years in school and another forty-three working at something onerous. People conceptualize a recreational lifestyle in many different ways, but one version attracted a considerable following and became virtually a social convention across the second half of the twentieth century. It focused on moving in retirement to a generally sunny climate with mild winters and pursuing outdoor recreation: playing golf, fishing, bird-watching, and so on. Needless to say, some states support this objective more thoroughly than others.
(2)Where can retirees best find a meaningful life and supportive communities? Not everyone favors pursuing a life of play after being at the beck and call of others for six decades. Many wish to add meaning to their lives by doing something they see as more constructive—for themselves (e.g., starting their own business) or others (e.g., contributing their expertise to civic organizations that support goals they share)—than simply having fun. Others may try to do both, in varying degrees. A retired attorney who plays golf daily from his house by the fairway in an Arizona golf course community may also lend his expertise pro bono to help solve some of the community's legal issues with an adjacent commuter airport. Likewise, a retired public administrator, now living in Minneapolis, may seek and acquire a regular task of providing outreach sessions on long-term care insurance to various groups for her local Area Agency on Aging office but still go swimming with a longtime friend nearly daily in the indoor pool of a local club. The difference lies in priority. What is one's life organized around: enjoying a recreational activity or finding meaning through the provision of a service of benefit to others? As was true for fun in the sun, states vary considerably in the opportunities they afford for meaningful community service.
Some states' social environments facilitate the search for community and, particularly, opportunities for contributing to these communities in personally fulfilling ways far more than others. Some states have long-standing traditions of hierarchical institutions (slavery in the South or patronage political parties in regions of the Northeast and Midwest). As Robert Putnam and his colleagues have shown, these institutions not only repress meaningful participation in society for many while they exist, but also leave a cultural heritage of repression in the wake of their demise that impoverishes civic life for lengthy periods. It takes little imagination to recognize that Minnesota, where 73 percent of those who were eligible voted in the 2004 presidential election, affords more meaningful opportunities for civic participation than does Texas, where only 46 percent engaged in this simple civic act. As we will see in chapter 2, Minnesota's seniors also exhibit a range of citizen activism, and this helps to explain why Minnesota ranks near the top in providing so-called circuit breaker property tax credits to seniors, whereas seniors in Texas reveal far lower levels of activism, and Texas ranks near the bottom in state circuit breaker property tax relief for older residents.
(3)Where can retirees best afford to live (and be safe)? Many retirees live on relatively modest incomes that increase only with the cost of living. Nationwide, 34 percent of people sixty-five or older live below 200 percent of the federal poverty level. Sixty-five percent of Americans sixty-five or older receive more than half their income from Social Security (technically, Old Age, Survivors, and Disability Insurance [OASDI], but hereafter generally just Social Security). So many retired Americans live on limited incomes, and these incomes routinely fall below those the retirees received while they were working. Extremely affluent individuals generally enjoy sufficient income to maintain their former lifestyles and simply save less. But most retirees must choose between two options. They can reduce their cost of living where they are now by purchasing fewer (or in some instances less expensive) goods and services. Or they can move to a place with a lower cost of living—for goods and services similar to those they are currently consuming. The states (and naturally, regions within them) vary sharply on cost of living. Retirees from New England tend to move to the Southeast to enjoy a lower cost of living and less congestion, in addition to a milder climate. On the other side of the country, people move from California to Nevada and other western states to reduce their cost of living and the frustrations that go with the congestion of large metropolitan areas.
Retirees can often find less expensive neighborhoods in their local area, but these may offer a less desirable ambiance or even entail worries about crime. Many older Americans feel vulnerable to and fear crime. Thus many seniors make cross-state moves to achieve a lower cost of living without noticeable sacrifice in ambience and safety. Sadly, state-level statistics show that the most expensive states also tend to have the lowest levels of crime. But among relatively inexpensive states, crime levels vary considerably, particularly for the forms of property crime that tend to predominate among elderly crime victims. So we consider crime rates along with cost of living to identify inexpensive states also affording relative safety.
(4)Where will retirees have the greatest opportunity for being healthy and finding the best medical care? States differ in the healthiness of their overall populations. On rankings derived from a number of components, for instance, Minnesota boasts the healthiest population, with an overall score of 25, and Louisiana has the least healthy, with an overall average score of –21.3. In spite of considerable and growing cross-state migration among Americans, most people living in any given state have lived in that state for some time. So we should expect, and in chapter 4 we will find, that the health habits of states' sixty-five-or-older populations also vary sharply and similarly to the healthiness of states' total populations. Thus, retirees can choose to live in states with a range of supports for healthy living. Further, seniors are generally more vulnerable to health problems than are other adults and need conscientious preventive care. Additionally, many seniors with acute or chronic illnesses require periodic or regular therapeutic treatment. Surprisingly, the average quality of the medical care delivered to seniors via the Medicare program also varies a great deal across the states. Practicing healthy habits and receiving high-quality medical care generally become increasing high priorities as people age, and we consider how states differ in providing supports for healthy living and in the quality of the medical care seniors receive.
(5)Where can retirees find accessible, affordable, high-quality long-term care? Finally, many Americans age eighty or older need various forms of long-term care. States' programs to help with the extraordinary costs (currently averaging well over six thousand dollars a month for nursing facilities) of professional long-term care differ sharply. States also differ widely in their efforts to ensure quality of long-term care by regulating providers. States offer different mixes of long-term care options, and the complexities of long-term care insurance are numerous and subtle. In our experience most current seniors and the about-to-be-senior baby boomers tend to be poorly informed about these aspects of long-term care. Thus we seek to help relevant professionals and public officials as well as older Americans generally become better informed. In the case of the latter our efforts may help to enable more pleasant final years of life.
Research Issues and Strategy
We take up three topics in this section. Initially, given obvious intrastate variation, why do we focus on states rather than individual communities? We offer four responses. The first might best be termed parsimony. There are fifty states, but thousands of communities. Researchers in the popular press who focus on communities tend to do so with a particular vision of retirement priorities in mind. But as we explained in the previous section, retirees confront multiple distinct basic issues, and the relative priority of these issues shifts as individual retirees age. There are, no doubt, a few communities that are good bets on several of the issues we introduced above, but most of these communities are so expensive as to lie far beyond the reach of the vast majority of retirees. Across the five basic issues, we think that we can generalize more effectively about states than others do about communities while at the same time posing a broader and more realistic view of retirement issues. Our response is that comparable data exist for states to a far greater extent than they do for state subdivisions, including individual communities. A variety of institutions collect and—as necessary—disaggregate data to afford cross-state comparisons. These include, but are not limited to, the Census Bureau, the National Center for Health Statistics, the Centers for Medicare and Medicaid, and private-sector organizations such the United Health Foundation.
Third, and possibly most important, a variety of state policies that are particularly important in the lives of older Americans vary considerably across states but are generally relatively invariant within states. These include but are not limited to Medicaid and senior tax relief policies. Fourth, distinctive state histories, institutions, and cultures impart cross-state differences that have surprised us. When we began this work five years ago, we had no idea that, for instance, the medical care provided for Medicare patients in various states or the average number of days that state residents were physically unhealthy in the previous month would differ as much as they do. Surely these matters differ within states too. But extensive interstate variation exists in spite of these intrastate differences. For an average resident, state of residence carries a surprising range of implications, and this seems to be particularly the case for the elderly, whose lives are more closely tied to state-level policies than are those of most other age groups.
Our next topic involves our three guiding objectives. First, we wanted to provide breadth of data about where individuals can grow old most comfortably. U.S. seniors represent a heterogeneous population. Data about state recreational facilities of interest to relatively young, healthy, and affluent retirees will not help older persons whose highest priorities involve finding adequate medical care and vice versa. We wanted our data to speak to as full a range of basic senior concerns as possible. Our extensive sources are cited throughout the text, and our Epilogue brings these various sources together in one convenient list for the use of older Americans as well as professionals and public officials interested in seniors and their issues.
Our second objective was to provide a synthesis of a massive amount of data in order to help seniors as well as relevant professionals and policy makers become more keenly aware of cross-state differences. While some of these data are complex, most are "hiding in plain sight" in public documents. We examined a broad range of indicators, discarded many, and funneled those that remained into a manageable five-dimensional concept of "state senior friendliness" (SSF).
Our third objective involves the writing. While we are confident that this book is sophisticated enough to merit the time of relevant professionals and public officials, we have tried to make it accessible also to seniors themselves and to the friends and family members who care about them. Characteristically, our text explains both what the data show and what this means in terms of major implications for seniors as well as for professionals and public officials engaged in social planning to accommodate burgeoning growth in the senior population.
Our third topic takes up the analysis in chapter 6. In chapters 1–5 we present "raw" data. In chapter 6 we standardize this data (z-scores) for our analyses. We engage in two sorts of explanations in this chapter. First, we seek to identify the origins and strive to justify the structure that we have placed on the SSF concept. The origins take us into the nature of the American senior population at any given point in time, the changes that aging brings to the priorities of the individual members of this population over time, and the distinct strengths and weaknesses of the American states. Second, we offer an explanation drawn from the literature on cross-state policy differences as to why states support distinctive aspects of what we call SSF so differently.
Mailing List
Subscribe to our mailing list and be notified about new titles, journals and catalogs.