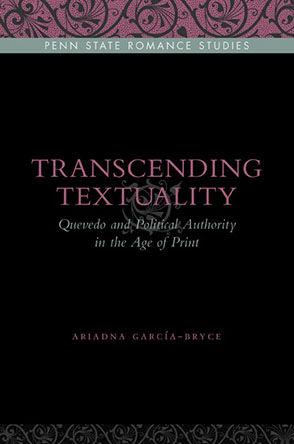 Transcending Textuality
Quevedo and Political Authority in the Age of Print
Ariadna García-Bryce
BUY
Transcending Textuality
Quevedo and Political Authority in the Age of Print
Ariadna García-Bryce
"Transcending Textuality is a fascinating study of the culture of display in early modern Spain. Focusing on the works of Quevedo, Ariadna García-Bryce brings together a multiplicity of approaches in order to provide new insights on his political views and his place in the culture of the Spanish Baroque. She clearly shows how Quevedo diverges from writers such as Saavedra Fajardo and Gracián, undermining the impetus of the emergent state and its uses of rhetorical artifice. Quevedo, in his writings, seeks to exalt art, evincing its prominent social and sacred role. And yet, in so doing, he rejects new mediated forms and the use of rhetorical artifice as exhibition. García-Bryce is able to show not only Quevedo's conflictive stance toward modernity but also his reaction to the many changes that were taking place in the Spain of the Habsburgs. This is a thoughtful and complex study that will be of great interest to those who study the literature, culture, and history of the Baroque."
Unlocked

Description

Reviews

Bio

Sample Chapters

Subjects
An Open Access edition of Transcending Textuality is available through PSU Press Unlocked. To access this free electronic edition click here. Print editions are also available.
In Transcending Textuality, Ariadna García-Bryce provides a fresh look at post-Trent political culture and Francisco de Quevedo's place within it by examining his works in relation to two potentially rival means of transmitting authority: spectacle and print. Quevedo's highly theatrical conceptions of power are identified with court ceremony, devotional ritual, monarchical and spiritual imagery, and religious and classical oratory. At the same time, his investment in physical and emotional display is shown to be fraught with concern about the decline of body-centered modes of propagating authority in the increasingly impersonalized world of print. Transcending Textuality shows that Quevedo's poetics are, in great measure, defined by the attempt to retain in writing the qualities of live physical display.
"Transcending Textuality is a fascinating study of the culture of display in early modern Spain. Focusing on the works of Quevedo, Ariadna García-Bryce brings together a multiplicity of approaches in order to provide new insights on his political views and his place in the culture of the Spanish Baroque. She clearly shows how Quevedo diverges from writers such as Saavedra Fajardo and Gracián, undermining the impetus of the emergent state and its uses of rhetorical artifice. Quevedo, in his writings, seeks to exalt art, evincing its prominent social and sacred role. And yet, in so doing, he rejects new mediated forms and the use of rhetorical artifice as exhibition. García-Bryce is able to show not only Quevedo's conflictive stance toward modernity but also his reaction to the many changes that were taking place in the Spain of the Habsburgs. This is a thoughtful and complex study that will be of great interest to those who study the literature, culture, and history of the Baroque."
"This is an illuminating and beautifully illustrated cross-genre study of Quevedo's political prose, focusing on the relationship between visual and verbal components in the spectacle of absolute power and his conflicted identification with the republic of letters. Ariadna García-Bryce analyzes Quevedo's body-centered, mystical conception of performative authority and his loss of faith in the viability of language as an instrument of value in an order that makes it subservient to the power of the state."
"Transcending Textuality is exciting, outstanding scholarship with sophisticated concepts written in a clear and elegant style. Quevedo's political prose is understudied and underappreciated, and frequently isolated or sidelined from studies of his poetry and prose fiction. But in this welcome book, Ariadna García-Bryce eloquently explores the common threads that unite Quevedo's political tracts and satire with other facets of his work—his preoccupation with communication, his concern with the sociopolitical role of the spoken and written word, and his engagement with the changing monarchy in a time of tremendous transition. The author has done a splendid job of elucidating what she rightly characterizes as Quevedo's conflicted relationship with the republic of letters, and in making intelligible Quevedo's political theory, a daunting corpus of texts. Readers will find the range of Transcending Textuality breathtaking, embracing history, literature, political philosophy, the visual arts, and more. This book will change the way you think of Quevedo, imperial Spain, and the culture of the Baroque."
"Ariadna García-Bryce's Transcending Textuality infuses established concepts of body and text, ritual and performance, with new visions informed by the most recent readings of Quevedo's fundamental treatises. She elegantly synthesizes and deftly engages seemingly disparate lines of thought while taking advantage of her well-honed insights into the political overtones of classical rhetoric and its influence on Quevedo. A clearly spectacular picture of Quevedo's political thought emerges from this book's pages."
"García-Bryce brilliantly contextualizes within a multidiscursive sphere Quevedo's conception of the arbitrariness of contemporary semiotic systems."
Ariadna García-Bryce is Professor of Spanish and Humanities at Reed College.
Mailing List
Subscribe to our mailing list and be notified about new titles, journals and catalogs.