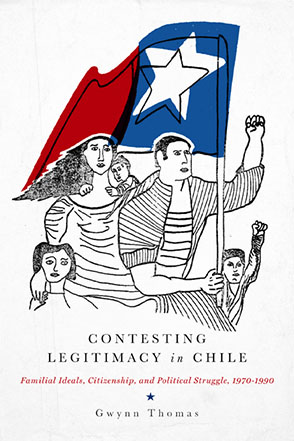 Contesting Legitimacy in Chile
Familial Ideals, Citizenship, and Political Struggle, 1970–1990
Gwynn Thomas
Buy
Contesting Legitimacy in Chile
Familial Ideals, Citizenship, and Political Struggle, 1970–1990
Gwynn Thomas
"Politicians and activists are constantly making reference to family. They use family as a metaphor for political community. They tell us how they will help families. They justify their political actions by referring to their own familial roles. Using Chile as a case study, Gwynn Thomas explains how and why family rhetoric enters politics. Thomas's book spans the left and right of the political spectrum over a twenty-year period, providing a comprehensive and accessible account of gender and Chilean politics."
Description

Reviews

Bio

Table of Contents

Sample Chapters

Subjects
When supporters and critics of former Chilean dictator Augusto Pinochet squared off against each other in the streets and elsewhere following his death in December 2006, most observers saw this conflict as another stage in the continuing struggle between authoritarian and antiauthoritarian forces in Latin America. Gwynn Thomas, however, looks below the surface of these events to reveal a set of cultural beliefs—shared, surprisingly, by both sides—about the role of the family in Chilean life. In Contesting Legitimacy in Chile, Thomas examines how common attitudes toward the family played out in the contentious politics of the 1970s and 1980s. Her analysis investigates the uses of the family in Chilean election propaganda, political speeches, press releases, public service campaigns, magazines, newspaper articles, and televised political advertisements. It considers the language, symbols, metaphors, and images of the political conflicts that surrounded the election and overthrow of Allende's social democracy (1970–73), the installation and maintenance of Pinochet's military dictatorship (1973–90), and finally the transition back to democratic rule (1988–90).
"Politicians and activists are constantly making reference to family. They use family as a metaphor for political community. They tell us how they will help families. They justify their political actions by referring to their own familial roles. Using Chile as a case study, Gwynn Thomas explains how and why family rhetoric enters politics. Thomas's book spans the left and right of the political spectrum over a twenty-year period, providing a comprehensive and accessible account of gender and Chilean politics."
"Gwynn Thomas's book offers an engaging and innovative discussion of two important decades in Chilean political history. Drawing on extensive research, Thomas shows the heretofore-unacknowledged extent to which Chilean political parties and culture employed and responded to familial appeals, justifications, and criticisms in order to legitimize or attack politicians and parties. Thomas's analysis covers widely divergent political contexts, and she convincingly shows how deeply rooted the familial framework is in the national psyche—and how Chileans formulated and understood the intense political conflicts that have divided the country in recent decades."
Gwynn Thomas is Associate Professor in the Department of Global Gender Studies at the University at Buffalo, The State University of New York.
Contents
List of Illustrations
Acknowledgments
List of Abbreviations
1. Seeing the Political Through the Familial
2. The Hidden Story: Familial Beliefs and Political Conflict
3. Competing Fathers: The 1970 Presidential Election
4. A Feuding Family: Mobilizing for and Against Allende
5. Pinochet's Chilean Family: Constructing Authoritarian Legitimacy
6. Mobilizing Families: Justifying Political Dissent Under Pinochet
7. Reconciling the Family: Legitimizing the Transition to Democracy
Conclusion: The Political Is Personal
Bibliography
Index
Seeing the Political Through the Familial
In March 2000, I witnessed one of the most dramatic moments in recent Chilean politics—Augusto Pinochet returned to Chile from London after avoiding extradition to Spain on charges of state terrorism. Pinochet's return reignited deep political divides over competing interpretations of both the presidency of Salvador Allende (1970–73) and Pinochet's subsequent military dictatorship (1973–90). Through the gray fall weather, I watched as rival groups of protestors gathered and clashed outside the Chilean Supreme Court, which was hearing arguments over whether to revoke Pinochet's political immunity and put him on trial for the human rights abuses committed during his regime. Before my eyes, political events that I had been studying as history came to life as Chileans took to the streets to give voice to the deeply held political beliefs that had dominated the last thirty years of the nation's contentious history. Separated by police barricades, ardent demonstrators from opposite sides of the political divide adamantly expressed their radically opposing views about Pinochet, the meaning of his government, and his appropriate place in Chilean society and history.
The Agrupación de Familiares de Detenidos Desaparecidos (Association of Relatives of the Detained Disappeared, AFDD)—a human rights group formed after the 1973 military coup and still one of the most active organizations in Chile—assembled on one side of the Supreme Court's front courtyard. They came carrying the now emblematic black-and-white photos of their missing husbands, sons, brothers, daughters, wives, and sisters. Original members, mostly older women, were joined by a wide cross-section of Chileans, young and old, men and women. The AFDD and its supporters called Pinochet a murderer and argued that he was ultimately responsible for the human rights abuses committed by the military. They demanded justice for the disappearances and deaths perpetrated by Pinochet's government against their families. They hoped that a Supreme Court decision allowing him to be tried for human rights abuses would finally force all sectors of Chilean society to officially recognize Pinochet's crimes.
Pinochetistas gathered on the other side of the courtyard. These committed supporters of Pinochet revered him as the aging patriarch of the Chilean nation, and they condemned Great Britain and Spain for criminalizing the behavior of a man they viewed as Chile's savior. The Pinochetistas believed that Pinochet and his military government had saved their families by restoring order and prosperity to a chaotic and violent situation. These committed supporters called him "their beloved grandfather," claiming that he was a true Chilean patriot and a great leader. For Pinochetistas, Pinochet was not the stern military commander who hid his face behind dark glasses, but—as portrayed by the posters they carried—a benevolent patriarch with kindly blue eyes. As with the AFDD, many of the original Pinochetistas were older women, but the current demonstrations included both men and women covering a wide range of ages. They wanted the Supreme Court to acquit Pinochet, thereby recognizing his role in protecting Chile through what they believe was one of its darkest hours.
For many observers, these protests were simply another example of the stark political differences that have fueled Chile's recent history of intense conflict. I was fascinated, however, not by the expected differences in political beliefs and passions between the two groups but by the surprising number of similarities. As I walked slowly between the two groups, the unexpected parallels in the language and images used by each demanded my attention. To explain their political arguments about why they either supported or abhorred Pinochet, both sides consistently referenced similar beliefs about the importance of family, familial identities, and the relationship of the family to the state.
This personal experience changed the focus of my research as a scholar. I began to ask: Why would both the Pinochetistas and the AFDD claim that threats to their families drove them to mobilize? How do different types of political actors use beliefs about the family as a resource in the pursuit of their political goals? Were similar invocations of familial beliefs dependent on the dominance of women as activists? Why was familial welfare the criteria used by both groups to judge Pinochet? How were appeals to family formed in the groups' language and images used to frame and justify political struggle? What did these uses reveal about the cultural beliefs that define the political legitimacy of different governments? How are familial beliefs used to understand the relationship between states and citizens?
My initial fascination with the similarities of familial invocations in the images and rhetoric surrounding Pinochet's return broadened into a much larger inquiry into the importance of familial beliefs within political conflicts, especially around issues of governmental legitimacy and citizen dissent. As I delved deeper, I discovered that appeals to the importance of the family and its welfare were found not only in the clashes over Pinochet's rule but also in the previous political conflicts that had led to the overthrow of President Salvador Allende's Socialist government in 1973. Portraying Allende and his government as threatening the well-being of Chilean families was a common refrain in the arguments of many anti-Allende groups as they sought to convince their fellow citizens of the illegitimacy of Allende's government and to justify his overthrow. During these previous struggles, the use of familial beliefs to explain and defend specific political actions also was not limited to one political faction.
My ongoing research into Chile's contested political history continually revealed that political appeals grounded in beliefs about the importance of family cut across Chile's political divisions. Further, employing familial beliefs to justify political action and to frame political arguments was not limited by the gender of the participants. Challenging conventional notions of how gender influences political action, both men and women who organized for and against Allende and Pinochet incorporated familial language and beliefs in their discursive strategies. Male political elites, particularly state leaders and governmental representatives, called on images of patriarchal fathers, while everyday Chilean men and women framed their demands through a language of family welfare and the importance of familial identities. Thus a language of familial beliefs was used in political struggles by both men and women, by actors associated with the state and those that mobilized from civil society to protest the state, as well as those associated with the right, the center, and the left. Finally, I became convinced that these appeals to family should not be seen as only rhetorical flourishes or instrumental invocations designed to appeal to citizens' emotional attachments. Instead, they provided new and important insights into the larger role of gender ideology in understanding and justifying the power relations among states, political leaders, and citizens.
Mailing List
Subscribe to our mailing list and be notified about new titles, journals and catalogs.