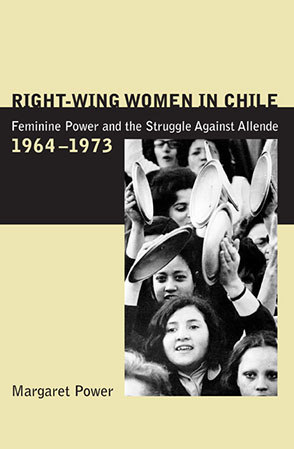 Right-Wing Women in Chile
Feminine Power and the Struggle Against Allende, 1964–1973
Margaret Power
Buy
Right-Wing Women in Chile
Feminine Power and the Struggle Against Allende, 1964–1973
Margaret Power
"An illuminating study of an important actor in a decisive moment of Chilean history, and a valuable and original contribution to Latin American history and politics and women's studies, which both presents new information and explores significant theoretical issues."
Description

Reviews

Bio

Subjects
When over five thousand women took to the streets of Santiago to protest Salvador Allende's Popular Unity government on December 1, 1971, their March of the Empty Pots and Pans signaled the beginning of a mass opposition movement and prompted the later formation of Feminine Power, a multi-class organization that played a critical role in paving the way for the military coup in 1973. Drawing on extensive interviews with leaders and participants, Margaret Power tells the story of these right-wing women, examining their motives, the tactics they employed, and the impact of their ideas and activity on Chilean society and politics.
The ability of the right to exploit established ideas about gender, Power argues, was key to the opposition's success, and she explores how conservatives appealed to women as wives and mothers to mobilize them. Power also pays attention to the earlier history of these efforts, including the formation of Women's Action of Chile in 1963, and to the support provided by the U.S. government. The epilogue examines right-wing women's reactions to the arrest of Augusto Pinochet in 1998 and their role in the elections of 2000. By focusing on the women who opposed Allende and supported Pinochet, this book offers a fresh look at the complex dynamics of Chilean politics in the last half of the twentieth century.
"An illuminating study of an important actor in a decisive moment of Chilean history, and a valuable and original contribution to Latin American history and politics and women's studies, which both presents new information and explores significant theoretical issues."
"Power has made a valuable contribution to the history of women and gender in Chile. Her book both explains the history of right-wing women's political activism in Chile and raises important questions about the role of gender in U.S. Cold War policy and the military coups in Latin America during the 1960s and 1970s."
"Scholars will appreciate this study's rich detail, extensive documentation, and careful examination of diverging interpretations and the pitfalls of memory. The discussion of background issues, portraits of activists, and anecdotes gleaned from interviews make the book accessible to students. Both audiences will appreciate Power's insights into women's history and Chilean politics in a crucial period."
"Having said that, the shortcoming does not detract from an otherwise carefully researched and insightful account of right-wing women's activism. The book deserves to be widely read for its account of women's political organizing and the nature of social movements. It is an eloquent reminder that politics is not only about events as such, but also about everyday activities in which women have always been present and which make events possible at all."
"Both Kampwirth and Power write in lucid prose that will appeal to experts and novices alike. Undergraduates will like these books; the freshmen in my "Women's Movements in Latin America" class this semester enjoyed them both a great deal."
"The authors excel at using interview data to illustrate broader patterns. Extensive quotations from the interviews humanize these conflicts and add dimension to our understanding of them. Power includes an array of maps and photographs that will help the reader visualize the conflicts."
"Margaret Power's book is an essential contribution to the study of the fall of Chilean democracy in 1973."
"The strength of this work lies in its attention to a subject that few Latin American scholars have broached."
"Right-Wing Women is important not only for understanding the overthrow of Allende and shedding light on U.S.-assisted campaigns waged by conservatives throughout Latin America during the Cold War, but also for giving Chilean women their place in this tragic chapter of national history."
"This well-documented, thoughtful account is an important addition to a growing number of studies about the political activity of conservative women, which together "[dispel] the idea that women are naturally more inclined than men to seek social justice and work for peace."
Margaret Power is Assistant Professor of History in the Lewis Department of Humanities at Armour College of the Illinois Institute of Technology in Chicago.
Mailing List
Subscribe to our mailing list and be notified about new titles, journals and catalogs.