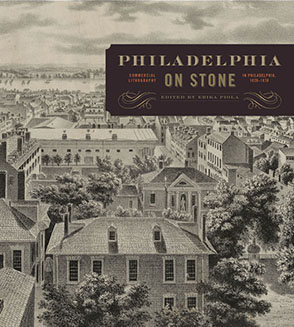 Philadelphia on Stone
Commercial Lithography in Philadelphia, 1828–1878
Edited by Erika Piola
BUY
Philadelphia on Stone
Commercial Lithography in Philadelphia, 1828–1878
Edited by Erika Piola
"Philadelphia on Stone demonstrates very clearly the key role that Philadelphia played in the history of American lithography in the nineteenth century. The eight essays interweave to tell a complex and compelling story that encompasses many different aspects of the nineteenth-century lithographic printing trade: landscape prints and city views, portraits, prints that depict sensational news events, illustrations for books and periodicals, and a vast panoply of advertising work. The biographical essays on the artist James Queen and the lithographer and publisher Peter S. Duval bring to life two men of extraordinary talent who were responsible for Philadelphia's unique contribution to the evolution of lithography. Much of what Erika Piola and her colleagues have to say about lithography in Philadelphia is equally true of lithography as it developed in other cities across the nation, and so this book, which sets out to recount what happened in a specific place, comes very close to being a comprehensive history of lithography in America as a whole. It is sure to become a classic."
Media

Description

Reviews

Bio

Table of Contents

Sample Chapters

Subjects
Published by The Pennsylvania State University Press for the Bibliographical Society of America in association with the Houghton Library, Harvard University, and the Library Company of Philadelphia.
Philadelphia on Stone
is the first work in over fifty years to examine the history of nineteenth-century commercial lithography in Philadelphia. The capstone to the Library Company of Philadelphia's multifaceted Philadelphia on Stone project, this heavily illustrated volume of thematic essays provides an analysis of the social, economic, and technological changes in the local trade from 1828 to 1878; biographies of premier lithographers P. S. Duval and James Queen; and new insights about genres of lithographs pertaining to book illustration, advertising, sensational news, and landscape imagery.
Illustrated with more than 130 full-color images, the text will appeal to local historians, scholars of printing history, and those studying visual and popular culture, advertising, and economic history. The depicted advertisements, cityscape and bird's-eye views, disaster prints, and zoological illustrations document Philadelphia while showcasing the skilled work of the city's lithographers. Philadelphia on Stone highlights the finesse and allure of the lithographic process, which radically altered the visual landscape of Philadelphia and the country.
"Philadelphia on Stone demonstrates very clearly the key role that Philadelphia played in the history of American lithography in the nineteenth century. The eight essays interweave to tell a complex and compelling story that encompasses many different aspects of the nineteenth-century lithographic printing trade: landscape prints and city views, portraits, prints that depict sensational news events, illustrations for books and periodicals, and a vast panoply of advertising work. The biographical essays on the artist James Queen and the lithographer and publisher Peter S. Duval bring to life two men of extraordinary talent who were responsible for Philadelphia's unique contribution to the evolution of lithography. Much of what Erika Piola and her colleagues have to say about lithography in Philadelphia is equally true of lithography as it developed in other cities across the nation, and so this book, which sets out to recount what happened in a specific place, comes very close to being a comprehensive history of lithography in America as a whole. It is sure to become a classic."
"Philadelphia on Stone is a sumptuously illustrated book that brings new discoveries and fresh perspectives to the cultural history of Philadelphia. This broadly contextualized examination of printing expands our understanding of the production and consumption of visual culture in a major urban center."
"The Philadelphia on Stone project and this accompanying volume move the topic of lithography in Philadelphia forward in important ways, connecting business history, labor history, and the consumption of prints to form a new basis for understanding the medium's contributions to visual culture."
"Thoroughly researched and lavishly illustrated. . . . This handsomely produced volume is a tour de force of collaborative scholarship and a welcome addition to the history of visual culture."
"As this handsome volume makes clear in beautifully-designed fashion, Philadelphia in the nineteenth century was the capital of American printmaking. . . . [Erika Piola] has assembled an impressive group of experts to write on a variety of topics focusing on [the city's first fifty years of commercial lithography]."
"The reexamination of the romantic age of lithography in Philadelphia on Stone is a wonderful addition to the history of visual culture in nineteenth-century America. . . . This volume should have great appeal beyond nineteenth-century historians and printing scholars because it offers fresh insights into the social, cultural, and economic life of the period."
"If you love historical prints, this will be a terrific addition to your reference library. . . . I was impressed, and entertained, and thoroughly delighted by this publication."
Erika Piola is Associate Curator of Prints and Photographs at the Library Company of Philadelphia.
Contents
List of Illustrations
Preface
Acknowledgments
Abbreviations
1 The First Fifty Years of Commercial Lithography in Philadelphia: An Overview of the Trade, 1828–1878
Erika Piola and Jennifer Ambrose
2 Putting Philadelphia on Stone: An Introduction to the Techniques Used
Michael Twyman
3 James Queen: Chronicler of Philadelphia
Sara W. Duke
4 Peter S. Duval, Philadelphia's Leading Lithographer
Sarah J. Weatherwax
5 Lithographed Plates for Books and Periodicals: A Mainstay of Philadelphia Lithographers
Christopher W. Lane
6 Commercial Architecture in Philadelphia Lithographs
Dell Upton
7 Drawn on the Spot: Philadelphia Sensational News-Event Lithographs
Erika Piola
8 Philadelphia Lithography and American Landscape
Donald H. Cresswell
Bibliography
Notes on Contributors
Index
Mailing List
Subscribe to our mailing list and be notified about new titles, journals and catalogs.