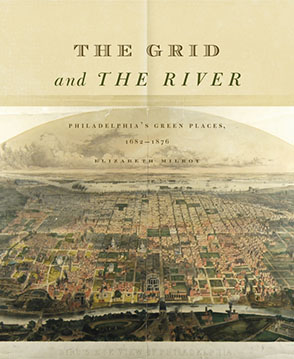 The Grid and the River
Philadelphia's Green Places, 1682–1876
Elizabeth Milroy
BUY
The Grid and the River
Philadelphia's Green Places, 1682–1876
Elizabeth Milroy
"[Milroy's] book comprises a much-needed synthetic narrative of the early development of Philadelphia's environment, built and natural, that will appeal to landscape professionals, urbanists, and park enthusiasts alike. . . . Milroy rounds out her expansive original research with an impressive array of specialized landscape scholarship, ranging from academic books by urban historians, literary scholars, and art and architectural historians to unpublished cultural landscape reports of particular historic sites. She offers more than a local history by setting the Philadelphia story in its broader context, showing how people who shaped local green places did so as self-conscious participants in international conversations about urban improvement, garden design theory, therapeutic landscape planning, and picturesque aesthetic conventions."
Media

Description

Reviews

Bio

Table of Contents

Sample Chapters

Subjects
Winner of a 2017 John Brinckerhoff Jackson Book Prize from the Foundation for Landscape Studies
Listen to a discussion with Elizabeth Milroy on WHYY's You Bet Your Garden here.
Philadelphians are fond of quoting a letter in which William Penn described his vision of a "greene country towne, which will never be burnt & always wholesome." Today, Philadelphia's public parks cover more than ten thousand acres—roughly 11 percent of the city's area. They encompass extensive woodlands and waterways as well as the largest collection of historic properties in the state of Pennsylvania, including the Fairmount Water Works, the Philadelphia Zoo (the oldest zoo in the United States), and the Philadelphia Museum of Art.
The Grid and the River is the product of Elizabeth Milroy's quest to understand the history of public green spaces in William Penn's city. In this monumental work of urban history, Milroy traces efforts to keep Philadelphia "green" from the time of its founding to the late nineteenth century. She chronicles how patterns of use and representations of green spaces informed notions of community and identity in the city. In particular, Milroy examines the history of how and why the district along the Schuylkill River came to be developed both in opposition to and in concert with William Penn's original designations of parks in his city plan.
Focusing on both the history and representation of Philadelphia's green spaces, and making use of a wealth of primary source materials, Milroy offers new insights into the city's political and cultural development and documents how changing attitudes toward the natural environment affected the physical appearance of Philadelphia's landscape and the lives of its inhabitants.
"[Milroy's] book comprises a much-needed synthetic narrative of the early development of Philadelphia's environment, built and natural, that will appeal to landscape professionals, urbanists, and park enthusiasts alike. . . . Milroy rounds out her expansive original research with an impressive array of specialized landscape scholarship, ranging from academic books by urban historians, literary scholars, and art and architectural historians to unpublished cultural landscape reports of particular historic sites. She offers more than a local history by setting the Philadelphia story in its broader context, showing how people who shaped local green places did so as self-conscious participants in international conversations about urban improvement, garden design theory, therapeutic landscape planning, and picturesque aesthetic conventions."
"Though it considers one aspect of a particular city in a particular period, this work will be more widely beneficial than its title suggests. . . . Meticulously researched and painstakingly documented, Milroy's study creates a blueprint for historical works and scholarly presentation."
"The Grid and the River is magisterial. It is both an immensely erudite history and a compelling narrative of the shaping of Philadelphia, whose famous grid plan and immense park system are among the world's most distinctive man-made environments. Philosophy, sociology, technology, politics, and art are all shown to have been actors in the making of Philadelphia's spaces from the city's founding until the end of the nineteenth century. In telling their complex story, Elizabeth Milroy has written the best general history of the city in a generation."
"Milroy has produced a grand history of public green spaces in Philadelphia, focusing on the development of, or rather, as Milroy reveals, the evolution of Fairmount Park through the 1876 centennial. . . . Thanks to Milroy, Fairmount Park can no longer be overlooked by city planning and design historians. Highly recommended."
"Even to those who think they know the well-told history of Penn's founding of Philadelphia, there is new information and deeper nuance to be gleaned in this richly illustrated and extensively researched text. And while ostensibly about Philadelphia, the history told here is much more broadly applicable. It is a history of Philadelphia and of the formation of a uniquely American concept of landscape. Milroy's approach is telescopic. Her research is sometimes almost obsessively detailed, finding quotes from private letters and references to the city's green places in seemingly obscure legislative acts. The depth of her research is extraordinary, quickly building a powerfully authoritative voice."
"The Grid and the River unveils the timeless and dynamic tension between nature and the city. In an increasingly urban world, this book is essential reading for those who can still see a future graced by green and wholesome cities."
Elizabeth Milroy is Professor and Department Head of Art and Art History in the Antoinette Westphal College of Media Arts & Design at Drexel University.
Contents
List of Illustrations
Acknowledgments
Introduction
City
1 The Origins of Penn's Squares
2 Patterns of Growth and Governance in the Centre City
Suburb
3 The Liberty Lands
4 Suburban Villas in the Schuylkill Valley
5 Nurseries of National Virtue: Private Estates and Public Culture
6 Agriculture, Horticulture, and the Origins of the American Picturesque
Consolidation
7 Reviving Penn's Plan
8 The Fairmount Water Works: Picturing Civic Virtue
9 Rural Cemeteries, River Parks, and the Search for Rational Recreation
10 Greening the Consolidated City
11 The Fairmount Park Commission: Park Building for Preservation and Conservation
12 Spatial Politics and the Centennial Exhibition
13 A Work Unfinished
Notes
Bibliography
Index
Mailing List
Subscribe to our mailing list and be notified about new titles, journals and catalogs.