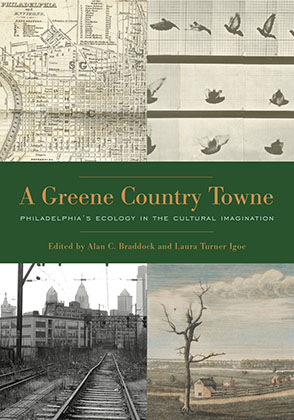 A Greene Country Towne
Philadelphia's Ecology in the Cultural Imagination
Edited by Alan C. Braddock and Laura Turner Igoe
BUY
A Greene Country Towne
Philadelphia's Ecology in the Cultural Imagination
Edited by Alan C. Braddock and Laura Turner Igoe
"Performing remarkable syntheses of environmental history and recent materialist cultural theory, the essays in A Greene Country Towne confirm Philadelphia's centrality to the political, commercial, scientific, artistic, and natural history of the United States. A milestone in the multidisciplinary environmental humanities."
Description

Reviews

Bio

Table of Contents

Sample Chapters

Subjects
An unconventional history of Philadelphia that operates at the threshold of cultural and environmental studies,
A Greene Country Towne
expands the meaning of community beyond people to encompass nonhuman beings, things, and forces.
By examining a diverse range of cultural acts and material objects created in Philadelphia—from Native American artifacts, early stoves, and literary works to public parks, photographs, and paintings—through the lens of new materialism, the essays in A Greene Country Towne ask us to consider an urban environmental history in which humans are not the only protagonists. This collection reimagines the city as a system of constantly evolving constituents and agencies that have interacted over time, a system powerfully captured by Philadelphia artists, writers, architects, and planners since the seventeenth century.
In addition to the editors, contributors to this volume are Maria Farland, Nate Gabriel, Andrea L. M. Hansen, Scott Hicks, Michael Dean Mackintosh, Amy E. Menzer, Stephen Nepa, John Ott, Sue Ann Prince, and Mary I. Unger.
"Performing remarkable syntheses of environmental history and recent materialist cultural theory, the essays in A Greene Country Towne confirm Philadelphia's centrality to the political, commercial, scientific, artistic, and natural history of the United States. A milestone in the multidisciplinary environmental humanities."
"There are moments of wonder and insights scattered throughout, including the English professor Maria Farland's ecological reading of Walt Whitman's Leaves of Grass and the art historian Laura Turner Igoe's environmental interpretation of the work of Charles Willson Peale."
Alan C. Braddock is Ralph H. Wark Associate Professor of Art History and American Studies at the College of William and Mary as well as Barron Visiting Professor in the Environment and the Humanities at Princeton University. He is the author of Thomas Eakins and the Cultures of Modernity (2009) and coeditor of A Keener Perception: Ecocritical Studies in American Art History (2009).
Laura Turner Igoe is the Maher Curatorial Fellow of American Art at Harvard Art Museums. She is completing a book manuscript titled Art and Ecology in the Early Republic.
Table of Contents
List of illustrations
Acknowledgments
Introduction: Imagining Urban Ecology
Alan C. Braddock and Laura Turner Igoe
Chapter 1: Ink and Paper, Clamshells and Leather: Power, Environmental Perception, and Materiality in the Lenape-European Encounter at Philadelphia
Michael Dean Mackintosh
Chapter 2: "Processes of Nature and Art": The Ecology of Charles Willson Peale's Smoke-Eaters and Stoves
Laura Turner Igoe
Chapter 3: Mapping The Quaker City's Queer Ecology
Mary I. Unger
Chapter 4: Visualizing Urban Nature in Fairmount Park: Economic Diversity, History, and Photography in Nineteenth-Century Philadelphia
Nate Gabriel
Chapter 5: Netted Together: Eadweard Muybridge's Animal Locomotion at the Dawn of Comparative Biology
John Ott
Chapter 6: Expansive Exhibitions: Agriculture and Environment in Walt Whitman's Camden-Philadelphia Region
Maria Farland
Chapter 7: "Our yard looks something like a zoological garden": Thomas Eakins, Philadelphia, and Domestic Animality
Alan C. Braddock
Chapter 8: "A Thorough Study of Causes": W.E.B. Du Bois, The Philadelphia Negro, and Progressive Era Materiality
Scott Hicks
Chapter 9: Exhibiting Philadelphia's Vital Center: Negotiating Environmental and Civic Reform in a Popular Postwar Planning Vision
Amy E. Menzer
Chapter 10: "Entertainment for all of the senses": Stephen Starr's Experience Dining and the Revitalization of Postindustrial Philadelphia
Stephen Nepa
Chapter 11: "The water flows beneath it still. . .": Remembering and Re-imagining Philadelphia's Old Dock Creek
Sue Ann Prince
Chapter 12: Remapping Philadelphia's Post-Industrial Terrain: A Network in Flux
Andrea Hansen
Notes
Index
Mailing List
Subscribe to our mailing list and be notified about new titles, journals and catalogs.