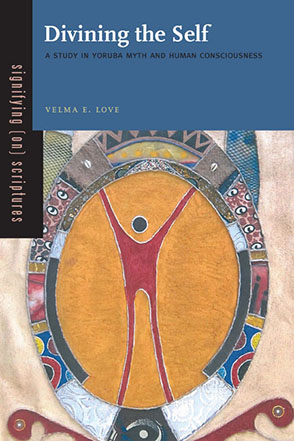 Divining the Self
A Study in Yoruba Myth and Human Consciousness
Velma E. Love
BUY
Divining the Self
A Study in Yoruba Myth and Human Consciousness
Velma E. Love
"Well-crafted case studies like Divining the Self are important contributions to the process of bringing religious studies into compatibility with the lived religious and scriptural practices of participants. Traditionally, scholars have focused on the text itself to find meanings based on words and concepts in order to claim religious relevance. This study looks beyond print and inscription by focusing on an influential oral and (relatively recently) written corpus in use among a participant population that outnumbers many 'mainline' Christian denominations."
Description

Reviews

Bio

Table of Contents

Sample Chapters

Subjects
Divining the Self
weaves elements of personal narrative, myth, history, and interpretive analysis into a vibrant tapestry that reflects the textured, embodied, and performative nature of scripture and scripturalizing practices. Velma Love examines the Odu—the Yoruba sacred scriptures—along with the accompanying mythology, philosophy, and ritual technologies engaged by African Americans. Drawing from the personal narratives of African American Ifa practitioners along with additional ethnographic fieldwork conducted in Oyotunji African Village, South Carolina, and New York City, Love's work explores the ways in which an ancient worldview survives in modern times.
Divining the Self also takes up the challenge of determining what it means for the scholar of religion to study scripture as both text and performance. This work provides an excellent case study of the sociocultural phenomenon of scripturalizing practices.
"Well-crafted case studies like Divining the Self are important contributions to the process of bringing religious studies into compatibility with the lived religious and scriptural practices of participants. Traditionally, scholars have focused on the text itself to find meanings based on words and concepts in order to claim religious relevance. This study looks beyond print and inscription by focusing on an influential oral and (relatively recently) written corpus in use among a participant population that outnumbers many 'mainline' Christian denominations."
"Captivating! Velma Love has crafted a very fine study of the Odu in diaspora. The historical, ethnographic work here fulfills the important promise of the Signifying (on) Scriptures model. Anyone interested in the social life of scriptures will value this book."
"Velma Love's Divining the Self is an excellent ethnography of Ifa divination tradition in the African American community of Oyotunji Village in South Carolina and in New York City. In this innovative book, Love provides an in-depth exploration of how a community of believers constructs a new identity for itself by digging deep and tapping into the spiritual source and 'orature' of the Yoruba of southwestern Nigeria. The theoretical and methodological frameworks she deploys inspire fresh ways of thinking about non-textual religion, identity construction, race, gender, and community life in modern contexts. This is a book that will interest a diverse group of scholars in folklore and literature, mythology, spirituality, and African and African American studies, to mention just a few."
"The breadth that Love manages to achieve in a work of this brief length is impressive. It takes account of festivals and archetypes, as well as Caribbean and West African traditions and their performances and revision in African American communities in the US."
"This historical context for researchers of contemporary Ifa/Orisha tradition in the United States remains vital, as well as being simply enjoyable reading for practitioners of Yoruba religion."
Velma E. Love is Project Director of the Howard University School of Divinity's National Study of Black Congregational Life.
Contents
Preface and Acknowledgments
Introduction
1 Mythic Origins and Cultural Practices
2 Orisha Archetypes, Cultural Memory, and the Odu
3 Divining the Self
4 Symbols and Signposts for the Journey
5 Powers of the Mothers
6 Oshun, Yemonja, and Oya
Conclusion
Notes
Bibliography
Index
Mailing List
Subscribe to our mailing list and be notified about new titles, journals and catalogs.