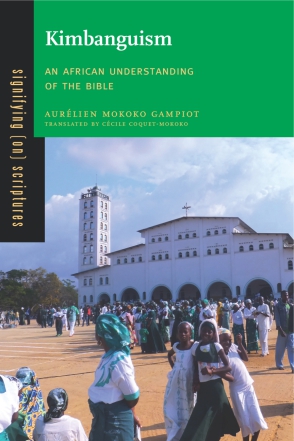 Kimbanguism
An African Understanding of the Bible
Aurélien Mokoko Gampiot, Translated by Cécile Coquet-Mokoko
BUY
Kimbanguism
An African Understanding of the Bible
Aurélien Mokoko Gampiot, Translated by Cécile Coquet-Mokoko
"This book is a refreshing, in-depth scholarly and empathetic analysis of Kimbanguism, a movement considered to be one of the most enduring African-initiated churches on the continent and in the African diaspora. Aurélien Mokoko Gampiot brilliantly explores how Kimbanguists engage the Bible on issues of ultimate and secular concerns, and he eloquently combines an insider's knowledge with deep scholarly insights to produce an excellent book that illuminates what the movement means today for Africans and the world at large."
Unlocked

Description

Reviews

Bio

Sample Chapters

Subjects
An Open Access edition of Kimbanguism is available through PSU Press Unlocked. To access this free electronic edition click here. Print editions are also available.
In this volume, Aurélien Mokoko Gampiot, a sociologist and son of a Kimbanguist pastor, provides a fresh and insightful perspective on African Kimbanguism and its traditions.
The largest of the African-initiated churches, Kimbanguism claims seventeen million followers worldwide. Like other such churches, it originated out of black African resistance to colonization in the early twentieth century and advocates reconstructing blackness by appropriating the parameters of Christian identity. Mokoko Gampiot provides a contextual history of the religion's origins and development, compares Kimbanguism with other African-initiated churches and with earlier movements of political and spiritual liberation, and explores the implicit and explicit racial dynamics of Christian identity that inform church leaders and lay practitioners. He explains how Kimbanguists understand their own blackness as both a curse and a mission and how that underlying belief continuously spurs them to reinterpret the Bible through their own prisms.
Drawing from an unprecedented investigation into Kimbanguism's massive body of oral traditions—recorded sermons, participant observations of church services and healing sessions, and translations of hymns—and informed throughout by Mokoko Gampiot's intimate knowledge of the customs and language of Kimbanguism, this is an unparalleled theological and sociological analysis of a unique African Christian movement.
"This book is a refreshing, in-depth scholarly and empathetic analysis of Kimbanguism, a movement considered to be one of the most enduring African-initiated churches on the continent and in the African diaspora. Aurélien Mokoko Gampiot brilliantly explores how Kimbanguists engage the Bible on issues of ultimate and secular concerns, and he eloquently combines an insider's knowledge with deep scholarly insights to produce an excellent book that illuminates what the movement means today for Africans and the world at large."
Aurélien Mokoko Gampiot is a scholar in the sociology of religion at the GSRL-CNRS (Sorbonne University). He is the author of two reference books on Kimbanguism for the French-speaking public.
Cécile Coquet-Mokoko is Associate Professor of American and African American Studies at the Université François Rabelais.
Mailing List
Subscribe to our mailing list and be notified about new titles, journals and catalogs.