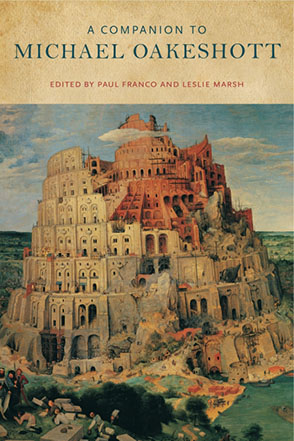 A Companion to Michael Oakeshott
Edited by Paul Franco, and Leslie Marsh
BUY
A Companion to Michael Oakeshott
Edited by Paul Franco, and Leslie Marsh
"This timely collection brings together an important set of essays exploring various aspects of the philosophy of Michael Oakeshott. For those unacquainted with Oakeshott's brilliant but sometimes enigmatic writings on civil association, history, the nature of human experience, education, and political authority, this volume stands as a tribute to his growing intellectual stature in the twenty-first century. It shows just how far Oakeshott studies in the Anglophone world have come in the past two decades, and it lays out a path for where they might productively go in the future."
Description

Reviews

Bio

Table of Contents

Sample Chapters

Subjects
Michael Oakeshott has long been recognized as one of the most important political philosophers of the twentieth century, but until now no single volume has been able to examine all the facets of his wide-ranging philosophy with sufficient depth, expertise, and authority. The essays collected here cover all aspects of Oakeshott's thought, from his theory of knowledge and philosophies of history, religion, art, and education to his reflections on morality, politics, and law.
Aside from the editors, the contributors are Corey Abel, David Boucher, Elizabeth Corey, Robert Devigne, Timothy Fuller, Steven Gerencser, Robert Grant, Noel Malcolm, Kenneth McIntyre, Kenneth Minogue, Noël O'Sullivan, Geoffrey Thomas, and Martyn Thompson.
"This timely collection brings together an important set of essays exploring various aspects of the philosophy of Michael Oakeshott. For those unacquainted with Oakeshott's brilliant but sometimes enigmatic writings on civil association, history, the nature of human experience, education, and political authority, this volume stands as a tribute to his growing intellectual stature in the twenty-first century. It shows just how far Oakeshott studies in the Anglophone world have come in the past two decades, and it lays out a path for where they might productively go in the future."
"Michael Oakeshott remains one of the great political philosophers of the twentieth century. Yet his writings—at least in America—rarely get the time or attention they deserve. This wonderful anthology beautifully covers virtually every aspect of Oakeshott's life and thought. It helps us appreciate Oakeshott's own voice in the conversation of mankind."
"Paul Franco and Leslie Marsh have put together a companion that does something that few companions actually do: it provides a serious introduction to the man and to the full range of his thought. The book does a nice job of locating Oakeshott in relation to other thinkers and of bringing out Oakeshott's distinctive intellectual style. This is a book anyone who is starting in on Oakeshott can greatly benefit from, and which anyone who knows Oakeshott will enjoy."
"This book is handsomely produced, easily readable, and having a good reproduction of Bruegel's The Tower of Babel on the dust jacket was an inspired choice."
"A Companion to Michael Oakeshott can therefore legitimately claim to serve as an authoritative guide to Oakeshott's thought. It will be of great value to advanced scholars as well as students unfamiliar with his ideas."
Paul Franco is Professor of Government at Bowdoin College.
Leslie Marsh is Assistant Director of the New England Institute for Cognitive Science and Evolutionary Studies and a Research Associate in the Dean's Office of the Medical School at the University of British Columbia.
Contents
Acknowledgments
List of Abbreviations
Introduction
Paul Franco and Leslie Marsh
1 The Pursuit of Intimacy, or Rationalism in Love
Robert Grant
Part One: The Conversation of Mankind
2 The Victim of Thought: The Idealist Inheritance
David Boucher
3 Philosophy and Its Moods: Oakeshott on the Practice of Philosophy
Kenneth McIntyre
4 Michael Oakeshott's Philosophy of History
Geoffrey Thomas
5 Radical Temporality and the Modern Moral Imagination: Two Themes in the Thought of Michael Oakeshott
Timothy Fuller
6 The Religious Sensibility of Michael Oakeshott
Elizabeth Corey
7 Whatever It Turns Out to Be: Oakeshott on Aesthetic Experience
Corey Abel
8 Un Début dans la Vie Humaine: Michael Oakeshott on Education
Paul Franco
Part Two: Political Philosophy
9 Michael Oakeshott on the History of Political Thought
Martyn Thompson
10 Oakeshott and Hobbes
Noel Malcolm
11 The Fate of Rationalism in Oakeshott's Thought
Kenneth Minogue
12 Oakeshott and Hayek: Situating the Mind
Leslie Marsh
13 Oakeshott as Conservative
Robert Devigne
14 Oakeshott on Civil Association
Noël O'Sullivan
15 Oakeshott on Law
Steven Gerencser
Notes on Contributors
Index
Also of Interest
Mailing List
Subscribe to our mailing list and be notified about new titles, journals and catalogs.