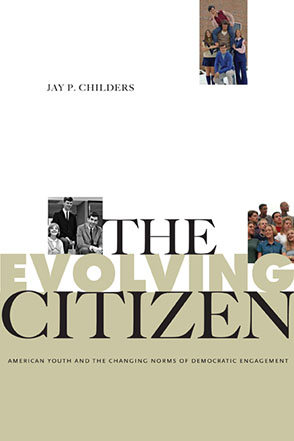 The Evolving Citizen
American Youth and the Changing Norms of Democratic Engagement
Jay P. Childers
BUY
The Evolving Citizen
American Youth and the Changing Norms of Democratic Engagement
Jay P. Childers
"Jay Childers's work places itself within the scholarly conversation accurately, repeatedly, and convincingly, and Childers uses primary texts that, to my knowledge, have not been frequently investigated by other scholars."
Description

Reviews

Bio

Table of Contents

Sample Chapters

Subjects
It has become a common complaint among academics and community leaders that citizens today are not what they used to be. Nowhere is this decline seen to be more troubling than when the focus is on young Americans. Compared to the youth of past generations, today's young adults, so the story goes, spend too much time watching television, playing video games, and surfing the Internet. As a result, American democracy is in trouble.
The Evolving Citizen challenges this decline thesis and argues instead that democratic engagement has not gotten worse—it has simply changed. Through an analysis of seven high school newspapers from 1965 to 2010, this book shows that young people today, according to what they have to say for themselves, are just as enmeshed in civic and political life as the adolescents who came before them. American youth remain good citizens concerned about their communities and hopeful that they can help make a difference. But as The Evolving Citizen demonstrates, today's youth understand and perform their roles as citizens differently because the world they live in has changed remarkably over the last half century.
"Jay Childers's work places itself within the scholarly conversation accurately, repeatedly, and convincingly, and Childers uses primary texts that, to my knowledge, have not been frequently investigated by other scholars."
"We need to understand how youths experience their own citizenship if we want to reform education and politics. Because The Evolving Citizen draws on the students' own voices and ideas, interpreted insightfully, it is a valuable and skillful contribution to our understanding of citizenship today. It is a significant book—methodologically innovative, persuasive, and carrying an important message."
"The Evolving Citizen is an engaging look at the changing ways in which America's teens write about their political and civic environment. This important inventory of how youths adapt to the realities of their times and alter the meaning of democracy offers reasons for hope and concern. By spanning five decades, Jay Childers's examination of how young adults have shifted their areas of focus, their levels of engagement, and the issues they find most riveting provides insight into the evolving meaning of citizenship and changing norms of civic engagement. This is a welcome addition to the literature, offering a ground-level look at ordinary democracy."
Jay P. Childers is Assistant Professor of Communication Studies at the University of Kansas.
Contents
Acknowledgments
1 American Youth: Who They Are and Why They Matter
2 American High School: Teenagers and Scholastic Journalism
3 Dislocated Cosmopolitans
4 Removed Volunteers
5 Protective Critics
6 Independent Joiners
7 American Evolution, Democratic Engagement, and Civic Education
Notes
Index
Mailing List
Subscribe to our mailing list and be notified about new titles, journals and catalogs.