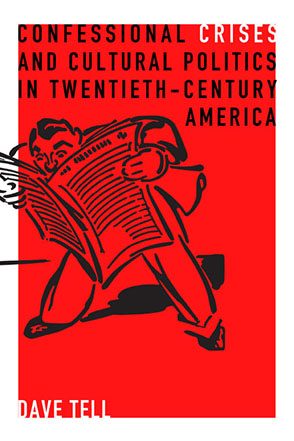 Confessional Crises and Cultural Politics in Twentieth-Century America
Dave Tell
BUY
Confessional Crises and Cultural Politics in Twentieth-Century America
Dave Tell
"Tell's Confessional Crises and Cultural Politics in Twentieth-Century America provides a critical and fascinating account of the always already 'confessional anxiety' that animates American public life and political culture."
Media

Description

Reviews

Bio

Table of Contents

Sample Chapters

Subjects
Confessional Crises and Cultural Politics in Twentieth-Century America is the winner of the 2013 Marie Hochmuth Nichols Award from the Public Address Division of the National Communication Association honoring outstanding published scholarship in public address.
Confessional Crises and Cultural Politics in Twentieth-Century America revolutionizes how we think about confession and its ubiquitous place in American culture. It argues that the sheer act of labeling a text a confession has become one of the most powerful, and most overlooked, forms of intervening in American cultural politics. In the twentieth century alone, the genre of confession has profoundly shaped (and been shaped by) six of America's most intractable cultural issues: sexuality, class, race, violence, religion, and democracy.
"Tell's Confessional Crises and Cultural Politics in Twentieth-Century America provides a critical and fascinating account of the always already 'confessional anxiety' that animates American public life and political culture."
"Confessional Crises and Cultural Politics in Twentieth-Century America is a very smart work. It tackles the subject of public confession in a new way. Rather than identifying generic characteristics of apology and then determining that particular rhetorical acts do or do not satisfy these characteristics, Dave Tell treats the components of confession as fluid and as themselves subject to rhetorical evaluation. He examines six case studies in which a text is alleged to be a confession and makes a compelling argument that there are political stakes and consequences in the decision to label a text a confession as well as in the decision to contest that label. Tell's analysis challenges conventional wisdom over and over again. The reader will be amply rewarded with a depth of knowledge and insight about each of these significant historical moments, and he or she will have renewed appreciation for the working of rhetorical texts in history."
"Dave Tell's book is a worthy addition to the scholarly literature on confessional culture. I especially appreciate his clear and forceful prose style and the freedom of the work from scholarly jargon and disciplinary narrowness."
"Just as any good book should do, Confessional Crises and Cultural Politics in Twentieth-Century America pushed me to ask new questions with fresh vocabulary and methods. Tell's writing is deeply compelling. His work combines the best of archival research, rhetorical criticism, and narrative."
"Those already familiar with Tell's previous work on the subject of confession will be pleased to find that the author has managed to break significant ground in his recent book by arguing that American public culture has been, and continues to be, fascinated with the practice of confession and what texts can be counted as such. . . . Tell's book is a welcome addition that surely provides ample material for reflection and debate on issues related to confession and its imbrications with American public culture."
"Dave Tell is an excellent writer and thinker, incorporating provocative archival research and good storytelling, and his Confessional Crises is a welcome addition to any ongoing discussion of genre, confession, and cultural politics."
Dave Tell is Associate Professor of Communication Studies at the University of Kansas.
Contents
Acknowledgments
Introduction: Confessional Crises and Cultural Politics
1 Confession and Sexuality: True Story Versus Anthony Comstock
2 Confession and Class: A New True Story
3 Confession and Race: Civil Rights, Segregation, and the Murder of Emmett Till
4 Confession and Violence: William Styron's Nat Turner
5 Confession and Religion: Jimmy Swaggart's Secular Confession
6 Confession and Democracy: Clinton, Starr, and the Witch-Hunt Tradition of American Confession
Conclusion: James Frey and Twenty-First-Century Confessional Culture
Notes
Bibliography
Index
Mailing List
Subscribe to our mailing list and be notified about new titles, journals and catalogs.