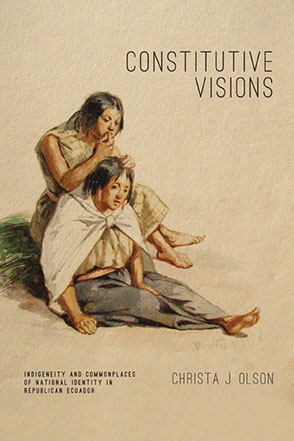 Constitutive Visions
Indigeneity and Commonplaces of National Identity in Republican Ecuador
Christa J. Olson
BUY
Constitutive Visions
Indigeneity and Commonplaces of National Identity in Republican Ecuador
Christa J. Olson
"Constitutive Visions demonstrates, in rich detail, how visual representations serve as rhetorical acts that constitute nations—acts every bit as important as the constitutions, laws, political speeches, and policies that make up a national rhetorical culture. Christa Olson pushes rhetoric scholars to extend their reach beyond the English world and beyond dominant Western traditions, a trend in contemporary scholarship that she models masterfully. This book will become a benchmark for both experienced scholars and novices seeking to examine how national and visual arguments take on rhetorical power across time and space."
Description

Reviews

Bio

Table of Contents

Sample Chapters

Subjects
In Constitutive Visions, Christa Olson presents the rhetorical history of republican Ecuador as punctuated by repeated arguments over national identity. Those arguments—as they advanced theories of citizenship, popular sovereignty, and republican modernity—struggled to reconcile the presence of Ecuador's large indigenous population with the dominance of a white-mestizo minority. Even as indigenous people were excluded from civic life, images of them proliferated in speeches, periodicals, and artworks during Ecuador's long process of nation formation. Tracing how that contradiction illuminates the textures of national-identity formation, Constitutive Visions places petitions from indigenous laborers alongside oil paintings, overlays woodblock illustrations with legislative debates, and analyzes Ecuador's nineteen constitutions in light of landscape painting. Taken together, these juxtapositions make sense of the contradictions that sustained and unsettled the postcolonial nation-state.
"Constitutive Visions demonstrates, in rich detail, how visual representations serve as rhetorical acts that constitute nations—acts every bit as important as the constitutions, laws, political speeches, and policies that make up a national rhetorical culture. Christa Olson pushes rhetoric scholars to extend their reach beyond the English world and beyond dominant Western traditions, a trend in contemporary scholarship that she models masterfully. This book will become a benchmark for both experienced scholars and novices seeking to examine how national and visual arguments take on rhetorical power across time and space."
"This engaging book explores the larger rhetorical ecology generated out of a wide range of image-making and discursive practices by which Ecuadorians came to see themselves, others, and the national territory between the mid-nineteenth and mid-twentieth centuries. Christa Olson shows how national visions—including, centrally, topoi of indigeneity—were forged over time through interactions, dialogues, and engagements among social groups. In doing so she explores the resilience of topoi and their re-creation over time and into the present, illuminating the formation of deeply rooted common sense that has shaped visions of the Ecuadorian nation."
"[This] book makes a unique interpretation of the frequently debated topic of national identity formation, adding significantly to our understanding of the contradictions and intricacies of this process."
"[Olson's] innovative application of the theoretical language of constitutive rhetoric to the exercise of both national and popular sovereignty challenges our understandings of the creation of national identities. As such, this important new work significantly advances our understanding of theories of citizenship and national formation."
"Analyzing the relationship of the indigenous to the nation-state is a global challenge and one that the author of this new study undertakes with great skill and unquestionable success. . . . This is an excellent work of scholarship and highly recommended for graduate students as well as specialists in the field."
"Constitutive Visions brings readers a graphic-rich rhetorical history of nationalisms in Ecuador. Christa Olson makes a compelling argument showing how Ecuadorian national identity formations are a particularly valuable example for drawing out broader claims about the visual rhetoricity of nationalism."
Christa J. Olson is Assistant Professor of English at the University of Wisconsin–Madison.
Contents
Preface: The Precarious Politics of Going There
Acknowledgments
Introduction: Scene Setting
Chapter 1: Constituting Citizenship
Chapter 2: Geography Is History
Chapter 3: Burdens of the Nation
Chapter 4: Dead Weight: The Indian as National Other
Chapter 5: Performing Strategic Indigeneity
Conclusion: ¿De Quién Es la Patria?
Notes
Bibliography
Also of Interest
Mailing List
Subscribe to our mailing list and be notified about new titles, journals and catalogs.