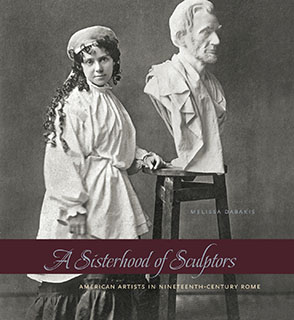 A Sisterhood of Sculptors
American Artists in Nineteenth-Century Rome
Melissa Dabakis
BUY
A Sisterhood of Sculptors
American Artists in Nineteenth-Century Rome
Melissa Dabakis
"Long awaited, A Sisterhood of Sculptors is a rich and satisfying account of that brave band of nineteenth-century Americans who defied Victorian conventions of womanhood to live in Italy as professional marble sculptors. Melissa Dabakis embeds these audacious women in the struggles for suffrage and the politics of race, as well as the pre-1876 taste and demand for large-scale neoclassical sculptures, rendering them inseparable from the larger forces of history that shaped and confined them."
Media

Description

Reviews

Bio

Table of Contents

Sample Chapters

Subjects
This book made possible through support from the Terra Foundation for American Art.
Listen to Melissa Dabakis and A Sisterhood of Sculptors featured on the April 20th New Books in Gender Studies podcast.
Hear Melissa Dabakis discuss Vinnie Ream, the first female artist commissioned to create a work of art for the U.S. government, in an audio blog feature by the U.S. Capitol Visitor's Center.
This project is made possible through support from the Terra Foundation for American Art.

When Elizabeth Cady Stanton penned the Declaration of Sentiments for the first women's rights convention, held in Seneca Falls, New York, in 1848, she unleashed a powerful force in American society. In
A Sisterhood of Sculptors
, Melissa Dabakis outlines the conditions under which a group of American women artists adopted this egalitarian view of society and negotiated the gendered terrain of artistic production at home and abroad.

Between 1850 and 1876, a community of talented women sought creative refuge in Rome and developed successful professional careers as sculptors. Some of these women have become well known in art-historical circles: Harriet Hosmer, Edmonia Lewis, Anne Whitney, and Vinnie Ream. The reputations of others have remained, until now, buried in the historical record: Emma Stebbins, Margaret Foley, Sarah Fisher Ames, and Louisa Lander. At midcentury, they were among the first women artists to attain professional stature in the American art world while achieving international fame in Rome, London, and other cosmopolitan European cities. In their invention of modern womanhood, they served as models for a younger generation of women who adopted artistic careers in unprecedented numbers in the years following the Civil War.

At its core, A
Sisterhood of Sculptors
is concerned with the gendered nature of creativity and expatriation. Taking guidance from feminist theory, cultural geography, and expatriate and postcolonial studies, Dabakis provides a detailed investigation of the historical phenomenon of women's artistic lives in Rome in the mid-nineteenth century. As an interdisciplinary examination of femininity and creativity, it provides models for viewing and interpreting nineteenth-century sculpture and for analyzing the gendered status of the artistic profession.
"Long awaited, A Sisterhood of Sculptors is a rich and satisfying account of that brave band of nineteenth-century Americans who defied Victorian conventions of womanhood to live in Italy as professional marble sculptors. Melissa Dabakis embeds these audacious women in the struggles for suffrage and the politics of race, as well as the pre-1876 taste and demand for large-scale neoclassical sculptures, rendering them inseparable from the larger forces of history that shaped and confined them."
"Melissa Dabakis has written the book I've been longing to read. In the history of art, there has never been a book about the courageous first American female sculptors and their bold journey not just from Boston to Rome, but to becoming professional artists. Meticulously researched with perceptive insight that offers new analysis of neoclassical sculpture, this book examines how these artists transformed nationalist sculpture by injecting it with their suffragist and abolitionist views. It presents a fascinating account of the inherent complexities and contradictions of expatriate life in mid-nineteenth-century Italy, as well as a rigorous, fresh reading of how feminine propriety had to be negotiated with independence in a world where social conventions were constantly shifting on the eve of the Civil War and the unification of Italy. This groundbreaking book is an absolute must-read for anyone interested in the history of these women, the sheer audacity of their professional calling, and the creative authority of women."
"[A Sisterhood of Sculptors] is a good example of how an author can blend scholarly research on multiple disciplines with clear, concise writing that is both informative and appealing to a wide audience. Drawing on personal records, correspondence, and previous scholarship on the topic, Dabakis adroitly balances social, cultural, and political history with vivid personal portraits of the artists. . . . The thoughtfully chosen photographic illustrations provide further evidence of each sculptor's skills which equaled, if not rivaled, those of male sculptors of the era. The reader emerges with a clearer picture of each artist's personality, as well as a greater understanding of their creative processes and of their significance to the history of American art."
"Between 1850 and 1876, a group of women left the United States for Italy in order to pursue careers as neoclassical sculptors. In this lavishly illustrated, well-researched, and highly readable book, Dabakis builds on and synthesizes recent scholarship that has treated these artists . . . [and fleshes out] the politically charged atmosphere of Italy in the 19th century, when it was in the midst of a revolution. Additionally she builds a vital context for how the work of these artists also served as pointed and particular responses to issues at home, such as the Civil War, abolitionism, Reconstruction, and suffrage. As Dabakis elucidates, their work and their careers served as inspiration and models for a younger generation of women artists at a time when 'genius' was a quality reserved primarily for men."
"Along with its predecessors, Sisterhood of Sculptors proves that neoclassicism is much more than first meets the twenty-first-century eye, and not only because atmospheric lighting made marble figurative sculpture look more sensuously fleshlike to nineteenth-century audiences than today's viewers can appreciate, but because of the socially, politically, and geographically grounded circumstances of its artistic production. This rich and engagingly conveyed history gives the stories of these sculptors and their work new life."
"Dabakis' beautifully researched and illustrated academic book establishes the importance of American women artists in 19th-century Rome, where their dazzling accomplishments succeeded in momentarily overcoming the sexism, if not the racism, of their era."
"This serious study of expatriate women artists in Rome has been a long time coming. A Sisterhood of Sculptors is articulate, thorough, and engrossing in its examination of the personal challenges and political pressures these artists met and overcame."
"Offers a new contribution to the study of American artists working in international contexts, to the body of scholarship on American sculpture and its connections with political history, and to the discussion of gender in art history."
Melissa Dabakis is Professor of Art History at Kenyon College. She is the author of Visualizing Labor in American Sculpture: Monuments, Manliness, and the Work Ethic, 1880-1935 (Cambridge University Press, 1999) and numerous articles on nineteenth- and twentieth-century American art. She has received grants and fellowships from the National Endowment for the Humanities, the J. Paul Getty Foundation, the Smithsonian Institution, and the American Council of Learned Societies, and has served as a Visiting Scholar at the American Academy in Rome. She is the 2013-2014 Terra Foundation Senior Fellow in American Art at the Smithsonian American Art Museum.
Contents
List of Illustrations
Acknowledgments
Introduction
Part I: Feminine Professionalism in Boston and Rome
1 The Boston-Rome Nexus
2 Neoclassicism in Cosmopolitan Rome
3 "A Woman Artist Is an Object of Peculiar Odium"
Part II: Women Sculptors and the Politics of Rome
4 Rome in the Colonial Imagination
5 Reimagining Italy
Part III: The Civil War, Reconstruction, and the Suffrage Debates
6 Antislavery Sermons in Stone
7 Women Sculptors, Suffrage, and the Public Stage
Postscript
Notes
Selected Bibliography
Index
Mailing List
Subscribe to our mailing list and be notified about new titles, journals and catalogs.