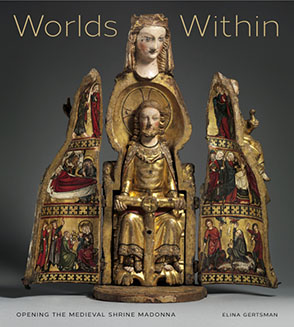 Worlds Within
Opening the Medieval Shrine Madonna
Elina Gertsman
BUY
Worlds Within
Opening the Medieval Shrine Madonna
Elina Gertsman
Winner of the 2018 Karen Gould Prize in Art History from The Medieval Academy of America
"This study of Shrine Madonnas employs a kaleidoscope of lenses to show that perception of these uncanny devotional objects resounded in the viewer's body, evoked the lore and science of childbirth, displayed the motility of liveness, and offered multiple paths for the remembrance of sacred history. Attentive to cultural context, Elina Gertsman also brings an array of theoretical insights to bear. A rich and immersive experience awaits the reader-viewer of this intellectually scintillating book!"
Description

Reviews

Bio

Table of Contents

Sample Chapters

Subjects
In Worlds Within, Elina Gertsman investigates the Shrine Madonnas, or Vierges ouvrantes—sculptures that conceal within their bodies complex carved and/or painted iconographies. The Shrine Madonna emerged in Europe at the end of the 1200s and reached a peak of popularity during the following three centuries. Gertsman argues that the appearance of these objects—predicated as they are on the dynamic of concealment, revelation, and fragmentation—points to the changing roles of vision and sensation in the complex, performative ways in which audiences were expected to engage with devotional images, both in public and in private. Worlds Within considers these fascinating sculptures in terms of the rhetoric of secrecy, the discourse of containment, and the tropes of unveiling. Gertsman demonstrates how the statues were associated with the processes of seeing and memory-making and how they functioned as instruments of revelatory knowledge and spiritual reformation in the context of late medieval European culture.
"This study of Shrine Madonnas employs a kaleidoscope of lenses to show that perception of these uncanny devotional objects resounded in the viewer's body, evoked the lore and science of childbirth, displayed the motility of liveness, and offered multiple paths for the remembrance of sacred history. Attentive to cultural context, Elina Gertsman also brings an array of theoretical insights to bear. A rich and immersive experience awaits the reader-viewer of this intellectually scintillating book!"
"Worlds Within is wonderful—compelling, clear, sharp, and engaging. Elina Gertsman uses understudied Shrine Madonnas to prize apart understandings of medieval belief and practice, exploring how these objects facilitated embodied and enacted religious experiences that pressed the boundaries between the material and immaterial, the inert and active, the mundane and sacred, the visual and haptic, and the experience of the present and memory. This is accomplished through consideration of theoretical, cultural, theological, and formal perspectives, with particular emphasis on phenomenological and cognitive approaches. The implications of this learned study extend far beyond Shrine Madonnas to medieval understandings of vision and touch, and performance and devotion, that will shape the field."
"This thoughtful, sophisticated, and at times daring book offers important new insights into the simultaneous popularity and controversiality of the Vierge ouvrante in late medieval Europe. Springing dynamically between medieval theological, devotional, and scientific discourse and modern scholarship on ritual, reception, performance, and play, Elina Gertsman's wide-ranging argument illuminates, with elegance and verve, the animated and animating role that these distinctive sculptures played in late medieval religious practice."
"This finely written and pioneering study is not simply a descriptive tract on the Shrine Madonnas—those fascinating sculptures that open to reveal complex iconographical programs. Rather, it is a far-reaching and riveting analysis of their important place in society and belief. Taking an all-encompassing and holistic approach to the forty or so extant carvings that first appeared at the end of the thirteenth century, Elina Gertsman places the works in a central position with regard to private and public devotion and makes the reader aware of how much they embodied and how they functioned. Sister Candide, a sixteenth-century nun at Maubuisson, wrote of the carving in that church that 'when open it was not a Virgin but the entire world.' The same could be said of this book—when open, it brings us a far greater world than we are led to believe from the title. Mariological studies are extended with this monograph, which looks at the physicality and meaning of the carvings from a medieval and modern perspective. This is essential reading for anyone interested in medieval art."
"This book takes on a little-studied class of object with forcefulness and erudition. Beyond elucidating the multiple resonances of Shrine Madonnas for their original viewers, Elina Gertsman's work will inspire new ways of considering larger questions concerning late medieval sculpture, audience response, the intersections of art and science, and female experience."
"In this truly multidisciplinary study of one of the most perplexing and beguiling of medieval visual traditions, the so-called Vierges ouvrantes, Elina Gertsman deftly deploys a wide range of theoretical and methodological approaches to investigate a staggering variety of objects, performances, and texts spanning three centuries and most of continental Europe as well as England. The book will have long-lasting impact not only on the discipline of art history, as a model of intellectual and scholarly rigor, but also on the broader field of medieval studies, for the way in which it brings together attention to the material and phenomenological specificity of objects and the theological, political, and epistemological dimensions within which they were created, viewed, and handled, or mishandled. One of the book's most important contributions is its focus on the way the Vierges ouvrantes articulate a relationship between outside and inside, not just on an iconographic level but also and more importantly in terms of bodily process and passage. The brio and humor of Gertsman's prose are finely balanced with the seriousness of her concern with the fundamental questions of how visual experience not only informs but actively shapes the way human beings experience physical, social, and psychic bodies."
"Spanning vast temporal and topographical geographies, Elina Gertsman's fascinating new account of the Shrine Madonnas demonstrates how their performative and anatomical disclosures respond to medieval theology, image theory, the science of medicine, and ritual. As it draws on phenomenology, performance studies, and new advances in affective neuroscience, this provocative book challenges us to rethink the way medieval art is displayed in museums today."
"With uncanny elegance, Elina Gertsman elucidates one of the most jarring genres in medieval art: sculpted wooden bodies of holy Mary that open and close to display or hide miniature sacred worlds that evoke all of Christian salvation history. Written with exceptional erudition and historically grounded imagination, Worlds Within provides a new way of looking at late medieval material culture through an exploration of the visual poetics of enclosure, concealment, fragmentation, and unveiling. By skillfully guiding the reader through a complex medieval matrix of devotional practices, theological and gynecological beliefs, and sensory experience, Gertsman makes newly accessible the 'sacred anatomy' of these strange yet familiar, beautiful yet monstrous objects that have fascinated and offended viewers from the Middle Ages to the present day."
"Vividly written, compellingly argued, and deeply informed by the latest scholarship, Worlds Within offers innovative and rich insight into the making and meaning of one of the most fascinating, but least researched, Marian images of the Middle Ages. Elina Gertsman's sophisticated and often provocative book investigates the Shrine Madonna from a wide range of angles, which include, but are not limited to, the kinetics of concealment and revelation, medieval notions of anatomy, mnemonics, optics, the monstrous, and the abject, as well as modern cognitive science. This magisterial, truly interdisciplinary study will be must-reading for anyone interested in the 'power of images' in the medieval period and beyond."
"Handsomely produced and beautifully illustrated."
"Worlds Within: Opening the Medieval Shrine Madonna is a significant contribution to medieval studies not only for its content but also for the way in which the author leads us to read the text, written with great vivacity, humor and sometimes with that passion for the object investigated that makes us feel the author's presence on every page."
"Striving to get a better understanding of late medieval culture, Gertsman draws upon a great variety of sources and concepts. Her meticulously analyzed case studies are based on a wide-ranging and up-to-date knowledge of scholarship that helps her to elaborate complex and sophisticated interpretations. . . . Gertsman's ambitious book is a strong contribution to medieval art history and to art history in general."
"Elina Gertsman's book raises many interesting questions with passionate conviction and intellectual sophistication."
"Worlds Within is beautifully produced, with many full-color reproductions and high-quality paper that makes for a sumptuous reading experience. The inclusion of a gatefold of the Rhenish Shrine Madonna at the Met is a clever touch, allowing readers to enact an approximation of the opening and closing of the shrine. This sense of playfulness, in both the text and the book itself, reminds us that late medieval devotion itself was often playful. It is a welcome approach, and the wide range of possible approaches to the Shrine Madonna presents a model for interdisciplinary research. Worlds Within is an important contribution to current scholarship on late medieval devotion and will surely become a standard text for students and scholars alike."
"A beautiful book of unusual and delightful sculptures. It is anchored in the scholarship of the last thirty years and demonstrates how an interest in devotional forms of art and the gendering of the Middle Ages has opened up the range of subject matter now acceptable as the focus of scholarly research. Elina Gertsman's widely read scholarship is evident on every page."
"Worlds Within exercises and synthesizes the past 20 or so years of scholarship on medieval art and related fields, making it a must-read for serious students of this subject."
"Gertsman's approach is sagacious and unquestionably original."
Elina Gertsman is Associate Professor of Art History at Case Western Reserve University.
Contents
List of Illustrations
Acknowledgments
Introduction: A Cause of Error
1 Secrets: Revealing Bodies, Fragmented Vision
2 Ruptures: Holy Anatomy, Affective Obstetrics
3 Play: Animate Substance, Uncanny Performance
4 Imprints: Hybrid Memories, Interior Journeys
Postscript: The Excavated Body
Appendix: Shrine Madonnas ca. 1270–ca. 1500, in Approximate Chronological Order
Notes
Bibliography
Index
Mailing List
Subscribe to our mailing list and be notified about new titles, journals and catalogs.