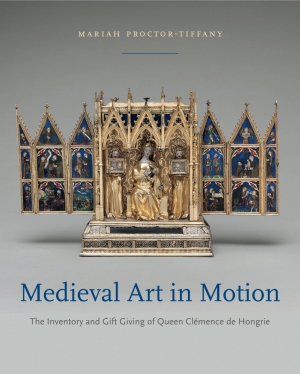 Medieval Art in Motion
The Inventory and Gift Giving of Queen Clémence de Hongrie
Mariah Proctor-Tiffany
BUY
Medieval Art in Motion
The Inventory and Gift Giving of Queen Clémence de Hongrie
Mariah Proctor-Tiffany
"Proctor-Tiffany's pathbreaking study of the art of Clémence de Hongrie, queen of France (1293–1328), argues convincingly that queens were crucial bearers of culture in medieval Europe. Proctor-Tiffany's expertise as an art historian is evident on every page. Especially innovative is her use of urban cartography and geospatial mapping to track the sources of raw materials and their movement to the artists who created objects for personal delight, bodily adornment, spiritual devotion, or public display."
Description

Reviews

Bio

Subjects
In this visually rich volume, Mariah Proctor-Tiffany reconstructs the art collection and material culture of the fourteenth-century French queen Clémence de Hongrie, illuminating the way the royal widow gave objects as part of a deliberate strategy to create a lasting legacy for herself and her family in medieval Paris.
After the sudden death of her husband, King Louis X, and the loss of her promised income, young Clémence fought for her high social status by harnessing the visual power of possessions, displaying them, and offering her luxurious objects as gifts. Clémence adeptly performed the role of queen, making a powerful argument for her place at court and her income as she adorned her body, the altars of her chapels, and her dining tables with sculptures, paintings, extravagant textiles, manuscripts, and jewelry—the exclusive accoutrements of royalty. Proctor-Tiffany analyzes the queen's collection, maps the geographic trajectories of her gifts of art, and interprets Clémence's generosity using anthropological theories of exchange and gift giving.
Engaging with the art inventory of a medieval French woman, this lavishly illustrated microhistory sheds light on the material and social culture of the late Middle Ages. Scholars and students of medieval art, women's studies, digital mapping, and the anthropology of ritual and gift giving especially will welcome Proctor-Tiffany's meticulous research.
"Proctor-Tiffany's pathbreaking study of the art of Clémence de Hongrie, queen of France (1293–1328), argues convincingly that queens were crucial bearers of culture in medieval Europe. Proctor-Tiffany's expertise as an art historian is evident on every page. Especially innovative is her use of urban cartography and geospatial mapping to track the sources of raw materials and their movement to the artists who created objects for personal delight, bodily adornment, spiritual devotion, or public display."
"Billed as a 'microhistory,' Medieval Art in Motion is expansive, using understudied primary sources related to one woman to explore networks across Europe. Clémence de Hongrie's remarkable manuscript inventory proves a treasure, in and of itself. Examining sacred and secular contexts and encompassing luxury media from bejeweled, enameled goldwork and illuminated manuscripts to coconuts and fossilized shark teeth, this beautifully produced volume restores to these works—and their impressive owner—physicality, materiality, and dynamism."
"By reconstituting Clémence de Hongrie's long-lost collection, this meticulous and yet expansive study of the queen's detailed inventory adds a significant chapter to our understanding of female royal patronage. Medieval Art in Motion excels in mapping the vibrant social life of things, the trajectories of materials sourced from distant lands, and courtly practices of gift-giving."
"Clémence de Hongrie is a particularly inviting subject as both her testament and the inventory made after her death in 1328 still exist. Mariah Proctor-Tiffany enlivens these texts by considering the idea of movement: provenance of materials in the objects the queen commissioned, the sources of gifts she received, and the destinations of those she bestowed on others. This study, as finely detailed as the documents and the objects they describe, goes beyond the case study to enrich our understanding of the nature and functions of collecting and the bonds created by exchange, among women and with men, in France and across Europe."
Mariah Proctor-Tiffany is Associate Professor of Art History at California State University, Long Beach.
Mailing List
Subscribe to our mailing list and be notified about new titles, journals and catalogs.