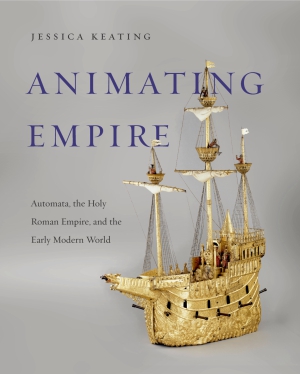 Animating Empire
Automata, the Holy Roman Empire, and the Early Modern World
Jessica Keating
Buy
Animating Empire
Automata, the Holy Roman Empire, and the Early Modern World
Jessica Keating
"This book, presenting the 'curiosities' that we now call automata, unwinds a large network of interconnected early modern phenomena: the fraught world of religious contests, augmented by intense political rivalries; the connections between court centers of power, including connections between Germany and faraway Istanbul and Delhi; and the origins of early princely collecting in 'curiosity cabinets.' Here art and nature rivaled each other yet intertwined through technology and craftsmanship, powered by Augsburg watchmakers. Keating's meticulous research newly restores a nearly vanished art form to its rightful place—as the bearer of cultural values and courtly prestige at the very heart of ceremonial court performances. In the process, she arouses our own fascination, echoing those responses to privileged displays by these moving metal devices as they performed before early modern monarchs."
Media

Description

Reviews

Bio

Table of Contents

Sample Chapters

Subjects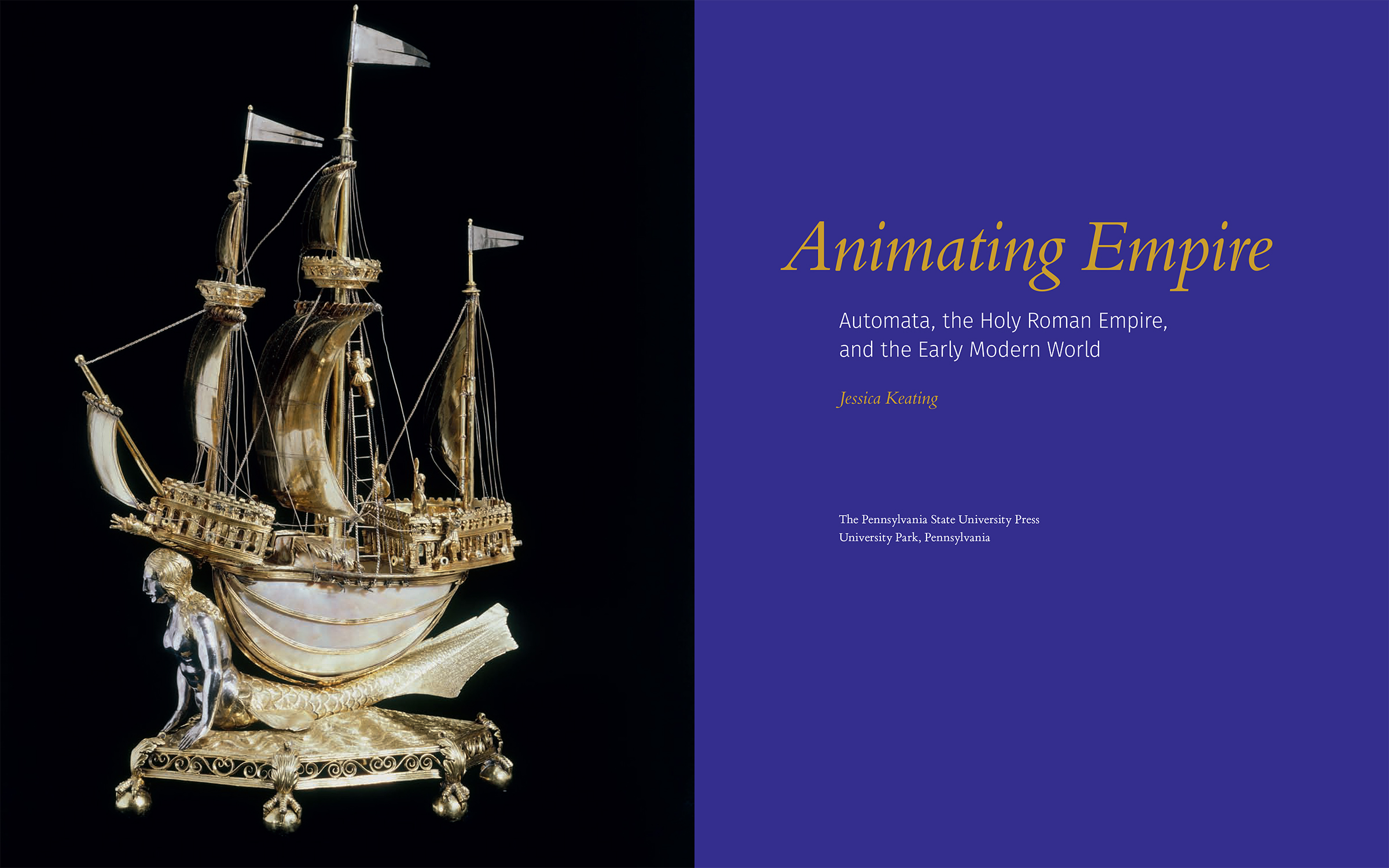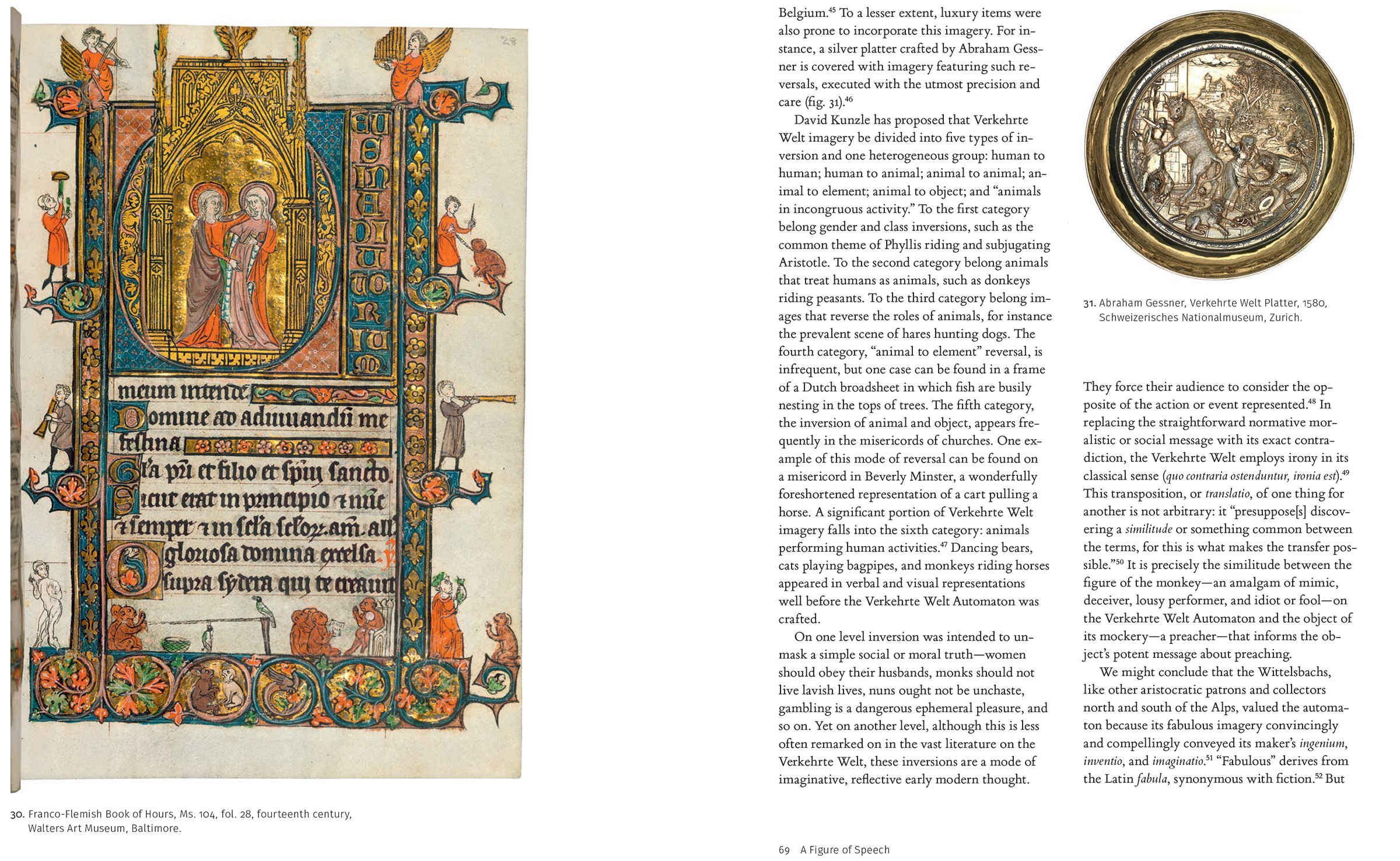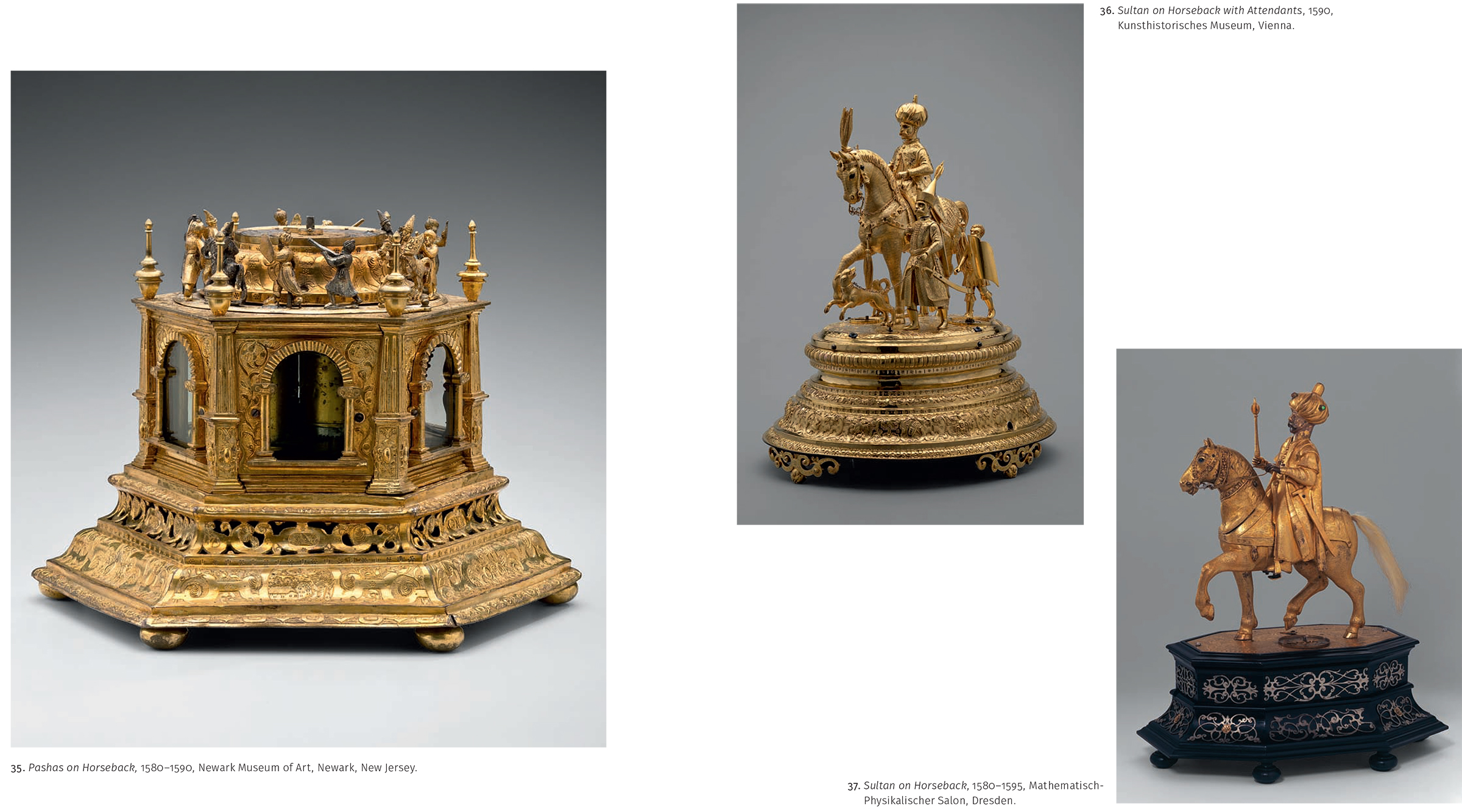 In the sixteenth and seventeenth centuries, German clockwork automata were collected, displayed, and given as gifts throughout the Holy Roman, Ottoman, and Mughal Empires. In
Animating Empire
, Jessica Keating recounts the lost history of six such objects and reveals the religious, social, and political meaning they held.

The intricate gilt, silver, enameled, and bejeweled clockwork automata, almost exclusively crafted in the city of Augsburg, represented a variety of subjects in motion, from religious figures to animals. Their movements were driven by gears, wheels, and springs painstakingly assembled by clockmakers. Typically wound up and activated by someone in a position of power, these objects and the theological and political arguments they made were highly valued by German-speaking nobility. They were often given as gifts and as tribute payment, and they played remarkable roles in the Holy Roman Empire, particularly with regard to courtly notions about the important early modern issues of universal Christian monarchy, the Reformation, the Counter-Reformation, the encroachment of the Ottoman Empire, and global trade.

Demonstrating how automata produced in the Holy Roman Empire spoke to a convergence of historical, religious, and political circumstances,
Animating Empire
is a fascinating analysis of the animation of inanimate matter in the early modern period. It will appeal especially to art historians and historians of early modern Europe.
E-book editions have been made possible through support of the Art History Publication Initiative (AHPI), a collaborative grant from the Andrew W. Mellon Foundation.
"This book, presenting the 'curiosities' that we now call automata, unwinds a large network of interconnected early modern phenomena: the fraught world of religious contests, augmented by intense political rivalries; the connections between court centers of power, including connections between Germany and faraway Istanbul and Delhi; and the origins of early princely collecting in 'curiosity cabinets.' Here art and nature rivaled each other yet intertwined through technology and craftsmanship, powered by Augsburg watchmakers. Keating's meticulous research newly restores a nearly vanished art form to its rightful place—as the bearer of cultural values and courtly prestige at the very heart of ceremonial court performances. In the process, she arouses our own fascination, echoing those responses to privileged displays by these moving metal devices as they performed before early modern monarchs."
"German clockwork automata are mechanical marvels which, with the winding of a key, come alive to entertain as they dance in place or wheel across a table. Jessica Keating propels us through the fascinating history of these engineering masterpieces. As she lucidly explains, these are much more than luxurious toys."
"Animating Empire stands to play a significant role in rethinking the different ways that 'mobility' registers in the visual and material culture of the early modern world."
"A valuable contribution to our understanding of the visual and material culture of the Holy Roman Empire, and the role that objects such as automata played in political machinations and cross-cultural encounters. Keating's lucid writing, accompanied by high-quality illustrations, animates our ongoing appreciation for these exquisite mechanical marvels."
Jessica Keating is Assistant Professor of Art History at Carleton College.
Contents
List of Illustrations
Acknowledgments
1. Early Modern Automata: An Abridged History
2. Ever More Variations on the Imperial Theme at the Court of Rudolf II
3. The Gifts That Keep on Giving
4. A Figure of Speech
5. Habsburg-Ottoman Diplomatic Machinery
6. Metamorphosis at the Mughal Court
Conclusion
Notes
Bibliography
Index
From Chapter One
Early Modern Automata: An Abridged History
This book recounts the lost histories of six clockwork-powered, self-propelled, mimetic objects that were gifted, collected, and displayed during the sixteenth and seventeenth centuries in the Holy Roman Empire, the Ottoman Empire, and the Mughal Empire. The German-speaking creators, transporters, owners, and viewers of these objects designated them Uhrwerke (clockworks). Robert Hooke (1635–1703), the English surveyor, timekeeper, architect, and author of Micrographia (1665), preferred "little engines," and we now fall back on the Greek term "automata," the plural of "automaton," which means "something acting of its own will."  These golden, silver, enameled, and bejeweled clockwork objects set in motion a wide range of figures and events, from an emaciated Saint Jerome beating his chest, Christ being flagellated, and hares hunting dogs to Atlas bearing the weight of the world on his shoulders and peacocks fanning tails of iridescent feathers. In some cases an entire scene would be animated atop a meticulously wrought static base, while in others a single figure or group of figures would traverse a surface in a straight line, circle, or square. Their movements were driven by a collection of gears, wheels, and springs painstakingly assembled by a clockmaker, and they were typically wound up and activated by someone in a position of power. The objects were almost exclusively crafted in the city of Augsburg, and they were frequently, almost entirely, commissioned by German-speaking emperors, electors, bishops, and dukes. More than two hundred such automata are recorded in inventories and other historical sources from the sixteenth and seventeenth centuries, but unfortunately the majority were lost or dispatched to the forge during the eighteenth and nineteenth centuries. Once familiar to German courts and now exceptional, automata have long occupied the margins of a traditional order of art and of the conventional exegesis of art history.
Automata are distinguished by their three- dimensionality and their mechanical ability to alter and fragment the point of view of the beholder, as well as to perform during multiple and sequential moments in time. This unification of temporal process and spatial progress amounts to a mimetic mode distinct from those of other early modern works of art in two and three dimensions. But like most art objects, automata derived their significance from the imagery, composition, and material makeup of existing visual and material culture—from monumental sculpture and retable altarpieces to colossal prints, coins, jewelry, and printed broadsheets. Far from being ersatz replacements of a product of nature, as they are usually construed, early modern automata advertised—by way of their iconography and their composition—their reliance on previous representations and their elaboration of narratives only implied in their static models. With this in mind, when considering early modern automata it may be useful to reverse or invert Jean Baudrillard's oft-cited dictum about automata from Simulacra and Simulation. Instead of imagining that the automaton "has no other destiny than to be ceaselessly com- pared to a living man," it is more precise to say that "the automaton has no other destiny than to be ceaselessly compared to representations made by man." 
There is perhaps nothing more unnatural about the clockwork automaton than its inability to instigate its own locomotion and its dependence on the motion of a driving torque. Early modern automata had to be wound, and since they did not possess constant driving torque, they ran down and required rewinding. It was always an outside agent's desire that brought about the vivification of automata. And in the case of the sixteenth- and seventeenth-century German clockwork automata examined here, that agent was generally someone in a position of power.
Take, for instance, the Trumpeter Automaton (fig. 1) that the Wittelsbach duke Wilhelm V of Bavaria (1548–1626) gifted to the Habsburg archduke of Tyrol, Ferdinand II (1529–1595). The object features two groups of five trumpeters and a single drummer, all of whom stand behind a balustrade on a dark ebony base. Cast from silver with hands and faces enameled white, and clad in gilt-silver breastplates, capes, and cylindrical caps, the trumpeters clutch their instruments with their right hands. Hanging from the ten trumpets are red wool bunting flags emblazoned with the red-white-red Bindenschild of Austria. The alternating colors of the Austrian shield appear again on the skins of the two drums situated before the drummer. Standing roughly twenty-five centimeters tall, the ebony base has been carved to resemble ceremonial architecture, like that constructed for the joyous entry of an early modern ruler into a city or the public festivities surrounding a noble person's rite of passage—a baptism, marriage, or funeral. In fact the whole scene has the character of a festive performance, reduced. The façade carries a centrally placed rusticated arched portal. Below the portal are two flights of stairs. Two tamed gold lions flank the prophet Daniel on the face of the stairs. Stationed symmetrically on both sides of the portal are two placards. On the left, the Bavarian coat of arms is enameled in white, blue, gold, black, and green against a gilded bronze ground, while the placard on the right displays the initials and title of the presenter of the object, "W.H.I.B." (Wilhelm Herzog in Bayern) and the year 1582, the date the automaton was completed by the jeweler Valentin Drausch (d. 1586) and the clockmaker Hans Schlottheim (1545–1626) in the Free Imperial City of Augsburg. Here Wilhelm makes his inscription, with its mono- gram and date on a neutral zone of the base, appear as if it is a sign of authorship. But there is more, for inside the base is an iron clockwork mechanism, which, when activated, stirred the eleven musicians into action: the ten trumpeters raised and lowered their instruments to and from their mouths, while the drummer rhythmically pounded his drum. This dynamic fanfare was accompanied by a processional melody, sounded by a rack of ten pipes, also hidden inside the ebony base.
What we behold here is not simply the animated celebration of the house of Habsburg, the owners of this object since 1582, but rather something more specific: the subtle mingling of the Bavarian house of Wittelsbach and the Austrian house of Habsburg. The automaton's emphasis on this commingling is rather fitting, given that the automaton was presented to the Habsburg archduke Ferdinand II by the Wittelsbach duke Wilhelm on the occasion of a different sort of unification—Ferdinand II's second marriage, in the spring of 1582, to Anne Juliana Gonzaga (1566–1621), the daughter of Guglielmo Gonzaga (1538–1587) and Eleonora of Austria (1534–1594), the duke and duchess of Mantua. The Trumpeter Automaton, prominently dated 1582, tethers Ferdinand's (second) rite of passage into marriage to his relationship to Wilhelm V. Indeed, Wilhelm V had traveled from his seat of power, Munich, to Innsbruck, the locale of Ferdinand's palace in Tyrol, for the celebration of the wedding on May 14, 1582. Wilhelm was in Innsbruck not just to participate in the festivities. His mission was of far greater consequence, as he had been chosen as a proxy for Holy Roman Emperor Rudolf II (1552–1612)—Ferdinand II's nephew. Wilhelm was Rudolf's ambassador, the emperor's stand-in. This last piece of information is crucial when we consider that the bunting flags—dynamic additions that in their rustling registered the movement of the trumpeters— carry not the Tyrolean red, single-headed eagle but the Austrian shield, the ideogram of Holy Roman Emperor Rudolf II's power. These trembling flags, then, carried both physical and symbolic weight because they incorporated Rudolf II not just into the gift of the automaton but also into the wedding celebration. Moreover, the automaton attempts to make up for, or paper over, Rudolf's conspicuous absence at his uncle's wedding. In a certain respect, the trumpeter's flapping bunting flags bearing the Austrian shield are an attempt to fill the imperial void. Seen within this context, the flags read like a proleptic apology from the emperor himself. The billowing flags, set in motion by the automaton, offer to posterity the harmonious union of the Habsburgs, the Wittelsbachs, and the Gonzagas.
The purpose of this book is to reveal the political, social, and religious messages of six surviving sixteenth- and seventeenth-century German clockwork automata that were displayed or gifted between 1550 and 1625 at pivotal political moments or on the occasion of key cross-cultural encounters. The subjects of chapter 2, the London Nef and Écouen Nef (figs. 2 and 3), sizable and very complex figurations of ships in gilded silver presumably commissioned by Holy Roman Emperor Rudolf II, depict the coronation of Holy Roman Emperor Charles V (1500–1558). The Christmas Crib Automaton (fig. 14) that is the primary focus of chapter 3 is an elaborate silver automaton commissioned by Sophie of Brandenburg (1568–1622) for her husband, the elector of Saxony, Christian I (1560–1591), and placed in the Dresden Kunstkammer; it portrays the Magi and an elector of the Holy Roman Empire, in the guise of a Magus, bestowing gifts on the Christ child. The Verkehrte Welt (world upside-down) Automaton (fig. 25), commissioned by the Bavarian duke Albrecht V (1528–1579) and displayed in the Kunstkammer at his Residenz in Munich, features a golden monkey preaching to a group of deer; it is analyzed in chapter 4. In chapter 5 we turn to the Sultan on Horseback (fig. 37), one of hundreds of automata commissioned by Holy Roman Emperors Ferdinand I (1503–1564), Maximilian II (1527–1576), and Rudolf II that were part of an annual tribute payment to Ottoman sultans from 1547 to 1593; this automaton depicts an Ottoman sultan in ceremonial procession. Finally, chapter 6 is concerned with the Diana Automaton (fig. 45), a type produced in quantity in the Holy Roman Empire during the seventeenth century, and its appearance in a painting created at the court of the Mughal emperor Jahangir (1569–1627).
Automata of the sort examined in this book constitute a special class of objects precisely because of the exegetical task required for their understanding, one not just internal to their capability of movement but extending to general knowledge of the political milieu in which they were commissioned and displayed. All the objects were exhibited at courts and were meant for an audience familiar with the concerns of the particular court in which they were stored and activated. To locate and understand these objects, I turn to the minutiae that historians of art, court culture, and political history routinely wade through when they conduct their research: inventories, court calendars, court registers, curricula of education at courts, account books, letters, patronage records, and diplomatic communiqués and gifts. But I also look beyond these sources and consult promises of benefactions made to the church, sermons, theological tracts, imperial regalia, liturgical vestments, folktales, popular broadsheets, records of courtly feasts, plays performed at court, petitions for patents addressed to the emperor, memoirs and accounts of merchants, trade routes, and the objects, images, and texts employed in missionary work done in far-flung locales. Together these objects, images, performances, and historical documents provide a richer and more textured sense of early modern automata.
While this locating process does, in and of itself, constitute valuable factual information for historians of early modern automata, in consulting these sources we also learn that clock- work automata were commissioned, displayed, and gifted during pivotal and tense political and religious moments at German-speaking courts and that their imagery and movement often relayed specific political and religious arguments. Consequently, this book also offers entry into interconnected sixteenth- and seventeenth- century worlds of great historical interest and importance—the worlds of the unmaking of a medieval empire, of the Reformation, of the Counter-Reformation, of Ottoman encroachment, and of expanded global trade. Beyond these interwoven histories, this book treats a range of themes that converge in the interpretations of the objects under discussion. The importance of technology, gift giving, courtly ceremony, and religious ceremony recurs throughout. Accordingly, the six automata examined here touch on how the social, political, and religious order of the Holy Roman Empire was represented, mechanized, and displayed. These unique and precious objects help us see how the Holy Roman Empire imagined itself during the second half of the sixteenth century and the first quarter of the seventeenth.
(Excerpt ends here)
Mailing List
Subscribe to our mailing list and be notified about new titles, journals and catalogs.