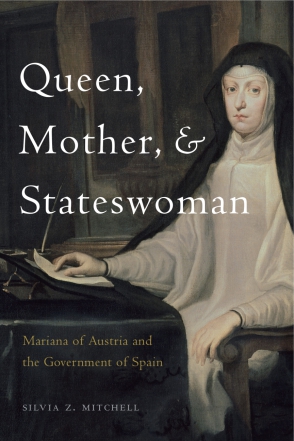 Queen, Mother, and Stateswoman
Mariana of Austria and the Government of Spain
Silvia Z. Mitchell
Buy
Queen, Mother, and Stateswoman
Mariana of Austria and the Government of Spain
Silvia Z. Mitchell
"Contains many insights that help us to understand a very complex series of events. This is an important book that people will want to read. It will be invaluable for undergraduate courses on Spanish and European history, as well as an essential point of reference for future research into the exciting world of early modern Spanish political and cultural history."
Description

Reviews

Bio

Table of Contents

Subjects
When Philip IV of Spain died in 1665, his heir, Carlos II, was three years old. In addition to this looming dynastic crisis, decades of enormous military commitments had left Spain a virtually bankrupt state with vulnerable frontiers and a depleted army. In Silvia Z. Mitchell's revisionist account,
Queen, Mother, and Stateswoman
, Queen Regent Mariana of Austria emerges as a towering figure at court and on the international stage, while her key collaborators—the secretaries, ministers, and diplomats who have previously been ignored or undervalued—take their rightful place in history.
Mitchell provides a nuanced account of Mariana of Austria's ten-year regency (1665–75) of the global Spanish Empire and examines her subsequent role as queen mother. Drawing from previously unmined primary sources, including Council of State deliberations, diplomatic correspondence, Mariana's and Carlos's letters, royal household papers, manuscripts, and legal documents, Mitchell describes how, over the course of her regency, Mariana led the monarchy out of danger and helped redefine the military and diplomatic blocs of Europe in Spain's favor. She follows Mariana's exile from court and recounts how the dowager queen used her extensive connections and diplomatic experience to move the negotiations for her son's marriage forward, effectively exploiting the process to regain her position.
A new narrative of the Spanish Habsburg monarchy in the later seventeenth century, this volume advances our knowledge of women's legitimate political entitlement in the early modern period. It will be welcomed by scholars and students of queenship, women's studies, and early modern Spain.
"Contains many insights that help us to understand a very complex series of events. This is an important book that people will want to read. It will be invaluable for undergraduate courses on Spanish and European history, as well as an essential point of reference for future research into the exciting world of early modern Spanish political and cultural history."
"An impressive work of scholarship that adds a great deal not only to our knowledge of late Hapsburg Spain, but also to the field of queenship studies by increasing our understanding of both the life of this formidable royal woman and the mechanisms and challenges of female regency itself."
"Built upon a base of impressive archival research, Mitchell has provided an illuminating analysis of a ruler whose historical reputation has been the victim of incomplete, stereotypical, and even misogynist characterizations."
"An imaginative and wholly original account of a ruler who is regarded as the personification of Spain's seventeenth-century decline as an imperial power. Mitchell revises the traditional view of Mariana as the hapless pawn of her confessors and male courtiers and shows her to be a fiercely independent woman capable of decisive action in domestic and foreign affairs as well as a ruler who successfully managed to defend the interests and reputation of Spain's Habsburg monarchy. This book is a valuable contribution to the growing body of literature on early modern queenship."
"Countering the common perception of Mariana de Austria as weak, too young to govern, and easily manipulated, Silvia Mitchell demonstrates that Mariana was a forceful, effective regent during the period of her son's minority (1665-75). Grounded solidly in fresh archival research, Queen, Mother, and Stateswoman will advance the historical debate on Mariana, on seventeenth-century royal favorites, and on the court of Charles II of Spain."
"Mitchell mines court archives and state records to demonstrate that Mariana of Austria had clear and consistent diplomatic and military strategies as queen regent, and he establishes her as part of a long tradition of strong female leadership in early modern European courts. This work fills a significant gap in our understanding of the late seventeenth-century Spanish court and supports recent arguments in favor of Spanish resilience rather than decline under the last Habsburgs.​"
"Silvia Mitchell's work is an important revisionist study of the regency of Mariana of Austria, mother of the last Spanish Habsburg. Based upon wide-ranging and detailed research, it has considerable implications for a much more positive understanding than has prevailed hitherto not only of the last decades of Habsburg rule in Spain but also, more broadly, of female political agency in early modern Europe."
"Mit der weitgehenden Revision älterer Bilder vom Handeln einer Regentin steht Mitchells Buch zugleich in einer Reihe mit kürzeren wie längeren Untersuchungen, die immer wieder nachweisen, wie stark unser Blick auf dynastische Herrschaft und die Relevanz von Frauen in diesem Kontext bis heute von Sichtweisen des 19. Jahrhunderts bzw."
"Die Untersuchung dieser Regentin am Vorabend des Spanischen Erbfolgekrieges aber einen wichtigen Beitrag zur spanischen und habsburgischen Geschichte und zur Geschlechtergeschichte und kann als Ausgangpunkt für einen internationalen Vergleich dienen."
"This book sets out to explore and answer certain questions pertaining to regency, agency, favouritism and motherhood, and satisfactorily delivers."
"Silvia Mitchell's book uses a microhistorical approach to comprehend larger questions, such as the political and diplomatic situation of the Spanish Monarchy during the second half of the seventeenth century. She also employs methodology from gender studies and queenship that allows her to shed light on new and insightful aspects of Mariana's regency which have not been studied."
"This book differs from other preexisting studies, as it intelligently examines Mariana's regency without focusing on the prominence of [Nithard and Valenzuela] . . . allowing the queen mother to be the centre figure of the research."
Silvia Z. Mitchell is Associate Professor of Early Modern European History at Purdue University.
Content
Acknowledgments
Notes on Names
Abbreviations
Dynastic Chart
Introduction: The Historical and International Significance of Mariana's Regency
1 A Habsburg Destiny, 1634–16652 Mariana's Court and Political System, 1665–1667
3 Resolving Philip IV's Legacy, 1665–1668
4 Consolidating Power at Home, 1668–1670
5 At the Pinnacle of Power, 1670 to November 5, 1675
6 The Politics of Motherhood, November 6, 1675, to 1677
7 Reconciliation, Vindication, Triumph, 1678–1679
Conclusion: Mariana's Historical Legacy
Notes
Bibliography
Index
Mailing List
Subscribe to our mailing list and be notified about new titles, journals and catalogs.