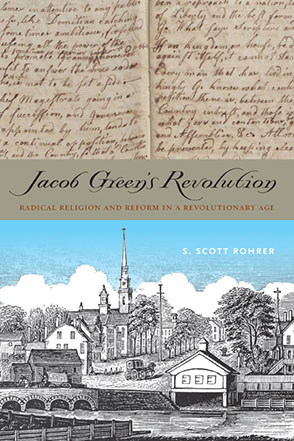 Jacob Green's Revolution
Radical Religion and Reform in a Revolutionary Age
S. Scott Rohrer
BUY
Jacob Green's Revolution
Radical Religion and Reform in a Revolutionary Age
S. Scott Rohrer
"In this well-written and well-argued book, Rohrer has made a generous contribution to prevailing understandings of religion in revolutionary America. Others have corrected previous interpreters by showing that republican political ideology shared common ideas with Puritan covenant theology, Calvinism, and evangelicalism. But Rohrer has made one of the most persuasive cases yet in his richly textured narratives of Green and Chandler. This book is a must read for anyone who hopes to understand the complex relationships between Christianity and the American Revolution."
Media

Description

Reviews

Bio

Table of Contents

Sample Chapters

Subjects
Part biography and part microhistory,
Jacob Green's Revolution
focuses on two key figures in New Jersey's revolutionary drama—Jacob Green, a radical Presbyterian minister who advocated revolution, and Thomas Bradbury Chandler, a conservative Anglican minister from Elizabeth Town who was a leading loyalist spokesman in America. Both men were towering intellects who were shaped by Puritan culture and the Enlightenment, and both became acclaimed writers and leading figures in New Jersey—Green for the rebelling colonists, Chandler for the king. Through their stories, this book examines the ways in which religion influenced reform during a pivotal time in American history.
"In this well-written and well-argued book, Rohrer has made a generous contribution to prevailing understandings of religion in revolutionary America. Others have corrected previous interpreters by showing that republican political ideology shared common ideas with Puritan covenant theology, Calvinism, and evangelicalism. But Rohrer has made one of the most persuasive cases yet in his richly textured narratives of Green and Chandler. This book is a must read for anyone who hopes to understand the complex relationships between Christianity and the American Revolution."
"This is a fine study that profits much from its design as a study in contrast of two radicals; its intelligent structure sharpens the author's analysis of the nature of opposed religious believers, social concepts and political views."
"An important contribution to the literature on the American founding. It should be widely read, particularly by those who have primarily seen the founding through the lives and works of a handful of Anglican elites."
"Jacob Green, an independent-minded Presbyterian minister, played a leading role in New Jersey during the tumultuous days of the American Revolution. S. Scott Rohrer's innovative biography rescues this intriguing figure from unwarranted obscurity. In so doing, it also illuminates the strong (but complicated) connections between religion and politics at the dawn of the American nation. Rohrer's attention to the closely related biography of a loyalist Episcopalian (Thomas Bradbury Chandler) only sharpens the portrait of Green that stands at the heart of this fine study."
"There is no more intriguing character among the American Revolution's pastors than Jacob Green, a fervent patriot, antislavery advocate, and principled Calvinist. S. Scott Rohrer brings Green's story to life in this much-needed biography, with its admirable combination of lucid writing and historical insight."
"Rohrer has produced an excellent, concise study of one middle-colony Presbyterian minister whose New Light Calvinism deeply informed his libertarian and egalitarian inclinations as the imperial argument between Britain and its American colonies erupted into revolution in the 1770s."
"Jacob Green's Revolution provides a good case study of how an early American intellectual dealt with the combined influences of Enlightenment thought and Calvinism at the time of the American Revolution."
"This biography is a thought-provoking case study which can be used to introduce or illustrate the subject of religion at the time of the American Revolution. It succeeds in bringing the subject to life with direct, accessible prose."
S. Scott Rohrer is an independent scholar.
Table of Contents
List of Illustrations
List of Tables
Preface
Introduction
Part One: The Worlds of Jacob Green and Thomas Bradbury Chandler
Chapter 1 Student
Chapter 2 Pastor
Chapter 3 Father
Chapter 4 Farmer-Miller-Physician-Teacher
Part Two: Revolutionary Thinkers and the Trials of War
Chapter 5 Polemicist
Chapter 6 Revolutionary
Chapter 7 Politician
Chapter 8 Host
Part Three: Reformers on the Home Front
Chapter 9 Crusader
Chapter 10 Dissenter
Chapter 11 Disciplinarian
Epilogue
Also of Interest
Mailing List
Subscribe to our mailing list and be notified about new titles, journals and catalogs.