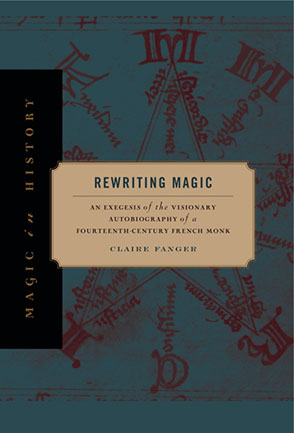 Rewriting Magic
An Exegesis of the Visionary Autobiography of a Fourteenth-Century French Monk
Claire Fanger
BUY
Rewriting Magic
An Exegesis of the Visionary Autobiography of a Fourteenth-Century French Monk
Claire Fanger
"Rewriting Magic is a deeply interesting book. It gives the reader a sense of the personal immediacy of scholarly discovery as well as a deep sense of the intimate interior practice of a remarkable monk. The book takes you into the heart of medieval magic and its complex visionary experience. I know of no other book like it."
Description

Reviews

Bio

Table of Contents

Sample Chapters

Subjects
In Rewriting Magic, Claire Fanger explores a fourteenth-century text called The Flowers of Heavenly Teaching. Written by a Benedictine monk named John of Morigny, the work all but disappeared from the historical record, and it is only now coming to light again in multiple versions and copies. While John's book largely comprises an extended set of prayers for gaining knowledge, The Flowers of Heavenly Teaching is unusual among prayer books of its time because it includes a visionary autobiography with intimate information about the book's inspiration and composition. Through the window of this record, we witness how John reconstructs and reconsecrates a condemned liturgy for knowledge acquisition: the ars notoria of Solomon. John's work was the subject of intense criticism and public scandal, and his book was burned as heretical in 1323. The trauma of these experiences left its imprint on the book, but in unexpected and sometimes baffling ways. Fanger decodes this imprint even as she relays the narrative of how she learned to understand it. In engaging prose, she explores the twin processes of knowledge acquisition in John's visionary autobiography and her own work of discovery as she reconstructed the background to his extraordinary book. Fanger's approach to her subject exemplifies innovative historical inquiry, research, and methodology. Part theology, part historical anthropology, part biblio-memoir, Rewriting Magic relates a story that will have deep implications for the study of medieval life, monasticism, prayer, magic, and religion.
"Rewriting Magic is a deeply interesting book. It gives the reader a sense of the personal immediacy of scholarly discovery as well as a deep sense of the intimate interior practice of a remarkable monk. The book takes you into the heart of medieval magic and its complex visionary experience. I know of no other book like it."
"Claire Fanger, now having established how it is appropriate to write about magic, rewrites her rules. And this is what makes Rewriting Magic a really exciting read, the central theme being not only the medieval monk and his visionary book, but also a historical inquiry that lasted nearly two decades, involv[ing] a lot of colleagues, archives, and manuscripts."
"A pithy and intellectually enriching exploration, not of a strange intellectual outlier, but of a profoundly imaginative and quintessentially medieval mind."
"Fanger's book deeply complicates our understanding of late medieval ritual magic, while opening up new vistas on monastic devotional practices. It is a must-read for scholars of medieval religion as well as for those working on the history of magic."
"[Rewriting Magic] represents a refreshingly honest account of a scholar's attempt to overcome the problem of understanding and analysing a form of medieval religiosity that relied upon lived experience."
Claire Fanger is Assistant Professor of Religion at Rice University. She is the editor of Invoking Angels: Theurgic Ideas and Practices, Thirteenth to Sixteenth Centuries (Penn State, 2012) and Conjuring Spirits: Texts and Traditions of Medieval Ritual Magic (Penn State, 1998).
CONTENTS
List of Figures
Preface
Structure and Referencing System for the
Liber florum New Compilation / xiii Introduction: Lost and Found Knowledge
Part 1 Foundation
Chapter 1 Like Stones of fire: I Encounter the Book of Visions
Chapter 2 A Mysticism of Signs and Things: The Ars Notoria and the Sacraments
Chapter 3 Penance: The Sacrament of the Middle of Life
Part 2 Restoration
Chapter 4 Errors of Intellect, Errors of Will: I Encounter the Book of Figures
Chapter 5 Magical Objects of Knowledge: Categorizing the Exceptive Arts
Chapter 6 Visionary Exegesis and Prophecy: Milk and Meat
Conclusion: Future History
Notes
Selected Bibliography
Index
Mailing List
Subscribe to our mailing list and be notified about new titles, journals and catalogs.