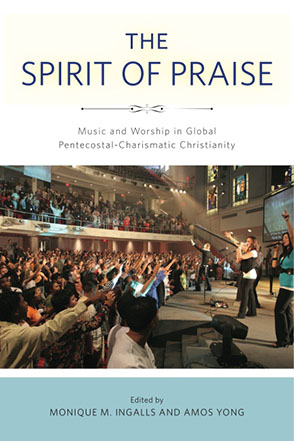 The Spirit of Praise
Music and Worship in Global Pentecostal-Charismatic Christianity
Edited by Monique M. Ingalls and Amos Yong
Buy
The Spirit of Praise
Music and Worship in Global Pentecostal-Charismatic Christianity
Edited by Monique M. Ingalls and Amos Yong
"This is an important collection that gathers together a huge range of material and perspectives. It has the potential to take many of the current discussions on music and worship to a very different level."
Description

Reviews

Bio

Table of Contents

Sample Chapters

Subjects
In
The Spirit of Praise
, Monique Ingalls and Amos Yong bring together a multidisciplinary, scholarly exploration of music and worship in global pentecostal-charismatic Christianity at the beginning of the twenty-first century.
The Spirit of Praise
contends that gaining a full understanding of this influential religious movement requires close listening to its songs and careful attention to its patterns of worship. The essays in this volume place ethnomusicological, theological, historical, and sociological perspectives into dialogue. By engaging with these disciplines and exploring themes of interconnection, interface, and identity within musical and ritual practices, the essays illuminate larger social processes such as globalization, sacralization, and secularization, as well as the role of religion in social and cultural change.
Aside from the editors, the contributors are Peter Althouse, Will Boone, Mark Evans, Ryan R. Gladwin, Birgitta J. Johnson, Jean Ngoya Kidula, Miranda Klaver, Andrew Mall, Kimberly Jenkins Marshall, Andrew M. McCoy, Martijn Oosterbaan, Dave Perkins, Wen Reagan, Tanya Riches, Michael Webb, and Michael Wilkinson.
"This is an important collection that gathers together a huge range of material and perspectives. It has the potential to take many of the current discussions on music and worship to a very different level."
"The Spirit of Praise explores a burgeoning religious phenomenon rapidly expanding across the globe. Based on a cultural studies approach, it addresses global pentecostal-charismatic Christian worship and its discursive practices in relation to globalization, transculturation, theology, and secularization in the sociocultural contexts of the twentieth and twenty-first centuries. What emerges is a work focused on the dynamic roles of music and worship in Christian renewal, theologizing, healing, and marketplace mediation, in light of the pervasive impact of worship in transforming Christian traditions worldwide."
"The academic attention now being paid to the phenomenon of worship is long overdue. It is beginning to help scholars understand that congregations, and the individual religious and spiritual experiences that believers report, are shaped just as much by what is sung in worship as what might be professed in any creed. Indeed, the 'dramaturgy' of worship is what mostly forms the 'grammar of assent' for believers, as they gather in praise and prayer. There is no doubt that Monique Ingalls and Amos Yong, now two of the leading scholars in this field, have brought us a superlative, groundbreaking collection of essays. Here, pentecostal-charismatic music and worship are addressed, assessed, and analyzed with attentiveness and acuity. Ingalls and Yong, through this stunning collection, have set a future course for the study of worship that is intriguingly interdisciplinary, rich in wisdom, and deep in scholarship—and yet also accessible to a wide range of academics and practitioners. In short, this is already one of the leading books in the field, and it will help guide our future studies in this vital area of scholarly enterprise."
"Pentecostal-charismatic Christianity has demonstrated itself to be an explosive, diverse, and resilient religious movement in the twentieth and early twenty-first centuries. This collection of essays reflects pentecostalism's global reach, combined with its extraordinary adaptability and capacity for indigenization. Music, likewise common to all of us yet capable of wonderful adaptability within different cultures and contexts, is an ideal unifying theme for the book, as well as an illuminating prism through which to understand this important religious phenomenon. The powerful combination of sociology, anthropology, cultural studies, religious studies, and theology in this volume demonstrates how these disciplines can work together and sheds new light on the fastest-growing religious movement in recent history."
"The Spirit of Praise is a fresh and timely collection of essays on the role of music in pentecostal-charismatic Christian practice. The editors have done a superb job of organizing the material, and the contributors approach their topics with remarkable sensitivity and rigor. Represented here are the voices of both scholars and practitioners, who write from well-grounded perspectives. The volume challenges its readers by insisting that they grapple with overlapping yet sometimes dissonant points of view. It shows us that music is much more than a mere appendage to religious practice; rather, music is often inextricably linked to the theological and political realms. The Spirit of Praise makes an inspiring contribution to our understanding of the role of music and worship in the contexts of Christian practice and everyday life."
"This edited collection will delight pentecostal-charismatic scholars, students, and lay readers alike in its focus on a neglected but important dimension of pentecostalism. Over the past couple decades, scholars from different disciplines have taken due note of pentecostalism's rapid global growth, analyzed its structural features, traced its history, and discussed its beliefs and rituals, but they have rarely gone beyond footnoting the important place that music plays in pentecostal worship. Through the skillful editorial work (including but not limited to the excellent introduction and conclusion) of an ethnomusicologist (Ingalls) and a prominent pentecostal theologian (Yong), this collection of articles takes the reader on the 'enormously rewarding journey' toward a better understanding of what is arguably the heartbeat of pentecostalism."
"In view of the enormous impact of Pentecostal-Charismatic worship on worship renewal, this book offers a long overdue multi-disciplinary perspective on the role of music in Pentecostal-Charismatic worship. . . . This book belongs on the shelf of any musician and theologian who wants to understand seriously the manifold dynamics of music in contemporary worship."
"Readers will identify the commonality in Pentecostal vibrant performativity whilst being enriched and intrigued by the many diversities and differing perspectives occurring in twenty-first-century global religious practice. This book is a rich and timely contribution to work in this field."
"Readers will identify the commonality in Pentecostal vibrant performativity whilst being enriched and intrigued by the many diversities and differing perspectives occurring in twenty-first-century global religious practice. This book is a rich and timely contribution to work in this field."
Monique M. Ingalls is Assistant Professor of Church Music at Baylor University.
Amos Yong is Professor of Theology and Mission at Fuller Theological Seminary.
Contents
Introduction: Interconnection, Interface, and Identification in Pentecostal-Charismatic Music and Worship | Monique M. Ingalls
Part I: Healing, Renewal, and Revitalization
1 Musical Bodies in the Charismatic Renewal: 1 The Case of Catch the Fire and Soaking Prayer | Peter Althouse and Michael Wilkinson
2 Salvation (Not Yet?) Materialized: Healing as Possibility and Possible Complication for Expressing Suffering in Pentecostal Music and Worship | Andrew M. McCoy
3 Dreaming Urban Indigenous Australian Christian Worship in the Great Southland of the Holy Spirit | Tanya Riches
4 Every Creative Aspect Breaking Out! Pentecostal-Charismatic Worship, Oro Gospel Music, and a Millennialist Aesthetic in Papua New Guinea | Michael Webb
5 Worship Music as Aesthetic Domain of Meaning and Bonding: The Glocal Context of a Dutch Pentecostal Church | Miranda Klaver
Part II: Negotiating Traditions in Transition
6 "This Is Not the Warm-Up Act!": How Praise and Worship Reflects Expanding Musical Traditions and Theology in a Bapticostal Charismatic African American Megachurch | 
Birgitta J. Johnson
7 Singing the Lord's Song in the Spirit and with Understanding: The Practice of Nairobi Pentecostal Church | Jean Ngoya Kidula
8 "Soaking Songs" Versus "Medicine Man Chant": Musical Resonance Among Diné Oodlání (Navajo Believers) | 148 Kimberly Jenkins Marshall
9 "We Can Be Renewed": Resistance and Worship at the Anchor Fellowship | Andrew Mall
10 Hillsong Abroad: Tracing the Songlines of Contemporary Pentecostal Music | Mark Evans
Part III: Media, Culture, and the Marketplace
11 Charismatic Music and the Pentecostalization of Latin American Evangelicalism | Ryan R. Gladwin
12 Blessed to Be a Blessing: The Prosperity Gospel of Worship Music Superstar Israel Houghton | Wen Reagan
13 Music, Culture Industry, and the Shaping of Charismatic Worship: An Autobiographical/Conversational Engagement | 
Dave Perkins
14 We Can't Go Back: Liturgies of Worship and Consumer Culture at One African American Church | Will Boone
15 Gospel Funk: Pentecostalism, Music, and Popular Culture in Rio de Janeiro | Martijn Oosterbaan
Conclusion: Improvisation, Indigenization, and Inspiration: Theological Reflections on the Sound and Spirit of Global Renewal | Amos Yong
List of Contributors
Index
Introduction: Interconnection, Interface, and Identification in Pentecostal-Charismatic Music and Worship
The latter half of the twentieth century witnessed the rapid growth of pente- costalism as the public face of Christianity in many parts of the world. With adherents currently estimated at five hundred million—nearly one-quarter of the world's total Christians—pentecostal growth shows no signs of abating as the twenty-first century progresses. Diverse yet recognizable expressions of corporate worship and music making are hallmark features of pentecostal spir- ituality across the broad reach of the movement. Music and worship practices have long served as key elements in the global reach of pentecostal Christianity, often accompanying conversions on a large scale, transforming existing insti- tutions, and influencing churches across the spectrum of Christian belief and practice. Moving along pathways formed by mass mediation, migration, and missionization, pentecostal music and worship evidence and spur on religious globalization, as songs from influential pentecostal churches—and the record companies and media industry to which they are often intimately connected— make their way into in churches across denominational lines. "Praise and wor- ship,"1 a term that refers both to a segment of pentecostal church services and to the musical practices and songs used within it, has become one of the most widely diffused Christian congregational worship styles and song repertoires worldwide. These songs and their associated worship practices travel around the world to be adopted, adapted, or resisted by Christians in a variety of local communities within and outside pentecostalism.
1

The Spirit of Praise
Scholarship exploring aspects of pentecostal-charismatic worship and ritual has been steadily emerging over the last two decades (Sanders 1996; Csordas 1997; Albrecht 1999; Poloma 2003; Meyer 2009; Robbins 2009b; Lindhardt 2011), and a small but growing number of music scholars have contributed to the study of pentecostal-charismatic music making (Butler 2002, 2005, 2008; Miller and Strongman 2002; Lange 2003; Rommen 2007; Johnson 2011; Webb 2011).2 With the aim of putting these emerging conversations in dia- logue within a comparative frame, The Spirit of Praise brings together schol- arly perspectives on pentecostal music and worship across the globe. Poised at the intersection of pentecostal-charismatic studies and music scholarship, The Spirit of Praise provides critical case studies of global pentecostal music and worship that shed light on such social processes as globalization and sec- ularization, as well as the role of religion in the public sphere and in broader social and cultural change.
The book's fifteen chapters represent a multi-voiced dialogue—often in harmony but with moments of dissonance—as contributors work to define, analyze, and interpret the significance of music and worship within global pentecostalism at the beginning of the twenty-first century. The rest of this introductory chapter delineates key terms, situates the book in relation to contemporary musical and religious studies scholarship, sets out overarching themes, and provides a detailed overview of the thematic intersections and topical threads of the individual chapters.
Mailing List
Subscribe to our mailing list and be notified about new titles, journals and catalogs.