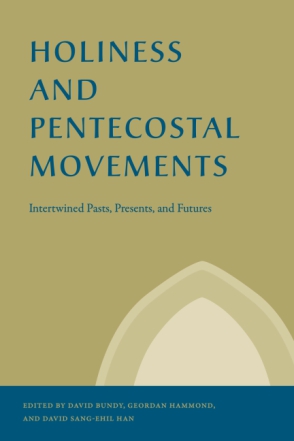 Holiness and Pentecostal Movements
Intertwined Pasts, Presents, and Futures
Edited by David Bundy, Geordan Hammond, and David Sang-Ehil Han
Buy
Holiness and Pentecostal Movements
Intertwined Pasts, Presents, and Futures
Edited by David Bundy, Geordan Hammond, and David Sang-Ehil Han
"This is a book that contains well presented, expertly researched pieces that together make a real and distinct contribution to our appreciation of these different intersections from historical and theological perspectives. Advanced students and scholars working in this field will make it an essential reference point."
Description

Reviews

Bio

Table of Contents

Sample Chapters

Subjects
Since the 1830s, Holiness and Pentecostal movements have had a significant influence on many Christian churches, and they have been a central force in producing what is known today as World Christianity. This book demonstrates the advantages of analyzing them in relation to one another.
The Salvation Army, the Church of the Nazarene, the Wesleyan Church, and the Free Methodist Church identify strongly with the Holiness Movement. The Assemblies of God and the Pentecostal Assemblies of the World identify just as strongly with the Pentecostal Movement. Complicating matters, denominations such as the Church of God (Cleveland), the International Holiness Pentecostal Church, and the Church of God in Christ have harmonized Holiness and Pentecostalism. This book, the first in the new series Studies in the Holiness and Pentecostal Movements, examines these complex relationships in a multidisciplinary fashion. Building on previous scholarship, the contributors provide new ways of understanding the relationships, influences, and circulation of ideas among these movements in the United States, the United Kingdom, India, and Southeast and East Asia.
In addition to the editors, the contributors are Kimberly Ervin Alexander, Insik Choi, Robert A. Danielson, Chris E. W. Green, Henry H. Knight III, Frank D. Macchia, Luther Oconer, Cheryl J. Sanders, and Daniel Woods.
"This is a book that contains well presented, expertly researched pieces that together make a real and distinct contribution to our appreciation of these different intersections from historical and theological perspectives. Advanced students and scholars working in this field will make it an essential reference point."
"According to the editors, their objectives were to provide readers with a work that was interdisciplinary and global in scope, and that demonstrates the ways in which these two movements are intertwined. They have delivered on this promise and produced a work that is highly suitable for those undergoing study in Pentecostal or Holiness seminaries."
"This is a rich and fascinating collection of essays that offers a variety of historical and theological insights, the fruit of closer academic cooperation between two traditions with deep Wesleyan roots to the benefit of both."
"A landmark study in not only Holiness and Pentecostal historiography, but the historiography of global Christianity itself."
"The essays in this significant, well-researched volume make a valuable contribution to our understanding of the complex relations between Radical Holiness and Pentecostalism from both historical and theological perspectives. They cover a well-selected range of individuals, institutions, and ideas; they address key themes, such as gender, ethnicity, technologies, and mobilities; and they are dependably attentive to social, cultural, and economic contexts. Those working in this field will be grateful for such an authoritative collection."
"The essays within this collection are thematically connected, insightfully written, and contextually responsible. By utilizing various methodologies, new perspectives are brought forth on current and past social issues, and through reconfiguring the interlocutors, new light is shed on standing themes of interest. This interdisciplinary volume signals the importance of this new series, highly recommended for scholars and students."
"All chapters demonstrate erudite cutting-edge research and conclusions, making this collection an imperative resource. . . ."
David Bundy is Associate Director of the Manchester Wesley Research Centre. He is the author of Keswick: A Bibliographic Introduction to the Higher Life Movements and Visions of Apostolic Mission: Scandinavian Pentecostal Mission to 1935.
Geordan Hammond is Senior Lecturer in Church History and Wesley Studies at Nazarene Theological College, Manchester, and Director of the Manchester Wesley Research Centre. He is the author of John Wesley in America: Restoring Primitive Christianity and coeditor of the journal Wesley and Methodist Studies.
David Sang-Ehil Han is Dean of the Faculty/Vice President for Academics and Professor of Theology and Pentecostal Spirituality at Pentecostal Theological Seminary. He is an Honorary Fellow of the Manchester Wesley Research Centre and Publisher of Aldersgate Press.
List of Illustrations
Introduction: Intertwined History, Theology, and Scholarship
David Bundy, Geordan Hammond, and David Sang-Ehil Han
At the Beginning
1. The Preachers and Their Students: God's Bible School as a Seedbed of Radical Holiness and Pentecostal Leaders, 1982-1910
David Bundy
2. Pandita Ramabai, the Holiness Movement, and the Mukti Revival of 1905
Robert A. Danielson
3. Alexander A. Boddy, the Pentecostal League of Prayer, and the Wesleyan Roots of British Pentecostalism
Kimberley Ervin Alexander
4. A World Tour of Evangelism: Henry Clay Morrison's Radical Holiness meets "Global Holiness," 1909-10
Luther Oconer
Unity and Diversity
5. "Spiritual Railroading": Trains as Metaphor and Reality in the Holiness and Pentecostal Movements, ca. 1880—ca. 1920
Daniel Woods
6. Black Radical Holy Women at the Intersection of Christian Unity and Social Justice
Cheryl J. Sanders
7. Pneumatology as a Basis for Ecumenical Dialogue Between the Korean Methodist, Holiness, and Pentecostal Traditions
Insik Choi
Theological Engagement
8. Baptized in the Spirit and Fire: The Relevance of Spirit Baptism for a Holiness and Pentecostal View of the Atonement
Frank D. Macchia
9. The Presence of the Kingdom: Optimism of Grace in the Holiness and Pentecostal Movements
Henry H. Knight III
10. Fulfilling the Full Gospel: The Promise of the Theology of the Cleveland School
Chris E. W. Green
List of Contributors
Index
Mailing List
Subscribe to our mailing list and be notified about new titles, journals and catalogs.