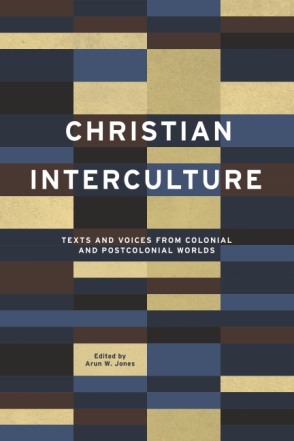 Christian Interculture
Texts and Voices from Colonial and Postcolonial Worlds
Edited by Arun W. Jones
BUY
Christian Interculture
Texts and Voices from Colonial and Postcolonial Worlds
Edited by Arun W. Jones
"Breaking new ground in the study of Christian historiography beyond its Eurocentric underpinnings to encompass the diverse but hitherto overlooked Christian historiographies across the Majority World, Christian Interculture draws attention to the ignored and often suppressed endeavors by indigenous Christians to define Christianity in their own voices beyond the colonial expressions that were imposed on them, with important intercultural and interreligious implications for shaping the emergent historiographies of World Christianities."
Description

Reviews

Bio

Subjects
Despite the remarkable growth of Christianity in Africa, Asia, and Latin America in the twentieth century, there is a dearth of primary material produced by these Christians. This volume explores the problem of writing the history of indigenous Christian communities in the Global South.

Many such indigenous Christian groups pass along knowledge orally, and colonial forces have often not deemed their ideas and activities worth preserving. In some instances, documentation from these communities has been destroyed by people or nature. Highlighting the creative solutions that historians have found to this problem, the essays in this volume detail the strategies employed in discerning the perspectives, ideas, activities, motives, and agency of indigenous Christians. The contributors approach the problem on a case-by-case basis, acknowledging the impact of diverse geographical, cultural, political, and ecclesiastical factors.

This volume will inspire historians of World Christianity to critically interrogate—and imaginatively use—existing Western and indigenous documentary material in writing the history of Christianity in Asia, Africa, the Americas, and Oceania.

In addition to the editor, the contributors to this volume include J. J. Carney, Adrian Hermann, Paul Kollman, Kenneth Mills, Esther Mombo, Mrinalini Sebastian, Christopher Vecsey, Haruko Nawata Ward, and Yanna Yannakakis.
"Breaking new ground in the study of Christian historiography beyond its Eurocentric underpinnings to encompass the diverse but hitherto overlooked Christian historiographies across the Majority World, Christian Interculture draws attention to the ignored and often suppressed endeavors by indigenous Christians to define Christianity in their own voices beyond the colonial expressions that were imposed on them, with important intercultural and interreligious implications for shaping the emergent historiographies of World Christianities."
Arun W. Jones is Associate Professor of World Evangelism and Director of the Master of Theology Program at Emory University. He is the author of Missionary Christianity and Local Religion: American Evangelicalism in North India, 1836–1870, and Christian Missions in the American Empire: Episcopalians in Northern Luzon, the Philippines, 1902–1946.
Mailing List
Subscribe to our mailing list and be notified about new titles, journals and catalogs.