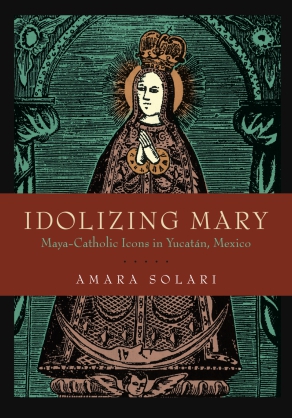 Idolizing Mary
Maya-Catholic Icons in Yucatán, Mexico
Amara Solari
Buy
Idolizing Mary
Maya-Catholic Icons in Yucatán, Mexico
Amara Solari
"A fascinating analysis of the Virgen de Itzmal that uses skills and methodologies from a wide variety of disciplines. Solari's art-historical methodology is sound and augmented through the use of ethnohistorical analysis, religious studies, and other complementary approaches. Her use of native-language sources places this study among a limited number of others grounded in ethnohistorical principles. This book demonstrates that the image of the Virgin of Itzmal is not a Pre-Columbian goddess in new clothes with a new name but rather represents a new deity that manifests all of the complexity of the colonial environment, as native peoples grappled with the cultural onslaught of Spanish missionary activity."
Description

Reviews

Bio

Subjects
In the summer of 1648, yellow fever appeared for the first time on the Yucatán Peninsula, claiming the lives of roughly one-third of the population. To combat this epidemic, Spanish colonial authorities carried a miracle-working Marian icon in procession from Itzmal to the capital city of Mérida and back again as a means of invoking divine intercession.
Idolizing Mary
uses this event and this icon to open a discussion about the early and profound indigenous veneration of the Virgin Mary.
Amara Solari argues that particular Marian icons, such as the Virgin of Itzmal, embodied an ideal suite of precontact numinous qualities, which Maya neophytes reframed for their community's religious needs. Examining prints, paintings, and early modern writings about the Virgin of Itzmal, Solari takes up various topics that contributed to the formation of Yucatán Catholicism—such as indigenous Maya notions of sacrality, ritual purity, and the formal qualities of offering vessels—and demonstrates how these aligned with the Virgin of Itzmal in such a way that the icon came to be viewed by the native populations as a deity of a new world order.
Thoroughly researched and convincingly argued, Idolizing Mary will be welcomed by scholars and students interested in religious transformation and Marian devotion in colonial Spanish America.
"A fascinating analysis of the Virgen de Itzmal that uses skills and methodologies from a wide variety of disciplines. Solari's art-historical methodology is sound and augmented through the use of ethnohistorical analysis, religious studies, and other complementary approaches. Her use of native-language sources places this study among a limited number of others grounded in ethnohistorical principles. This book demonstrates that the image of the Virgin of Itzmal is not a Pre-Columbian goddess in new clothes with a new name but rather represents a new deity that manifests all of the complexity of the colonial environment, as native peoples grappled with the cultural onslaught of Spanish missionary activity."
"In this highly readable book, Solari sets the Virgin Mary within the firmament of the Maya sacred cosmos. As epidemics ravaged the peoples of colonial Yucatan, statues of Mary came forward to absorb evil afflictions. Mary borrowed this capacity, as Solari makes clear, from the very Maya deity images that were dismissed as 'idols' by Catholic evangelizers. Offering a Maya ideology of images, Solari's book adds to the growing decolonizing project of current art histories."
"Solari's interdisciplinary approach and broad base of source material—from camarín artwork to Maya historical records and court cases—is commendable in balancing the dominant Spanish perspective of the period."
Amara Solari is Associate Professor of Art History and Anthropology at the Pennsylvania State University. She is the author of Maya Ideologies of the Sacred: The Transfiguration of Space in Colonial Yucatan and coauthor of 2012 and the End of the World: The Western Roots of the Maya Apocalypse.
Mailing List
Subscribe to our mailing list and be notified about new titles, journals and catalogs.