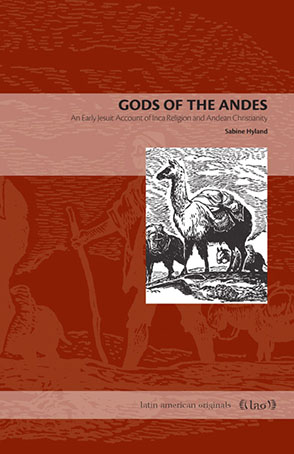 Gods of the Andes
An Early Jesuit Account of Inca Religion and Andean Christianity
Sabine Hyland
BUY
Gods of the Andes
An Early Jesuit Account of Inca Religion and Andean Christianity
Sabine Hyland
"This work is an exciting addition to the field. It presents a source hitherto unavailable in English; it illustrates aspects of Spanish views of Andean religion that are often neglected; and it considers issues of great contemporary relevance, such as the problem of translation of Christian concepts into native languages. Both the translation and the accompanying substantial commentary are highly readable, and therefore suitable for undergraduate readers and the general reader. This is a scholarly, original, and interesting work."
Media

Description

Reviews

Bio

Table of Contents

Sample Chapters

Subjects
Click here to hear Sabine Hyland interviewed for the podcast Research on Religion.
Gods of the Andes
provides the first English translation of the earliest lengthy description of Inca religion,
An Account of the Ancient Customs of the Natives of Peru
(1594). The
Account
is part of a Jesuit tradition of ecumenical works on religion that encompasses the more famous writings of Matteo Ricci in China and Roberto de Nobili in India. It includes original descriptions of many different aspects of Inca religion, including human sacrifice, the use of hallucinogens, mummification rituals, the existence of transgendered priests in the ancient Andes, divination rituals based on animal entrails, oracles, burials, and confession.
In her introductory chapters, Sabine Hyland presents the controversial life of the ascribed author, Blas Valera, a Jesuit who was ultimately imprisoned and exiled by the Jesuits for his "heretical" belief that the Incas worshipped the same creator god the Christians did; examines the Account in the light of other colonial writings about the Incas; and outlines what we know about Inca religion through other sources, comparing Valera's version to those of other writers.
"This work is an exciting addition to the field. It presents a source hitherto unavailable in English; it illustrates aspects of Spanish views of Andean religion that are often neglected; and it considers issues of great contemporary relevance, such as the problem of translation of Christian concepts into native languages. Both the translation and the accompanying substantial commentary are highly readable, and therefore suitable for undergraduate readers and the general reader. This is a scholarly, original, and interesting work."
"Not all Spanish missionaries were out to extinguish native Andean religious practices and concepts as works of the devil. Sabine Hyland has focused on an extraordinary mestizo Jesuit, Blas Valera, whose highly sympathetic and perceptive account of the Inca gods and worldview has been vividly brought to life by her excellent translation. This is a major contribution to Andean history and anthropology."
"This translation of An Account of the Ancient Customs of the Natives of Peru is a wonderful addition to the corpus of meticulously edited colonial chronicles available in English. The lengthy and careful treatment of Andean religion by the Jesuit priest Blas Valera is distinctive and fascinating, and its importance is enhanced by our knowledge that, unlike many chroniclers, Valera spoke and understood Quechua and was exposed to native religious customs in several areas. Sabine Hyland's discussion of the life and writings of Valera successfully provides the cultural and historical context for the manuscript and greatly enriches the volume. I strongly recommend it to all scholars attempting to understand pre-Hispanic Andean religion and the early efforts of Christian missionaries."
"Sabine Hyland's book revives a defiant voice from the Americas' past. By 1594 the last generation born under Inca rule was dying off. A burgeoning colonial clergy was teaching that the 'Indian's' sacred tradition had been nothing but a diabolical fraud. But even as the clergy geared up for 'extirpation,' some dissenters boldly claimed that Inca religion included insights into true divinity. One of these dissenters—the anonymous Jesuit whom Hyland identifies as the half-Inca Blas Valera—in 1594 took his stand by combining memories of his mother's Inca culture with a challenge to colonial power. Hyland's translation brings to life one vital indigenous source of the New World's human-rights tradition."
"[Gods of the Andes] is the ideal supplement and counterpoint to university courses on colonial history of the Americas or early modern religion. . . . This slim volume is positioned to handily prove the wide diversity of religious views held in sixteenth-century Peru, among the Jesuits as well as among Andean converts."
"Hyland's translation is as readable as it is faithful to the original, and has the added advantage of coming with a helpful scholarly introduction, unobtrusive annotations, and a glossary of quechua terms. It is a most welcome companion to her excellent monograph on Valera, The Jesuit and the Incas (2003), and an indispensable primary source which will be enjoyed as much by scholars as by general readers."
"This is a fascinating and sometimes poignant text with much of interest for ethnographers, anthropologists, historians of religion, and cultural and political theorists. All these will find food for thought in this excellent translation and essay by Sabine Hyland. . . . This small book deserves a place on many bookshelves."
Sabine Hyland is Associate Professor of Anthropology at St. Norbert College.
Contents
Preface
Acknowledgments
Map
1 Native Gods and Missionaries
2 Blas Valera: His Life and "Crimes"
3 Sources
Notes Concerning This Translation
Blas Valera, An Account of the Ancient Customs of the Natives of Peru
Appendix
Glossary of Quechua Terms
Works Cited
Index
Mailing List
Subscribe to our mailing list and be notified about new titles, journals and catalogs.