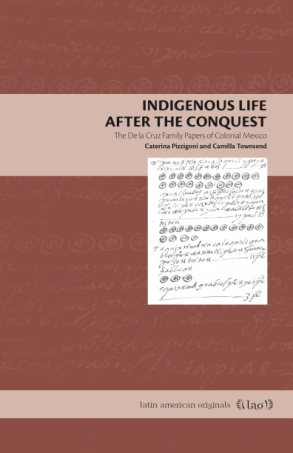 Indigenous Life After the Conquest
The De la Cruz Family Papers of Colonial Mexico
Caterina Pizzigoni and Camilla Townsend
Buy
Indigenous Life After the Conquest
The De la Cruz Family Papers of Colonial Mexico
Caterina Pizzigoni and Camilla Townsend
"Indigenous Life After the Conquest has the potential to introduce students and scholars to a language of singular importance for the field of Mesoamerican studies and to some of the primary historical sources that are its stock-in-trade."
Description

Reviews

Bio

Table of Contents

Sample Chapters

Subjects
This book presents a unique set of written records belonging to the De la Cruz family, caciques of Tepemaxalco in the Toluca Valley. Composed in Nahuatl and Spanish and available here both in the original languages and in English translation, this collection of documents opens a window onto the life of a family from colonial Mexico's indigenous elite and sheds light on the broader indigenous world within the Spanish colonial system.
The main text is a record created in 1647 by long-serving governor don Pedro de la Cruz and continued by his heirs through the nineteenth century, along with two wills and several other notable documents. These sources document a community history, illuminating broader issues centering on politics, religion, and economics as well as providing unusual insight into the concerns and values of indigenous leaders. These texts detail the projects financed by the De la Cruz family, how they talked about them, and which belongings they deemed important enough to pass along after their death.
Designed for classroom use, this clear and concise primary source includes a wealth of details about indigenous everyday life and preserves and makes accessible a rich and precious heritage. The engaging introduction highlights issues of class relations and the public and performative character of Nahua Christianity. The authors provide the necessary tools to help students understand the colonial context in which these documents were produced.
"Indigenous Life After the Conquest has the potential to introduce students and scholars to a language of singular importance for the field of Mesoamerican studies and to some of the primary historical sources that are its stock-in-trade."
"While Nahuatl texts created for use within the Indigenous communities have now been extensively studied, the De la Cruz papers are particularly valuable for their abundant references to specific individuals and their concerns. The detail on religious life, including funding sources and expenditures on rituals, musical instruments, and church décor, including exactly what don Pedro or others paid for various items, is unparalleled."
"Renowned experts, Pizzigoni and Townsend bring their knowledge of colonial Nahuatl as well as Nahua cultural and social history to these unique sources."
Caterina Pizzigoni is Associate Professor of History at Columbia University. She is the author of The Life Within: Local Indigenous Society in Mexico's Toluca Valley, 1650–1800.
Camilla Townsend is Distinguished Professor of History at Rutgers University. She is the author of Annals of Native America: How the Nahuas of Colonial Mexico Kept Their History Alive; Malintzin: Una mujer indígena en la Conquista de México; and Here in This Year: Seventeenth-Century Nahuatl Annals of the Tlaxcala-Puebla Valley.
Foreword
Preface
Acknowledgements
Maps
Introduction
Document 1: The De la Cruz Family Record Book
Nahuatl text
English text
Document 2: The Tepemaxalco Tribute Notebook in 1658
Document 3: Parish Records of the Birth of Don Juan de la Cruz's Siblings (1640s)
Document 4: The Will of Don Pedro de la Cruz
Document 5: The Will of Don Juan de la Cruz
Epilogue
Appendix: A Brief Note on Language and Orthography
Glossary
Bibliography
Index
Mailing List
Subscribe to our mailing list and be notified about new titles, journals and catalogs.