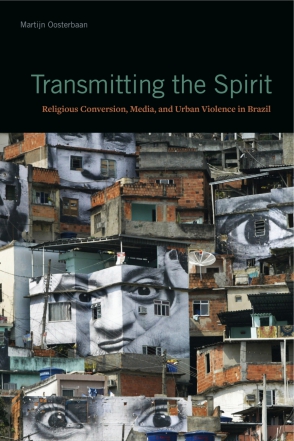 Transmitting the Spirit
Religious Conversion, Media, and Urban Violence in Brazil
Martijn Oosterbaan
Buy
Transmitting the Spirit
Religious Conversion, Media, and Urban Violence in Brazil
Martijn Oosterbaan
"A detailed, sympathetic analysis of favela religion in relation to secular media. . . . Highly recommended."
Description

Reviews

Bio

Table of Contents

Subjects
Pentecostalism is one of the most rapidly expanding religious-cultural forms in the world. Its rise in popularity is often attributed to its successfully incorporating native cosmologies in new religious frameworks. This volume probes for more complex explanations to this phenomenon in the favelas of Brazil, once one of the most Catholic nations in the world.
Based on a decade of ethnographic fieldwork in Rio de Janeiro and drawing from religious studies, anthropology of religion, and media theory, Transmitting the Spirit argues that the Pentecostal movement's growth is due directly to its ability to connect politics, entertainment, and religion. Examining religious and secular media—music and magazines, political ads and telenovelas—Martijn Oosterbaan shows how Pentecostal leaders progressively appropriate and recategorize cultural forms according to the religion's cosmologies. His analysis of the interrelationship among evangélicos distributing doctrine, devotees' reception and interpretation of nonreligious messaging, perceptions of the self and others by favela dwellers, and the slums of urban Brazil as an entity reveals Pentecostalism's remarkable capacity to engage with the media influences that shape daily life in economically vulnerable urban areas.
An eye-opening look at Pentecostalism, media, society, and culture in the turbulent favelas of Brazil, this book sheds new light on both the evolving role of religion in Latin America and the proliferation of religious ideas and practices in the postmodern world.
"A detailed, sympathetic analysis of favela religion in relation to secular media. . . . Highly recommended."
"Marks an undoubted step forward in the interpretation of a phenomenon which remains abundantly described but continues to cry out for creative interpretation."
"Scholars and students from a variety of disciplines—including anthropology, communications studies, religious studies, and political science for example—will find something of use and interest within the pages of this book."
"Martijn Oosterbaan not only provides an ethnography of Brazilian Pentecostalism but also shows how this premodern faith enables survival amid the violence of the favelas that are the underside of Rio's modernity. Transmitting the Spirit also depicts how an otherworldly Pentecostal piety traverses the sonic and electronic currents of the present late modern age. Spiritual power in the South American Pentecostal hemisphere resounds in this excellent book."
"Martijn Oosterbaan brilliantly plunges us into the vivid and dynamic worlds of contemporary Pentecostalism and Brazilian favelas. Based on many years of close observation, his analysis shows not only why Pentecostalism is popular in Brazilian city life, but also how it has become a deeply embedded aspect of national popular culture."
Martijn Oosterbaan is Associate Professor of Cultural Anthropology at Utrecht University.
Contents
Acknowledgments
Introduction
1 The Manichean City: Socio-Spatial Segregation and Pentecostalism
2 Sonic Struggles: Sound, Religion, and Space in the Favelas
3 Mass Mediating Spiritual Battles: Pentecostalism and the Daily News
4 "Deliver This Favela": Space, Violence, and Hypermediated Conversion
5 Spiritual Attunement: Pentecostalism and Listening
6 "Written by the Devil": Suspicious Television
Conclusion
Notes
Bibliography
Index
Mailing List
Subscribe to our mailing list and be notified about new titles, journals and catalogs.