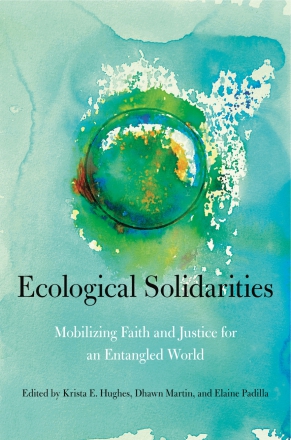 Ecological Solidarities
Mobilizing Faith and Justice for an Entangled World
Edited by Krista E. Hughes, Dhawn B. Martin, and Elaine Padilla
Buy
Ecological Solidarities
Mobilizing Faith and Justice for an Entangled World
Edited by Krista E. Hughes, Dhawn B. Martin, and Elaine Padilla
"With Ecological Solidarities, prophetic warnings awaken us to a new paradigm of perception, insight, and action: Discard not the tragic disintegration that a blind humanity inflicts on this planet! This important volume collects voices of theopolitical and ecotheological visions calling for the renewal of our care for the wounded planet that is our home."
Description

Reviews

Bio

Subjects
Operating on the premise that our failure to recognize our interconnected relationship to the rest of the cosmos is the origin of planetary peril, this volume presents academic, activist, and artistic perspectives on how to inspire reflection and motivate action in order to construct alternative frameworks and establish novel solidarities for the sake of our planetary home.
The selections in this volume explore ecologies of interdependence as a frame for religious, theological, and philosophical analysis and practice. Contributors examine questions of justice, climate change, race, class, gender, and coloniality and discuss alternative ways of engaging the world in all its biodiversity. Each essay, poem, reflection, and piece of art contributes to and reflects upon how to live out entangled differences toward positive global change.
Constructive and practical, global and local, communal and personal, Ecological Solidarities is an innovative contribution to the discourses on relational and liberative thought and practice in religion, philosophy, and theology. It will be welcomed by scholars of World Christianity and theology as well as seminary students, activists, and laity interested in issues of justice and ecology.
"With Ecological Solidarities, prophetic warnings awaken us to a new paradigm of perception, insight, and action: Discard not the tragic disintegration that a blind humanity inflicts on this planet! This important volume collects voices of theopolitical and ecotheological visions calling for the renewal of our care for the wounded planet that is our home."
"A creative, provocative, and methodologically diverse set of essays, Ecological Solidarities occupies a useful niche in scholarly discourse, engaging theopolitics and contemporaneous notions of planetarity and ecological awareness within frames of social construction, social dynamics, and subjectivities. This volume offers substantially unique new work and important revisitations of historical ideas and events."
"Ecological Solidarities commits itself to difference and solidarity as a compelling invitation. A reader will find themselves not only listening deeply to the creativity of these texts, but may likely find themselves offering their own unique voice in ever deeper solidarity as well."
Krista E. Hughes is Associate Professor of Religion and Director of the Muller Center at Newberry College.
Dhawn B. Martin is Executive Director of the Source of Light Center in San Antonio, Texas.
Elaine Padilla is Associate Professor of Philosophy and Religion and Latinx/Latin American Studies at the University of La Verne. She is the author of Divine Enjoyment: A Theology of Passion and Exuberance and coeditor of three volumes in the series Christianities of the World.
Mailing List
Subscribe to our mailing list and be notified about new titles, journals and catalogs.