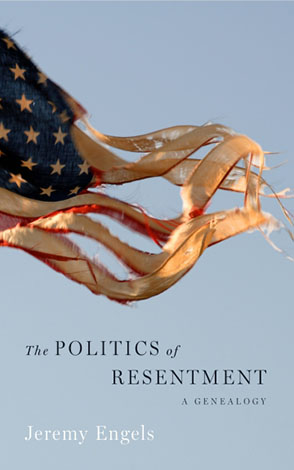 The Politics of Resentment
A Genealogy
Jeremy Engels
BUY
The Politics of Resentment
A Genealogy
Jeremy Engels
"What is the relationship between rhetoric and violence? Jeremy Engels addresses that question in the aftermath of the 2011 shooting spree that seriously wounded Rep. Gabrielle Giffords and killed several others. Drawing on wide-ranging scholarship in political theory and American public discourse, he argues that political elites hijack justified popular resentment against oppressive social systems and redirect it against powerless individuals, thereby creating the potential for violence. Provocative in its understanding of democracy, compelling in its case studies of Richard Nixon and Sarah Palin, and challenging in its call for reinvigorated rhetorical criticism, this is a book that makes us think."
Description

Reviews

Bio

Table of Contents

Sample Chapters

Subjects
In the days and weeks following the tragic 2011 shooting of nineteen Arizonans, including congresswoman Gabrielle Giffords, there were a number of public discussions about the role that rhetoric might have played in this horrific event. In question was the use of violent and hateful rhetoric that has come to dominate American political discourse on television, on the radio, and at the podium. A number of more recent school shootings have given this debate a renewed sense of urgency, as have the continued use of violent metaphors in public address and the dishonorable state of America's partisan gridlock. This conversation, unfortunately, has been complicated by a collective cultural numbness to violence. But that does not mean that fruitful conversations should not continue. In
The Politics of Resentment
, Jeremy Engels picks up this thread, examining the costs of violent political rhetoric for our society and the future of democracy.
The Politics of Resentment traces the rise of especially violent rhetoric in American public discourse by investigating key events in American history. Engels analyzes how resentful rhetoric has long been used by public figures in order to achieve political ends. He goes on to show how a more devastating form of resentment started in the 1960s, dividing Americans on issues of structural inequalities and foreign policy. He discusses, for example, the rhetorical and political contexts that have made the mobilization of groups such as Nixon's "silent majority" and the present Tea Party possible. Now, in an age of recession and sequestration, many Americans believe that they have been given a raw deal and experience feelings of injustice in reaction to events beyond individual control. With The Politics of Resentment, Engels wants to make these feelings of victimhood politically productive by challenging the toxic rhetoric that takes us there, by defusing it, and by enabling citizens to have the kinds of conversations we need to have in order to fight for life, liberty, and equality.
"What is the relationship between rhetoric and violence? Jeremy Engels addresses that question in the aftermath of the 2011 shooting spree that seriously wounded Rep. Gabrielle Giffords and killed several others. Drawing on wide-ranging scholarship in political theory and American public discourse, he argues that political elites hijack justified popular resentment against oppressive social systems and redirect it against powerless individuals, thereby creating the potential for violence. Provocative in its understanding of democracy, compelling in its case studies of Richard Nixon and Sarah Palin, and challenging in its call for reinvigorated rhetorical criticism, this is a book that makes us think."
"There may be no more pressing problem in contemporary U.S. political culture than a flourishing politics of resentment, which divides citizens, stalls policy, and excuses injustice. In The Politics of Resentment, Jeremy Engels helps readers understand how resentment has arisen as a political force and how scholars and citizens may respond. Toward these ends, The Politics of Resentment deftly weaves together history, criticism, and theory. Engels argues eloquently that we cannot 'ban resentment from the public sphere,' but he suggests ways to productively turn resentment toward disclosing structural violence, thereby helping achieve justice and promote a public good."
"Recommended for scholars of public address and rhetorical theory alike, The Politics of Resentment will soon be required reading for courses on deliberative democracy—and deservedly so. With proper exposure, this book may well contribute to the growth of a more peaceful, less resentful nation."
"Engels continues his studies into the historical use of rhetoric with a volume summarizing what he considers the particularly nefarious use of rhetoric by political and economic elites in the United States since the Nixon years of the 1960s, to achieve unity in a recalcitrant and potentially revolutionary democracy, no longer in the traditional way through inspiring fear and patriotism by creating the spectre of a hostile and unreasonable outside enemy, but precisely the reverse, abandoning the classic goal of preserving internal unity by identifying an internal enemy."
Jeremy Engels is Associate Professor of Communication Arts and Sciences at The Pennsylvania State University.
Essay i
Essay ii Essay iii
CONTENTS
Acknowledgments / vii Introduction:DemocracyandResentment / 1
Reimagining the People: From Duas
Civitates to E Pluribus Unum to E Unibus Duo / 25
The Rise of the Politics of Resentment / 70 The Rhetoric of Violence / 103
Conclusion: Resentment Ad Hominem
and Ad Ratio: A Plea for Rhetorical Criticism / 144
Notes / 163 Bibliography / 183 Index / 199
Also of Interest
Mailing List
Subscribe to our mailing list and be notified about new titles, journals and catalogs.