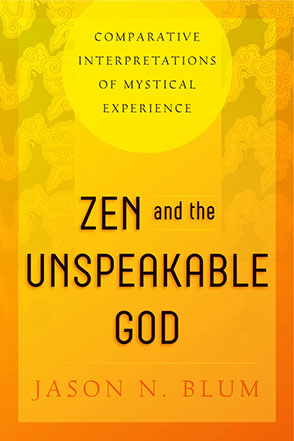 Zen and the Unspeakable God
Comparative Interpretations of Mystical Experience
Jason N. Blum
BUY
Zen and the Unspeakable God
Comparative Interpretations of Mystical Experience
Jason N. Blum
"Jason Blum has given us a novel and very interesting attempt to offer a new take on the elusive subject of religious experience. The book is useful in many ways: it organizes, and criticizes, the main epistemological assumptions made by theories of mystical experience, and it argues Blum's case over several rigorously constructed chapters. Recommended to anyone interested in religious experience."
Description

Reviews

Bio

Table of Contents

Sample Chapters

Subjects
Zen and the Unspeakable God
reevaluates how we study mystical experience. Forsaking the prescriptive epistemological box that has constrained the conversation for decades, ensuring that methodology has overshadowed subject matter, Jason Blum proposes a new interpretive approach—one that begins with a mystic's own beliefs about the nature of mystical experience. Blum brings this approach to bear on the experiential accounts of three mystical exemplars: Meister Eckhart, Ibn al-
ʿ
Arabi, and Hui-neng. Through close readings of their texts, he uncovers the mystics' own fundamental assumptions about transcendence and harnesses these as interpretive guides to their experiences.
The predominant theory-first path to interpretation has led to the misunderstanding and misrepresentation of individual mystical experiences and fostered specious conclusions about cross-cultural comparability among them. Blum's hermeneutic invites the scholarly community to begin thinking about mystical experience in a new way—through the mystics' eyes. Zen and the Unspeakable God offers a sampling of the provocative results of this technique and an explanation of its implications for theories of consciousness and our contemporary understanding of the nature of mystical experience.
"Jason Blum has given us a novel and very interesting attempt to offer a new take on the elusive subject of religious experience. The book is useful in many ways: it organizes, and criticizes, the main epistemological assumptions made by theories of mystical experience, and it argues Blum's case over several rigorously constructed chapters. Recommended to anyone interested in religious experience."
"Jason Blum illustrates fascinating similarities and parallels in the writings of Ibn al-ʿArabi, Meister Eckhart, and Hui-neng with respect to their views on the metaphysical structure between the self and ultimacy and on the nature of mystical knowing, despite obvious major differences among these influential mystics. This insightful comparative study develops with rigorous precision and clarity a novel theoretical framework for the study of comparative mysticism, one that shows much originality and promise."
"Jason Blum's phenomenological approach to the analysis of mystical experiences is both original and substantial, contributing to the recent debates about the nature of those experiences with a more subtle and holistic attitude. It will become an important part of the ongoing methodological controversies."
"This is a gem of a book. It is well written, tightly organized, and succinct in its formulations. It manages to take three very sophisticated mystical authors from three very different cultures and put them into critical conversation both with one another and with the ontological assumptions of the contemporary academy. The result is a wonderful example of the new comparativism."
Jason N. Blum is Visiting Assistant Professor of Philosophy at the American University in Cairo.
Contents
Acknowledgments
Introduction: Theory vs. Interpretation
1 The Problem of Context
2 An Interpretive Approach
3 Ibn al-ʿArabi and the Names of God
4 Meister Eckhart and the Breaking-Through into the Quiet Desert
5 Hui-neng and the Stink of Zen
Conclusion: Theory and Interpretation
Notes
Works Consulted
Index
Also of Interest
Mailing List
Subscribe to our mailing list and be notified about new titles, journals and catalogs.