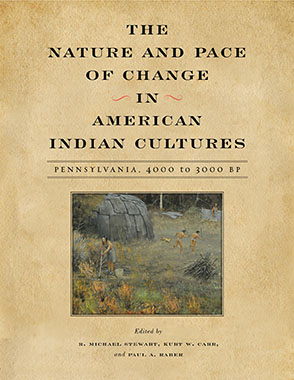 The Nature and Pace of Change in American Indian Cultures
Pennsylvania, 4000 to 3000 BP
Edited by R. Michael Stewart, Kurt W. Carr, and Paul A. Raber
BUY
The Nature and Pace of Change in American Indian Cultures
Pennsylvania, 4000 to 3000 BP
Edited by R. Michael Stewart, Kurt W. Carr, and Paul A. Raber
"A true synthesis of the most recent and cutting-edge interpretations of this enigmatic time period to date. Perhaps what is most impressive about this volume, however, is how the information is clearly embedded in archaeological, environmental, and technological contexts. It truly fills a gap in our understanding of the archaeological record."
Description

Reviews

Bio

Table of Contents

Sample Chapters

Subjects
Three thousand to four thousand years ago, the Native Americans of the mid-Atlantic region experienced a groundswell of cultural innovation. This remarkable era, known as the Transitional period, saw the advent of broad-bladed bifaces, cache blades, ceramics, steatite bowls, and sustained trade, among other ingenious and novel objects and behaviors. In
The Nature and Pace of Change in American Indian Cultures
, eight expert contributors examine the Transitional period in Pennsylvania and posit potential explanations of the significant changes in social and cultural life at that time.
Building upon sixty years of accumulated data, corrected radiocarbon dating, and fresh research, scholars are reimagining the ancient environment in which native people lived. The Nature and Pace of Change in American Indian Cultures will give readers new insights into a singular moment in the prehistory of the mid-Atlantic region and the daily lives of the people who lived there.
The contributors are Joseph R. Blondino, Kurt W. Carr, Patricia E. Miller, Roger Moeller, Paul A. Raber, R. Michael Stewart, Frank J. Vento, Robert D. Wall, and Heather A. Wholey.
"A true synthesis of the most recent and cutting-edge interpretations of this enigmatic time period to date. Perhaps what is most impressive about this volume, however, is how the information is clearly embedded in archaeological, environmental, and technological contexts. It truly fills a gap in our understanding of the archaeological record."
"The Nature and Pace of Change in American Indian Cultures is an important contribution to the archaeological literature of Pennsylvania and the central Middle Atlantic region. It provides new perspectives on important anthropological and archaeological topics of prehistoric culture change that will appeal to those interested in the local region as well as those interested in broader comparative studies of ancient culture change."
"Since John Witthoft's 1953 publication on 'Broadspear' cultures in Pennsylvania, archaeologists have been fascinated by the so-called Transitional or Terminal Archaic. Building on earlier research, the contributors to this volume provide important new data and interpretive perspectives on Native American material culture, lifeways, and society in the mid-Atlantic region circa 4000–3000 years before the present."
"An essential read for anyone researching the Transitional Archaic Period in Pennsylvania and a useful resource for all archaeologists studying the end of the Archaic period in Eastern North America."
"A valuable resource for those interested in understanding how environmental and archaeological evidence is used in different ways to support interpretations about what made the Transitional Archaic adaptation uniquely different from what came before and what came after."
R. Michael Stewart is Associate Professor Emeritus at Temple University and Archaeologist, New Jersey Historic Preservation Office.
Kurt W. Carr is Senior Curator of Archaeology at the State Museum of Pennsylvania.
Paul A. Raber is Vice-President and Director of Archaeological Services at Heberling Associates, Inc.
Contents
List of Figures
List of Tables
Introduction: Working with the Archaeological Record of 4500–2700 BP
R. Michael Stewart
1 Evidence for Climate Variability During the Sub-Boreal/Transitional Archaic Period: Fact or Fiction?
Frank J. Vento
2 The End of the Late Archaic Period in the Upper Susquehanna Valley of Pennsylvania: Lamoka and Its Variants
Robert D. Wall
3 The Evolution of Cultural Adaptations During the Transitional Period in the Delaware and Susquehanna River Valleys in Pennsylvania
Kurt W. Carr
4 The Transitional Archaic Period in the Susquehanna River Valley
Patricia E. Miller
5 Rethinking the Transitional Archaic Period in the Upper Delaware Valley: A View from the "Orient"
Joseph R. Blondino
6 Transitional Archaic Settlement Density in Eastern Pennsylvania
Heather A. Wholey
7 The Transitional Dilemma in Pennsylvania: Hearths, Fish, and Pottery
Roger Moeller
List of Contributors
Index
Mailing List
Subscribe to our mailing list and be notified about new titles, journals and catalogs.