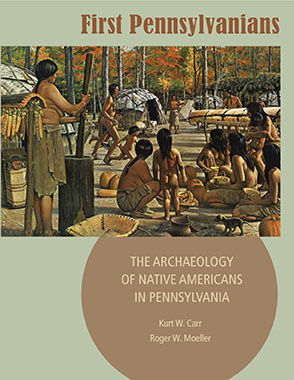 First Pennsylvanians
The Archaeology of Native Americans in Pennsylvania
Kurt W. Carr and Roger W. Moeller
Buy
First Pennsylvanians
The Archaeology of Native Americans in Pennsylvania
Kurt W. Carr and Roger W. Moeller
"Carr and Moeller have written a primer for the next generation of archaeologists in Pennsylvania, an excellent summary of Pennsylvania's deep past for high school and college students and for all readers."
Description

Reviews

Bio

Subjects
In First Pennsylvanians, Kurt Carr and Roger Moeller provide a broad, accessible, and wide-ranging overview of the archaeological record of Native Americans in Pennsylvania from early prehistory through the Paleoindian, Archaic, Transitional, Woodland, and Contact periods, stretching from 16,500 years ago to 1750 C.E. The authors present and analyze specific traits of each archaeological time period covered and use the archaeological record to provide a glimpse of Native Americans' daily life in Pennsylvania. First Pennsylvanians also includes personal stories and anecdotes from archaeologists about their experiences in the field as well as a wealth of illustrations and diagrams. The chapters examine the environment, social groups, tools, subsistence, and settlement patterns of Native Americans in Pennsylvania and describe how these factors profoundly affected the populations and cultures of these early inhabitants of the region.
"Carr and Moeller have written a primer for the next generation of archaeologists in Pennsylvania, an excellent summary of Pennsylvania's deep past for high school and college students and for all readers."
"Finally, an accessible and profusely illustrated account of Pennsylvania's past that will be useful to students in high school and introductory college courses as well as to the many modern Pennsylvanians who are curious about the people who were here before us. Carr and Moeller share their extensive knowledge while punctuating the archaeological story with first-person vignettes and the voices of other archaeologists describing their passion for the field. I look forward to using this book as a resource in working with the public and in my undergraduate teaching."
"Going beyond typology, this book humanizes the people who lived in Pennsylvania's past and the archaeologists who study them. It is up-to-date and useful for college students."
"First Pennsylvanians is a comprehensive and enjoyable look at the state's prehistoric past, enhanced with narratives, graphics, and images. Carr and Moeller have done an outstanding job of presenting that past to all Pennsylvanians as well as a wider audience."
"Kurt W. Carr and Roger W. Moeller have produced what will surely be the definitive monograph on Pennsylvania's archaeological past for decades to come. This richly illustrated work is aimed at the novice yet it could serve as a useful desk reference for professionals, especially those without easy access to the state's archaeological grey literature. . . . First Pennsylvanians is a magnum opus for those interested in Pennsylvania's past."
"This copiously illustrated investigation of the history of Native Americans in Pennsylvania is a significant addition to regional archaeological surveys. . . . First Pennsylvanians will be an important resource for high school students, undergrads, and everyone with an interest in the archaeology of the region."
Kurt W. Carr is Senior Curator of Archaeology at The State Museum of Pennsylvania.
Roger W. Moeller has conducted archaeological research on Paleoindian through Contact period sites in Connecticut, Delaware, Iowa, Massachusetts, New Jersey, New York, and Pennsylvania.
Mailing List
Subscribe to our mailing list and be notified about new titles, journals and catalogs.