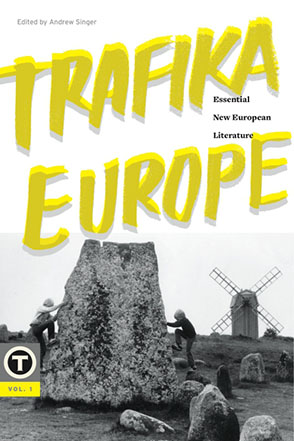 Trafika Europe
Essential New European Literature, Vol. 1
Edited by Andrew Singer
Buy
Trafika Europe
Essential New European Literature, Vol. 1
Edited by Andrew Singer
"Trafika Europe performs a unique service, helping to keep together, and actually helping to bind together, the diverse and often mutually unknown and unrecognized cultures of Europe through the most basic and effective means possible: the heart and the creative imagination. Literature is the great harmonizer, the road to the discovery of common roots and the prospect of a common destiny. Readers of Trafika Europe will benefit from the rich literary heritage of this great cultural sphere."
Description

Reviews

Bio

Table of Contents

Subjects
In volume 1 of
Trafika Europe
, Andrew Singer gathers choice offerings from the first year of the quarterly journal of the same name. These fourteen selections—from seven women and seven men, seven poets and seven fiction writers—represent languages across the Continent, from Shetland Scots and Occitan, Latvian and Polish, Armenian, Italian, Hungarian, German, and Slovenian to Faroese and Icelandic. With some of the most accomplished writing in new translation from Europe today, this volume opens a window onto some emerging contours of European identity. Former ASCAP director of photography Mark Chester complements the writing with sumptuous black-and-white photos.
The contributors are Vincenzo Bagnoli, Ewa Chrusciel, Christine DeLuca, Mandy Haggith, Stefanie Kremser, Aurélia Lassaque, Wiesław Myśliwski, Jóanes Nielsen, Edvīns Raups, László Sárközi, Marko Sosič, Jón Kalman Stefánsson, Nara Vardanyan, and Māra Zālīte.
"Trafika Europe performs a unique service, helping to keep together, and actually helping to bind together, the diverse and often mutually unknown and unrecognized cultures of Europe through the most basic and effective means possible: the heart and the creative imagination. Literature is the great harmonizer, the road to the discovery of common roots and the prospect of a common destiny. Readers of Trafika Europe will benefit from the rich literary heritage of this great cultural sphere."
"This anthology is especially precious because of the little-known languages featured. Poems and excerpts from novels originally written in Occitan, Latvian, Faroese, Icelandic, and Armenian rarely crop up in lively translations even in the—too few—American venues hospitable to foreign literature. But here they are! Kudos to Trafika Europe for their energetic exploratory work. These stimulating pieces will spark thought and talk about the startling variety and less visible unities of European writing."
"In Trafika Europe, Andrew Singer draws rarely heard and distinctive voices from the gorgeous polyphonic chant of European literature. Occitan, Catalan, Faroese, Shetland Scots, Icelandic, Armenian, and more—the languages toll like bells ringing in counterpoint to accustomed strains. These 'trajectories of longing,' beautifully told with particulars strange and familiar, will stir your soul."
"A vital, timely collection of transcendent prose and poetry that highlights the diversity of literatures from across the European continent in a time when the very idea of European identity is a pressing social issue."
Andrew Singer is Lecturer in Comparative Literature at The Pennsylvania State University and Director and Editor-in-Chief of Trafika Europe (trafikaeurope.org).
Contents
Editor's Welcome
1 – Wiesław Myśliwski: A Treatise on Shelling Beans (novel excerpt)
2 – Aurélia Lassaque: The King of Golden Silk (a poem)
3 – Māra Zālīte: Five Fingers (novel excerpt)
4 – Christine DeLuca (five poems)
5 – Marko Sosič: Ballerina, Ballerina (novel excerpt)
6 – Vincenzo Bagnoli: Orpheus in the Underworld 1999 (Dead Times) (a poem)
7 – Stefanie Kremser: The day I learned to fly (novel excerpt)
8 – Edvīns Raups: then touch me here (ten poems)
9 – Jón Kalman Stefánsson: The Heart of Man (novel excerpt)
10 – László Sárközi: Inner World (a poem)
11 – Jóanes Nielson: The Brahmadells: A North Atlantic Chronicle (novel excerpt)
12 – Nara Vardanyan – Amour (a short story)
13 – Ewa Chrusciel (six poems)
14 – Mandy Haggith (seven tree poems)
A note about the photographs
Acknowledgments
Mailing List
Subscribe to our mailing list and be notified about new titles, journals and catalogs.