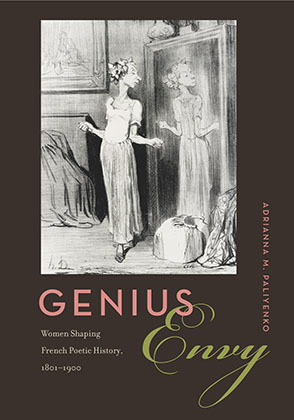 Genius Envy
Women Shaping French Poetic History, 1801–1900
Adrianna M. Paliyenko
GET
Genius Envy
Women Shaping French Poetic History, 1801–1900
Adrianna M. Paliyenko
"This is a valuable book that will become a significant point of reference. Along with studies like Margaret Cohen's Sentimental Education of the Novel, it makes a major contribution to our understanding of the cultural context in which women were writing. . . . Paliyenko has opened up new horizons, and this book will certainly invite, provoke, and make possible further work in an important field."
Unlocked

Description

Reviews

Bio

Sample Chapters

Subjects
An Open Access edition of Genius Envy is available through PSU Press Unlocked. To access this free electronic edition click here. Print editions are also available.
In
Genius Envy
, Adrianna M. Paliyenko uncovers a forgotten history: the multiplicity and diversity of nineteenth-century French women's poetic voices. Conservative critics of the time attributed the phenomenon of genius to masculinity and dismissed the work of female authors as "feminine literature." Despite the efforts of leading thinkers, critics, and literary historians to erase women from the pages of literary history, Paliyenko shows how these female poets invigorated the debate about the origins of genius and garnered considerable recognition in their time for their creativity and bold aesthetic ideas.
This fresh account of French women poets' contributions to literature probes the history of their critical reception. The result is an encounter with the texts of celebrated writers such as Marceline Desbordes-Valmore, Anaïs Ségalas, Malvina Blanchecotte, Louisa Siefert, and Louise Ackermann. Glimpses at the different stages of each poet's career show that these women explicitly challenged the notion of genius as gender specific, thus advocating for their rightful place in the canon.
A prodigious contribution to studies of nineteenth-century French poetry, Paliyenko's book reexamines the reception of poetry by women within and beyond its original context. This balanced and comprehensive treatment of their work uncovers the multiple ways in which women poets sought to define their place in history.
"This is a valuable book that will become a significant point of reference. Along with studies like Margaret Cohen's Sentimental Education of the Novel, it makes a major contribution to our understanding of the cultural context in which women were writing. . . . Paliyenko has opened up new horizons, and this book will certainly invite, provoke, and make possible further work in an important field."
"Adrianna Paliyenko brings to her work on French women's poetry an already most impressive background, and she writes with authority and solid, yet graceful, erudition. Genius Envy will attract and inform many readers, male and female—especially at a time when nouns like auteur(e) and écrivain(e) are asserting their presence in the language—and will undoubtedly become a long-lasting milestone in the burgeoning study of French women poets."
"Adrianna Paliyenko's major new assessment of poetry composed or theorized by women, Genius Envy, is long overdue in professional nineteenth-century French studies circles. Her incisive reexamination of this undervalued literary corpus and recent scholarship about it puts to rest for good the myth that female poets—contemporaries of Lamartine, Hugo, Gautier, Baudelaire, Rimbaud, and Mallarmé—were somehow less aesthetically significant than more widely celebrated male writers."
"The fruit of more than a decade of research, Genius Envy radically upends current thinking about women poets, their reception, and their engagement with the allegedly male-dominated world of nineteenth-century French literature. Evoking a multiplicity of female voices and touching on colonial history, social class, philosophy, science, and aesthetics, Adrianna Paliyenko's remarkable new book is required reading for those interested in genius, the history of canon formation, and literary and social equity."
"Genius Envy makes a major contribution to studies of nineteenth-century French poetry. Adrianna Paliyenko's treatment of women writers who challenge the previously male-defined notion of genius reframes much more than the study of these five writers; it cuts through stale definitions of writers as masculine or feminine and argues convincingly for a new way of considering genius, creativity, and the poetic. As a result, it raises important questions about women's place in discourse, important today as it was then."
"After centuries during which genius was defined as exclusively male, Adrianna Paliyenko provides a brilliant, learned, and highly readable account of the extremes to which men went in order to deny genius to women. With equal brilliance she restores several pages excised from nineteenth-century literary history by this gendering, and she gives voice to French women poets as they challenge their exclusion. Thanks to Paliyenko's groundbreaking book, the sexing of genius has lost its self-evidence, and the nineteenth century has gained five major poets."
Adrianna M. Paliyenko is Charles A. Dana Professor of French at Colby College. Her most recent book, coedited with Joseph Acquisto and Catherine Witt, is Poets as Readers in Nineteenth-Century France.
Mailing List
Subscribe to our mailing list and be notified about new titles, journals and catalogs.