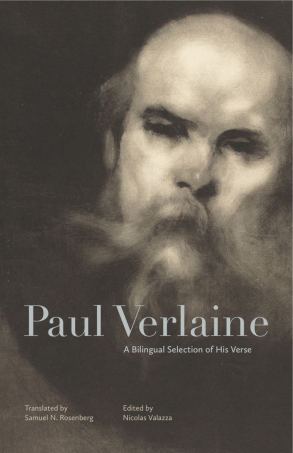 Paul Verlaine
A Bilingual Selection of His Verse
Paul Verlaine, Translated by Samuel N. Rosenberg, and Edited by Nicolas Valazza
Buy
Paul Verlaine
A Bilingual Selection of His Verse
Paul Verlaine, Translated by Samuel N. Rosenberg, and Edited by Nicolas Valazza
"The most comprehensive, and arguably the most definitive, bilingual collection to date of the work of French poet Paul Verlaine. . . . Rosenberg offers expansive translations without sacrificing the emotion or musicality of the original verse. The result is a masterful, spirited representation in English translation of Verlaine's impact on modernist poetry. Essential."
Description

Reviews

Bio

Table of Contents

Subjects
Crowned "Prince of Poets" in his later years, Paul Verlaine stands out among the iconoclastic founders of French modernist verse. This diglot anthology offers the most comprehensive selection of Verlaine's poetry available in English translation.
Verlaine's famous works are presented here alongside poems never previously translated into English, including neglected political works and prison pieces only recently brought to light, which reveal social, homoerotic, and even pornographic inspirations. The poems are organized not by collections and date of publication but by themes and time of composition. This innovation, along with Valazza's extensive supporting materials, will help the curious student or scholar explore the master poet's work in the context of his troubled life: from the beginning of his literary career among the Parnassians to his affair with Rimbaud and the end of his marriage, his time in prison, and his bohemian lifestyle up to his death in 1896. Verlaine, the poet of ambiguity, has always been a challenge to translate. Rosenberg expertly crafts language that privileges the musicality of Verlaine's verse while respecting each poem's meaning and pace.
Featuring 192 poems in French with English translations, this collection will appeal to scholars and poetry enthusiasts alike.
"The most comprehensive, and arguably the most definitive, bilingual collection to date of the work of French poet Paul Verlaine. . . . Rosenberg offers expansive translations without sacrificing the emotion or musicality of the original verse. The result is a masterful, spirited representation in English translation of Verlaine's impact on modernist poetry. Essential."
"This anthology gives a fuller picture of Verlaine's poetry than many translations have offered in the past, providing some of his most famous verse but also some political and homoerotic works for which he is less known. The translations capture and reproduce Verlaine's variety of registers and style in lively renderings that are faithful to the spirit of the buoyant original verse."
"Sam Rosenberg and Nicolas Valazza have created a magnificent and much-needed edition of Paul Verlaine's work. The musicality of Rosenberg's translation is extraordinary, capturing the peculiar artistry of Verlaine and providing Anglophone readers with the sense of ecstasy normally reserved for those who can read his work in its original French. Valazza's painstaking work on this edition ensures that this tome will resonate widely and, moreover, remain one of the great classics of the Verlaine corpus, in any language."
Samuel N. Rosenberg was a literary scholar and translator of French poetry of the Middle Ages and the nineteenth century. He was Professor Emeritus of French at Indiana University and edited and translated numerous works, including Robert the Devil and Robert de Reims: Songs and Motets, both published by Penn State University Press.
Nicolas Valazza is Associate Professor of French at Indiana University. His research focuses on nineteenth-century literature.
Contents
List of Illustrations
Preface / Nicolas Valazza
Translator's Note / Samuel N. Rosenberg
Chronology
Part 1: The Parnassian Years
First Poems
From Poèmes saturniens [Saturnine Poems]
From Les Amies [Girlfriends]
From Fêtes galantes [Gallant Festivities]
Poems Contemporaneous with Poèmes saturniens, Les Amies,
and Fêtes galantes
From La Bonne Chanson [The Good Song]
Part 2: Under the Spell of Rimbaud
First Encounters
From Album zutique
From Romances sans paroles [Songs Without Words]
Poems Contemporaneous with Romances sans paroles
After the Shooting
Part 3: From Prison to Conversion
In Prison (Poems from Cellulairement [Cellularly] and
Other Poems)
After the Conversion (Poems from Sagesse [Wisdom]
and Other Poems)
From Amour [Love] and Other Poems
From Bonheur [Happiness]
From Liturgies intimes [Intimate Liturgies]
Part 4: The Last Years
From Dédicaces [Dedications]
From Chansons pour Elle [Songs for Her]
From Odes en son honneur [Odes in Her Honor] and Élégies
From Dans les limbes [In Limbo]
In England (1893)
From Épigrammes [Epigrams]
From Invectives [Invective]
From Chair [Flesh]
From Biblio-sonnets
Late Uncollected Poems
Notes
Selected Bibliography
Index of Titles and First Lines
Index of Proper Nouns
Mailing List
Subscribe to our mailing list and be notified about new titles, journals and catalogs.