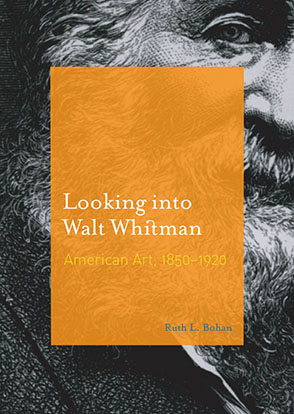 Looking into Walt Whitman
American Art, 1850–1920
Ruth L. Bohan
BUY
Looking into Walt Whitman
American Art, 1850–1920
Ruth L. Bohan
"Bohan demonstrates a far greater and more sustained network of associations linking Whitman with nineteenth-century visual culture than has previously been known. Along with tracing Whitman's connection to artists and art institutions, Bohan surveys all of the known paintings and sketches done of Whitman during his lifetime."
Media

Description

Reviews

Bio

Table of Contents

Sample Chapters

Subjects
Winner of a 2007 AAUP Book Jacket and Journal Show for Scholarly Illustrated
Why is Walt Whitman's face as familiar as his poetry? In answering this question, Ruth Bohan tells a story of self-invention and portraiture. Whitman approached successive editions of
Leaves of Grass
as opportunities to establish close, dynamic links between his poetry and visual representation. Bohan shows as well that Whitman, who sought out friendships with numerous artists, left a legacy absorbed after his death into the fabric of American modernism.
Looking into Walt Whitman provides ample evidence that the poet's engagement with the visual arts extended beyond photography into painting, printmaking, and sculpture. Through discussion of Whitman's gradual emergence as an American, democratic, and radical figure, the book opens new ways to assess his impact upon such artists as Thomas Eakins, Joseph Stella, and Marsden Hartley.
Biography, art history, and the history of literature come together in Bohan's rich, suggestive book. Based on years of research, it presents valuable information about Whitman portraiture; the publishing of his masterpiece, Leaves of Grass; artists' responses to his transgressive persona; and Robert Coady's work on The Soil, among other pivotal topics.
The many images, reproduced in color or as duotones, will be of significance both to Whitman specialists and to readers seeking an introduction to Whitman's role as a poet who vitally shaped both the visual and literary arts of America.
"Bohan demonstrates a far greater and more sustained network of associations linking Whitman with nineteenth-century visual culture than has previously been known. Along with tracing Whitman's connection to artists and art institutions, Bohan surveys all of the known paintings and sketches done of Whitman during his lifetime."
"Ruth Bohan's Looking into Walt Whitman is a deeply researched, well-written, and beautifully illustrated book, including more than 100 color and black-and-white images, some of which have never been published before."
"Writing in lucid, accessible prose, Bohan provides extended analyses of the multiple connections between Whitman and the visual arts both during his life and in the three decades following his death. In addition to being meticulously researched, the book is beautiful, with glossy pages richly embellished with color and black-and-white illustrations."
Ruth L. Bohan is Associate Professor of Art and Art History at the University of Missouri–St. Louis.
Contents
List of Illustrations
Acknowledgments
Introduction
Part 1
Imaging Whitman: The Nineteenth Century
1. The "Gathering of the Forces" in Brooklyn
2. Masks, Identity, and Representation
3. Visual Self-Fashioning and Artistic (Re)Assessment
4. Reception and Representation in the 1880s
5. Thomas Eakins and the "Solitary Singer"
Part 2
Whitman and the Modernists: The Twentieth Century
6. Marsden Hartley's Masculine Landscapes
7. Robert Coady and The Soil
8. Joseph Stella's Brooklyn Bridge
Bibliography
Index
Mailing List
Subscribe to our mailing list and be notified about new titles, journals and catalogs.