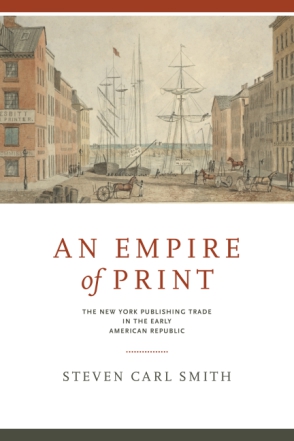 An Empire of Print
The New York Publishing Trade in the Early American Republic
Steven Carl Smith
Buy
An Empire of Print
The New York Publishing Trade in the Early American Republic
Steven Carl Smith
"Through impressive research in primary sources and engaging portraits of individuals and preindustrial trade practices, An Empire in Print makes a valuable contribution to the history of print culture in the United States."
Description

Reviews

Bio

Table of Contents

Subjects
Home to the so-called big five publishers as well as hundreds of smaller presses, renowned literary agents, a vigorous arts scene, and an uncountable number of aspiring and established writers alike, New York City is widely perceived as the publishing capital of the United States and the world. This book traces the origins and early evolution of the city's rise to literary preeminence.
Through five case studies, Steven Carl Smith examines publishing in New York from the post–Revolutionary War period through the Jacksonian era. He discusses the gradual development of local, regional, and national distribution networks, assesses the economic relationships and shared social and cultural practices that connected printers, booksellers, and their customers, and explores the uncharacteristically modern approaches taken by the city's preindustrial printers and distributors. If the cultural matrix of printed texts served as the primary legitimating vehicle for political debate and literary expression, Smith argues, then deeper understanding of the economic interests and political affiliations of the people who produced these texts gives necessary insight into the emergence of a major American industry. Those involved in New York's book trade imagined for themselves, like their counterparts in other major seaport cities, a robust business that could satisfy the new nation's desire for print, and many fulfilled their ambition by cultivating networks that crossed regional boundaries, delivering books to the masses.
A fresh interpretation of the market economy in early America, An Empire of Print reveals how New York started on the road to becoming the publishing powerhouse it is today.
"Through impressive research in primary sources and engaging portraits of individuals and preindustrial trade practices, An Empire in Print makes a valuable contribution to the history of print culture in the United States."
"The amount of research undertaken by the author in producing his book is impressive, and its utility is enhanced by 26 statistical tables. Highly recommended."
"Smith's account—expansively researched and avidly written—is necessary reading for scholars interested in early American media history."
"This book will be vitally important to those of us who are concerned with the nature of the book trade in the early Republic, most so for how it forwards our understanding of these crucial New York figures."
"An important contribution to the history of the book and literacy in America."
"Given the critical role of print culture, Smith's comprehensive study of these early printers, booksellers, and publishers' trials and successes as they developed a nascent American publishing trade is essential reading for Early American scholars, yet is still accessible for non-specialists."
"Smith tells the story of New York publishing in An Empire of Print and in doing so, he develops the connection between publishing and government, and of interstate and international relations, from the historical point of view of America as a fledgling country. . . . The five case studies zoom in with microscopic human details, highlighting the trails and travails of notable figures (who are intriguing in their own right), drawing out how their microstruggles also speak to larger issues both within the publishing trade and with the developing nation. Scholars of book history will find Smith's work a critical addition to the field."
Steven Carl Smith is Assistant Professor of History at Providence College.
List of Tables
Acknowledgements
Introduction: The Pertinent Details
Chapter 1: Samuel Loudon and the Building of the Empire State in Print
Chapter 2: William Gordon, Print Culture, and the Politics of History
Chapter 3: John Ward Fenno's Book Shop Politics
Chapter 4: Literary Fairs and National Ambitions
Chapter 5: Evert Duyckinck and the National Book Trade
Afterword: Print and Memory in an Age of Change
Selected Bibliography
Notes
Index
Mailing List
Subscribe to our mailing list and be notified about new titles, journals and catalogs.