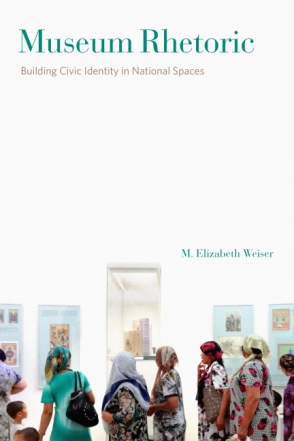 Museum Rhetoric
Building Civic Identity in National Spaces
M. Elizabeth Weiser
BUY
Museum Rhetoric
Building Civic Identity in National Spaces
M. Elizabeth Weiser
"M. Elizabeth Weiser crosses more national and disciplinary borders than any previous scholar in the search for unifying analyses of the identity work of museums. She investigates a wide array of material and a multidimensional set of productive dilemmas. The result is a complex, innovative, and yet clear and elegantly presented analysis of the work done by and through museums in placing their orchestrated and authorized rhetoric in dialogue with the experiences of visiting citizens."
Description

Reviews

Bio

Table of Contents

Subjects
In today's diverse societies, museums are the primary institutions within the public sphere in which individuals can both engage critical thought and celebrate community. This volume uses the lens of rhetoric to explore the role these societal repositories play in establishing and altering cultural heritage and national identity.
Based on fieldwork conducted in over sixty museums in twenty-two countries across six continents, Museum Rhetoric explores how heritage museum exhibits persuade visitors to unite their own sense of identity with that of the broader civic society and how the latter changes in response. Elizabeth Weiser examines what compels communities, organizations, and nations to create museum spaces, and how museums operate as sites of both civic engagement and rhetorical persuasion. Moving beyond rhetorical explorations of museums as "memory sites," she shows how they intentionally straddle the divides between style and content, intellect and affect, and unity and diversity, and why their portrayal of the past matters to civic life—and particularly studies of nationalism—in the present and future.
Deeply researched and artfully argued, Museum Rhetoric sheds light on the public impact of cultural and aesthetic heritage and opens avenues of inquiry for scholars of museum studies and public history.
"M. Elizabeth Weiser crosses more national and disciplinary borders than any previous scholar in the search for unifying analyses of the identity work of museums. She investigates a wide array of material and a multidimensional set of productive dilemmas. The result is a complex, innovative, and yet clear and elegantly presented analysis of the work done by and through museums in placing their orchestrated and authorized rhetoric in dialogue with the experiences of visiting citizens."
"A definitive study of the ways in which museums are powerful rhetorical forces that engage people in the process of forming and revising their conceptions of national identity. For museum studies scholars, this book explains systematically the rhetoricality of the kind of experiences that museums provide. For those in rhetorical studies, it advances developing theories of experiential rhetorics, and I expect Museum Rhetoric to mark an important point of consolidation of recent rhetorical theories of nondiscursive communication."
"Museum Rhetoric takes the reader on a captivating tour of national historical museums around the world to show how museums furnish complex narratives of national identity and create experiential spaces for visitors' engagement with these narratives. Extending Kenneth Burke's theory of identification and drawing on the transdisciplinary conversation about museums and public memory, the author enriches our understanding of the rhetorical mechanism of national identity formation and highlights the value of museums as sites of national identification."
"An impressive, globally aware, and deeply researched example of rhetoricians' powerful purchase on the effectivities of museums."
M. Elizabeth Weiser is Professor of English at The Ohio State University. She has published three other books, most recently Women and Rhetoric Between the Wars, coedited with Ann George and Janet Zepernick.
Contents
List of Illustrations
Acknowledgments
Introduction
1 The Rhetorical Museum
2 The Story We Tell Ourselves
3 The Object of the Story
4 Identifying with the Museum
5 Identifying with the Nation
6 Alternative Identifications
Conclusion: The Museum in the World
Appendix: Museums Examined for This Study
Notes
References
Index
Mailing List
Subscribe to our mailing list and be notified about new titles, journals and catalogs.